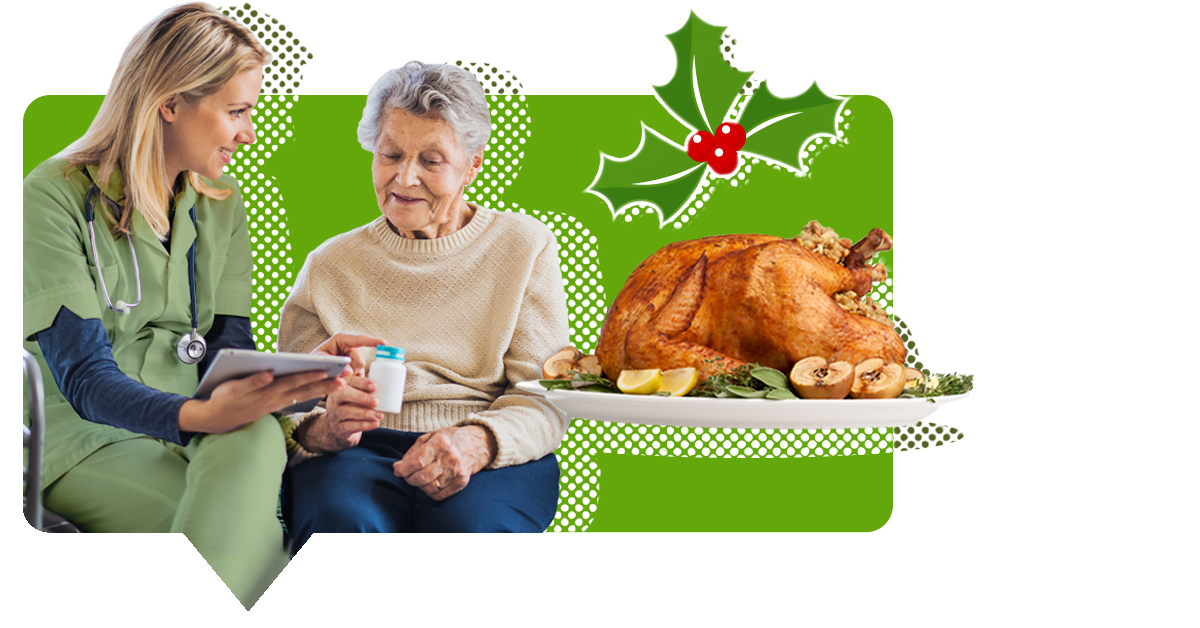 Dear Crossroads,
My mom is chronically ill. She typically experiences seasonal depression during the holidays, but I'm afraid that her condition will make it exponentially worse this year. She's in so much pain mentally and physically and I can't bear to see her this way – especially during what is supposed to be the most wonderful time of the year. My family has been talking about what our options are to make it better for her. 
Could my family benefit from the added support of palliative care?
Thanks,
Help for the Holidays
Dear Help for the Holidays,
Thank you for reaching out. Managing the care and treatment for a loved one with a chronic illness can be challenging as is. With the added pressure of the holidays, it can become even more overwhelming. I hope you know that we at Crossroads Hospice & Palliative Care are here to help. 
First, it's important to understand why depression can affect some people more than others during this time of year. The holidays represent a time of traditions: the same meals, the same songs, the same celebrations year after year can bring comfort to some families. While many folks love the nostalgia and stability that these traditions bring, others can be triggered by realizing that they can no longer participate in these traditions. 
In your mother's case, she might be feeling a little extra depressed because her role in your family has shifted. Depending on the severity of her illness, your mom may have lost the ability to do many things she once loved – like cooking the holiday meals or planning your family's celebrations. The changing of roles in any household can be difficult, but it's especially difficult when that role is wrapped up in someone's identity. Let your mom know you understand that she is experiencing this. 
Now, because of your mom's chronic illness, it's important to keep an eye on her behaviors and habits. Be on the lookout for any verbal and nonverbal cues. Make sure she's not isolating herself more than usual and that she continues to eat regularly. If you live with her, take notice of her sleeping patterns and energy levels. Keeping a close watch over your mom might take some extra time, but it will also show her that you want her to be included in whatever your family does. 
If this is too much for your family to manage, Crossroads can provide palliative care, which in your case might be a good benefit to the whole family. The goal of palliative care is to improve quality of life by managing the pain, symptoms, and side-effects of chronic illness. This includes physical, mental, and emotional symptoms and side effects.
Once the service begins, our nurse practitioners will help coordinate your care and assess what your mother's needs are. Generally, our team does an initial assessment with the patient, then continues to check in every week to monitor the circumstances and provide support. These check-ins transition to monthly after the first month.
Our social workers will also be there to help. These team members can provide an additional layer of emotional and hands-on support to your mother or anyone in your family. They can connect you to local or online support groups or community resources like the Alzheimer's Association or Meals on Wheels. These caregiving groups can be great educational opportunities for you to connect with others who are in a similar situation or provide a service if you need extra help.
We understand that some families are more receptive than others to these services, and we remain sensitive to our patients' needs. Everyone is different and we do our best to ascertain each situation and let our patients and their families tell us what they need. 
With some additional support and care, I am hopeful you will have a wonderful holiday season however you choose to celebrate. 
Eve Frebergé
Social Services Director
For more information and depression resources provided by Crossroads, give us a call at 888-564-3405.
If you found this information helpful, please share it with your network and community.
Copyright © 2021 Crossroads Hospice & Palliative Care. All rights reserved.