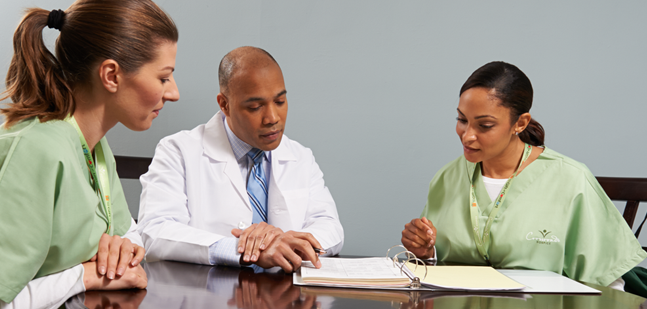 We Can Handle As Much As You Need.
Palliative patients not only need multiple physical symptoms managed, they may also require assistance with their social, emotional, and spiritual needs. Oftentimes these patients require a lot of the primary care practitioner's valuable time. Crossroads can help lighten your load by:
Making recommendations for managing symptoms, or handling it for you. 

Educating and supporting patients and their families about their illness and familiarize them with what to expect. 

Supporting the Plan of Care by coordinating your orders, including safe and effective discharge planning. 

Decreasing your call volume. 

Reducing the stress of difficult patients and families, while increasing their satisfaction, comfort and quality of life. 

Providing comprehensive support when complex physical, psychosocial, or spiritual suffering is present. 

Addressing appropriate goals of care when the recurrent need exists. 

Assisting with extensive patient-family education/communication. 

Along with you, the patient's primary care doctor and/or specialists, we collaborate with your current medical team in achieving the greatest possible relief for your patients.
Your Crossroads Palliative Care Team includes:
      

Nurse practitioners

      

Physicians

      

Medical social workers

      

Community registered nurse liaisons

      

Admissions team (including admission nurses)

      

LPN palliative care assistants
Chronic, life-limiting or life-threatening illnesses:
Chronic pain
Dementia
Cancer
Heart Disease/CHF
Lung Disease/COPD
Kidney Disease/ESRD with Dialysis
Progressive HIV/AIDS
Chronic liver disease
Amyotrophic Lateral Sclerosis (ALS)
Geriatric complex patients and frailty
Manageable symptoms:
Pain
Shortness of breath or dyspnea, coughing
Nausea and/or vomiting
Constipation
Anxiety, restlessness and/or depression
Fatigue and/or weakness
Sleeping difficulty
Recurrent infections
Delirium and/or Dementia with behaviors
Emotional and/or spiritual distress 

Contact us today. 
If you have question about how the Crossroads team can assist you and your patients or would like to schedule a consultation, please call or live chat with us today via the blue bar above.