Students Surprise Former Teacher with Unforgettable Gift of a Day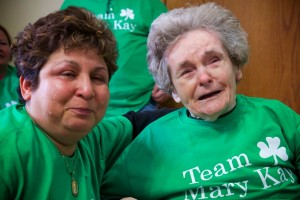 Around the Armourdale Community Center in Kansas City, Mary Nally is a local legend. That's where she spent decades mentoring young kids in athletics and character building. Many of Nally's students came from under-served neighborhoods and found a safe haven playing for the teams she organized. On one special Saturday, it was clear that they never forgot what she did for them.
Dozens of Nally's former students, now adults, organized a Gift of a Day with the help of Crossroads staff members to honor the 84 year-old who had done so much for them. They customized green t-shirts to recognize her Irish heritage with a shamrock and the message, "Team Mary Kay." They spent the day at Nally's residence, Vintage Park at Lenexa, setting up decorations and enjoying ice cream cake with their role model. Seeing the kids she had mentored on the court and the field brought tears of joy to Nally's eyes. They were more than happy to bring their coach one more win.
If you found this information helpful, please share it with your network and community.
Copyright © 2015 Crossroads Hospice. All rights reserved.