Celebrating the Veterans Who Care More at Crossroads Hospice & Palliative Care
Posted on
Thursday July 14, 2016
in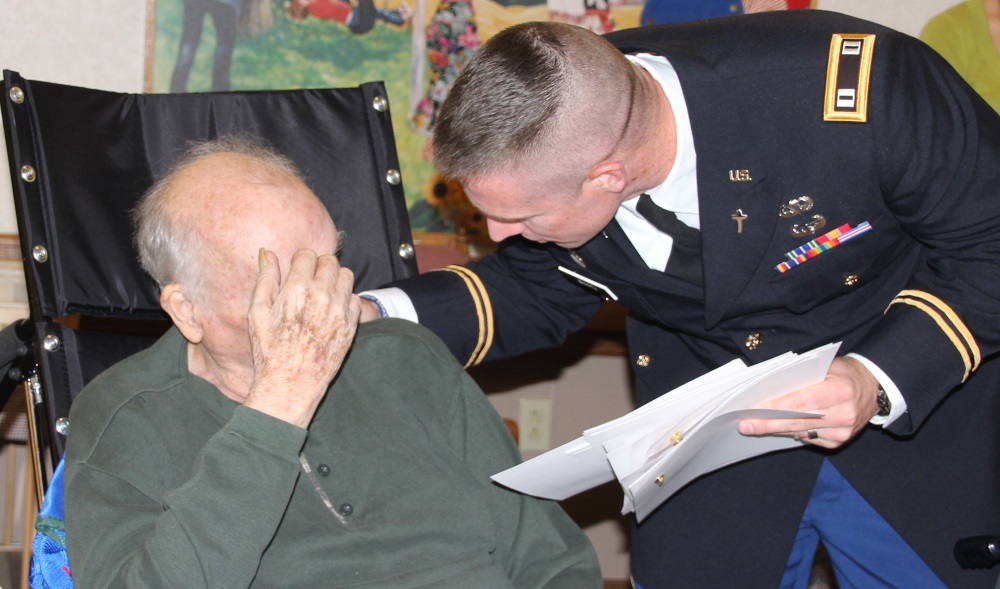 Everyday, members of our Crossroads Hospice & Palliative Care Team don green and head out to support our patients. The desire to serve the sickest in our community is a profound calling, but for some of our team members it is a continuation of a lifetime of service that started with the U.S. military.
"There's a big smile and an extra twinkle in a patient's eyes when they learn you're a Veteran," says clinical director Dyanna Johnston.
"There's a sense of camaraderie."
Her time in the military helped her in another way. "It prepared me to put others first which is essential on a mission and as a nurse. I'm thankful for both careers because I have learned a lot about discipline and respecting people," she says.
"People go through a lot, and I'm privileged to be a part of their lives at end of life."
For Devin Gray, a Crossroads nurse aid who is currently away for two weeks for her annual training as a Navy Reservist, serving in the military has been an opportunity to serve her country and finish school.
"The military has helped teach me attention to detail," she says. "In the military and in hospice, you have to be alert for small changes that can mean bigger issues."
Making a Connection with Veterans
James Morgan served as a missile launch officer for six  years in the Air Force between 1986 and 1992. Four years ago he came to Crossroads as a chaplain and found that his military background gave him an instant connection with Veterans and their family members.
"I didn't have combat experience or overseas experience, but my time in the military exposed me to a wide variety of people. I learned that people are different and to appreciate those differences," he explains.
"It's been helpful because my role as a hospice chaplain is to go on the patient and family's journey with them, not to bring them over to where I am."
Chaplain Jeff Rice echoes this. "Although I did serve in the military, it's really my interest in the military that helps me connect. I can speak with Veterans about military history, ranks and branches."
Steve Dalbey was inspired to join the Marine Corp Reserves by the stories he heard growing up about his grandfather's experience as a B26 bomber pilot in World War II. That connection to his grandfather continues to come through his work.
"I squeeze back into my uniform to honor fellow Veterans at Veteran Recognition Ceremonies and events. We share stories, and I connect with their story and reconnect with my grandfather's story," he says.
"As a bereavement coordinator, it gives me a way to connect. When grieving families of Veterans learn that I served, it frees them share some stories because there's an understanding there."
Read our Real Heroes Wear Dog Tags Series.
What Matters Most to Veterans 
A passion for supporting fellow Veterans has driven Robin McCarthy since she served in the Army Military Police in the mid-1970s. In her role as a chaplain with Crossroads, she arranges special events that connect Veterans to the resources in their community including the Veterans Administration, Honor Flights and County Veterans Service.
These efforts have helped many Veterans access additional benefits available to them and their spouses. "When a person has a terminal illness, they are often thinking about what their family needs," says Robin. "Knowing their family will have support puts their mind at ease."
Registered nurse case manager Andrea Becker served in the Army for 10 years before retiring. Her military background prepared her well for a career in nursing.
"Nothing surprises me," she says. "Being in the military made me flexible and taught me to be prepared because things can change in an instant."
Beyond helping her be prepared, the experience also gave Andrea life perspective. "It's also taught me to appreciate what's important and what really matters.
She explains, "At end of life, people don't care about what kind of car they're driving. They care about their family. Relationships are the only things that matter."
To learn more about how Crossroads serves Veterans in our community, please call 1-888-564-3405.
If you found this information helpful, please share it with your network and community.
Copyright © 2016 Crossroads Hospice & Palliative Care. All rights reserved.