Monster Wreath: Activities for Dementia Patients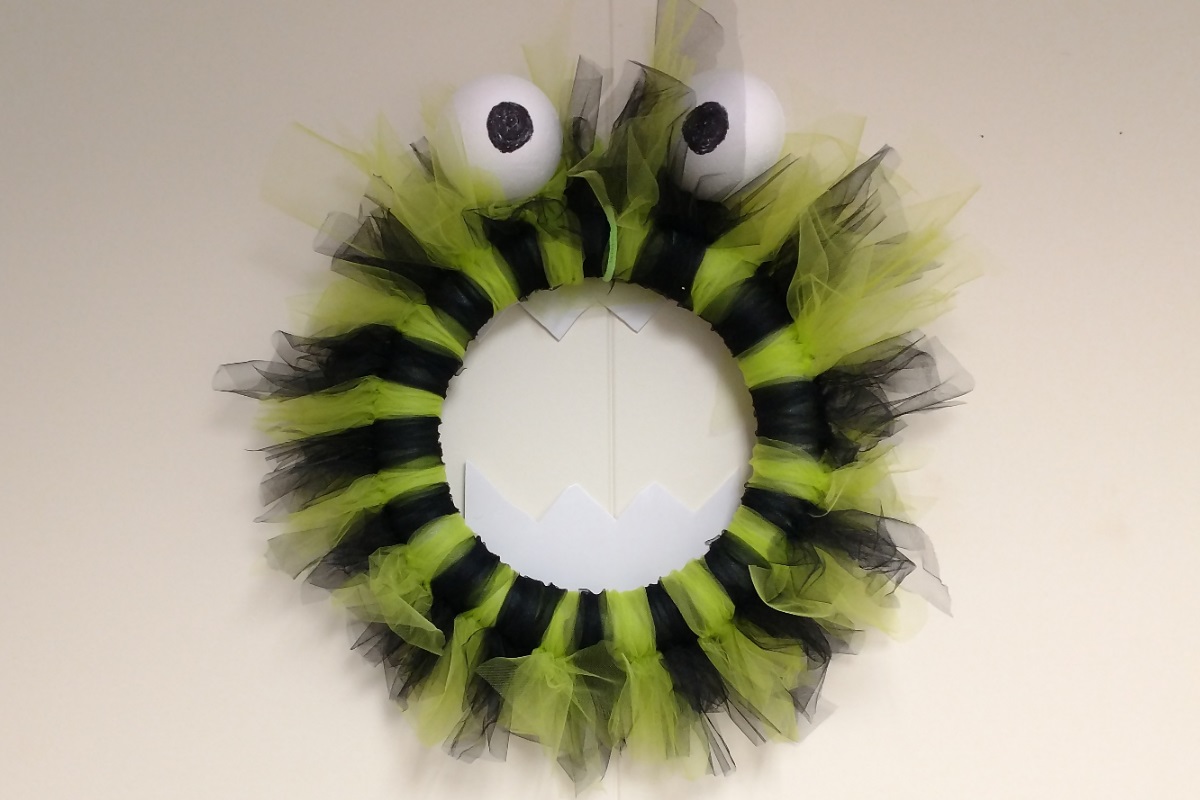 One of the most important things you can give a loved one with Alzheimer's or other dementia is a sense of stability and routine. Halloween can present unique challenges to that routine, but good preparation can help you navigate the obstacles.
Some things that can help:
Keep your Halloween décor to a minimum and present happy displays like pumpkins instead of more frightening ghosts and ghouls.
Avoid public Halloween events as the costumes and décor may be terrifying to someone who is confused about the event.
If you plan to give out candy, make a plan that will create minimal disruption to your loved one's evening routine. Sit outside to distribute candy or place it in a bowl outside your door so neighborhood children don't knock or ring the doorbell.
If you are keeping candy in the house for Trick or Treaters, store it in a safe place – particularly if your loved one with dementia has dietary restrictions.
Halloween crafts and other easy and fun activities for dementia patients like this charming monster wreath can help prepare your loved one for the holiday and open the door for engagement and creative expression.
In addition to preparing your loved one for the upcoming Halloween holidays, be sure to also talk about the memories of past celebrations – particularly those you have shared together. Ask them about their favorite costumes as a child and share memories of your own favorite costumes. These are great conversations to hold over completing a simple and engaging craft.
Monster Wreath Craft

What You'll Need
2 Styrofoam balls
4 yards of tulle
Wreath form
Two long toothpicks
Black sharpie
Safety Scissors
White adhesive foam core
Steps:
     Cut your tulle into strips approximately 4 inches wide by 8 inches long.
     Tie each strip around your wreath form. Place the knot side of it on the outside of the wreath.
     Continue until the wreath is completely covered.
     Take your Styrofoam balls and draw a black circle to make eyes.
     Using skewers, add each eye to the top of the wreath.
     Cut two sets of teeth from your white foam core.
     Remove the adhesive backing and secure in the center of your wreath.
<h2>Caregiver Tips</h2>
Remember the monster wreath does not need to be pretty at the end. The goal is to have an enjoyable time making it.
While doing activities with a loved one with dementia, engage them in conversation. Play music your loved one enjoys softly in the background to create a positive mood.
Activities for people with dementia have the best chance of success in the morning between breakfast and lunch when this loved one is well rested. If they don't want to participate or get frustrated, don't force it. Try again another time.
If a person has dementia, a hospice program and hospice care team can provide support for both the patient and family. This added assistance can be key in avoiding caregiver burnout.
Find more ideas for activities for dementia patients here.
For any questions about how Crossroads Hospice & Palliative Care's unique care programs support patients with dementia and their families, please call us at 1-888-564-3405.
Recommended Reading:
Halloween Door Sign: A Craft for Dementia Patients
Halloween Character Cup Decorations
If you found this information helpful, please share it with your network and community.
Copyright © 2017 Crossroads Hospice & Palliative Care. All rights reserved.