25 Shades of Green: Introducing Vice President of Patient Support Services Sherri Bickley, MSW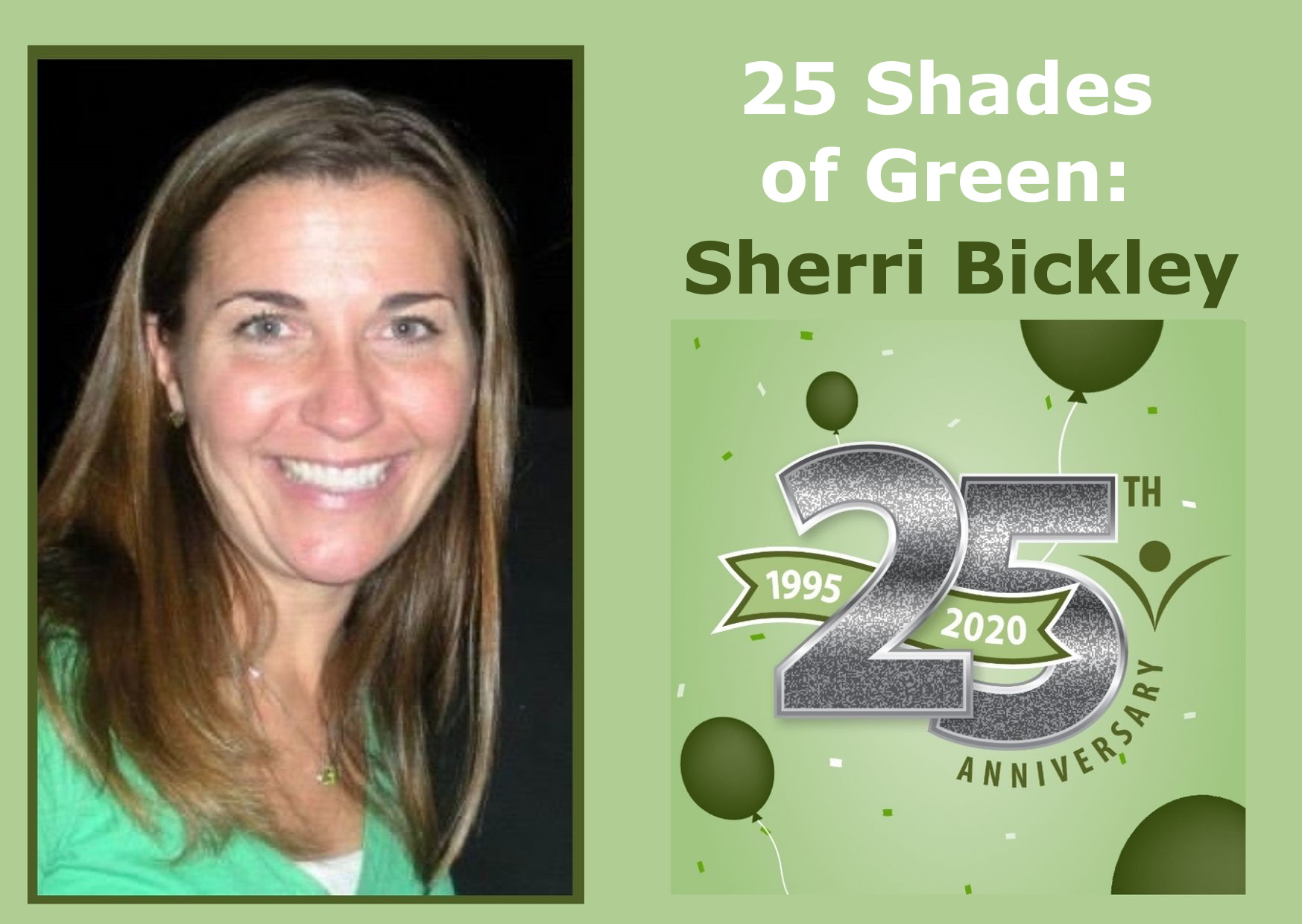 She might have been dreaming about celebrity headlines as a star vocal student at her large high school in Kansas City, Missouri, but the way Crossroads Hospice & Palliative Care Vice President of Patient Support Services Sherri Bickley remembers it, she knew as a young adult that she had a calling to work in end-of-life care.
Her Calling is End-of-Life Care
As a high school senior, Sherri starred as Maria in her school's The Sound of Music theater production and also delivered a coveted solo in the annual presentation of Handel's Messiah, when, as is the tradition in many high schools, alumni are invited on stage to perform with current students.
But senior year was also when her beloved grandmother, who lived with her family, was receiving hospice care while navigating a terminal illness. She experienced the dignity of end-of-life care while closely observing the care team's spirit and actions. The entire family was supported – not just her grandmother.
Those caring hospice professionals weren't part of the equation when Sherri's father passed away several years earlier – when she was just fourteen – from an illness in a hospital. And so began Sherri's quest to make sure that more individuals and their loved ones receive beneficial palliative and hospice care.
Sherri began her college studies at Northwest Missouri State University. Transferring to University of Nebraska at Lincoln her junior year, she earned a Bachelor of Science in Human Development and the Family with an emphasis on Death and Dying. Even as an undergraduate, she knew she would need a Master of Social Work (MSW) to perform the work she desired professionally.
Sherri Joined Crossroads in 2002
The University of Kansas is where Sherri completed her MSW. Catholic Community Hospice is where she interned, but Crossroads actually hired Sherri as a full-time social worker before she even graduated back in the spring of 2002. Later, Sherri also completed a Master of Theology from Augustine Institute in Denver.
As an impressionable MSW student, she remembers being inspired by talks delivered on campus by Sandy Doolittle, then a Crossroads bereavement coordinator, now a Crossroads support service director at the Lenexa, Kansas location. Sherri chuckled when noting that now, nineteen years later, Sherri leads the team Sandy is part of.
"I remember being in such awe of Sandy back then and I still am today," Sherri said.
Today, Sherri oversees social work, volunteer management, bereavement services, and chaplaincy at eleven Crossroads locations in seven states. She is part of the 75 percent of Crossroads leadership team that has been with the company for more than ten years.
As a Crossroads leader, she feels responsible for supporting her team in their support of families and frontline clinicians.
"It can be a challenge," Sherri admits. "We expect so much more from our team because we deliver so much more to our clients. But anything I request is something I would gladly do myself," always demonstrating the highest standard of care. "I strive to be there for them so they can be there for patients."
Sherri continued, "One of the keys to our success at Crossroads is offering more to families. The difference is we say it and then we actually do it."
The Crossroads culture of demonstrating compassion, courage, and choice every day is something Sherri strives to live up to daily. 
Note: Sherri Bickley, MSW, is a Crossroads employee who is being featured in our 25 Shades of Green blog about employees who exemplify Crossroads' culture of "doing more." These 25 fine professionals are being celebrated in recognition of Crossroads' 25th Anniversary. 
To learn about more of the hospice team at Crossroads, give us a call at 1-888-564-3405.