25 Shades of Green: Meet Patient Support Services Director Sandy Doolittle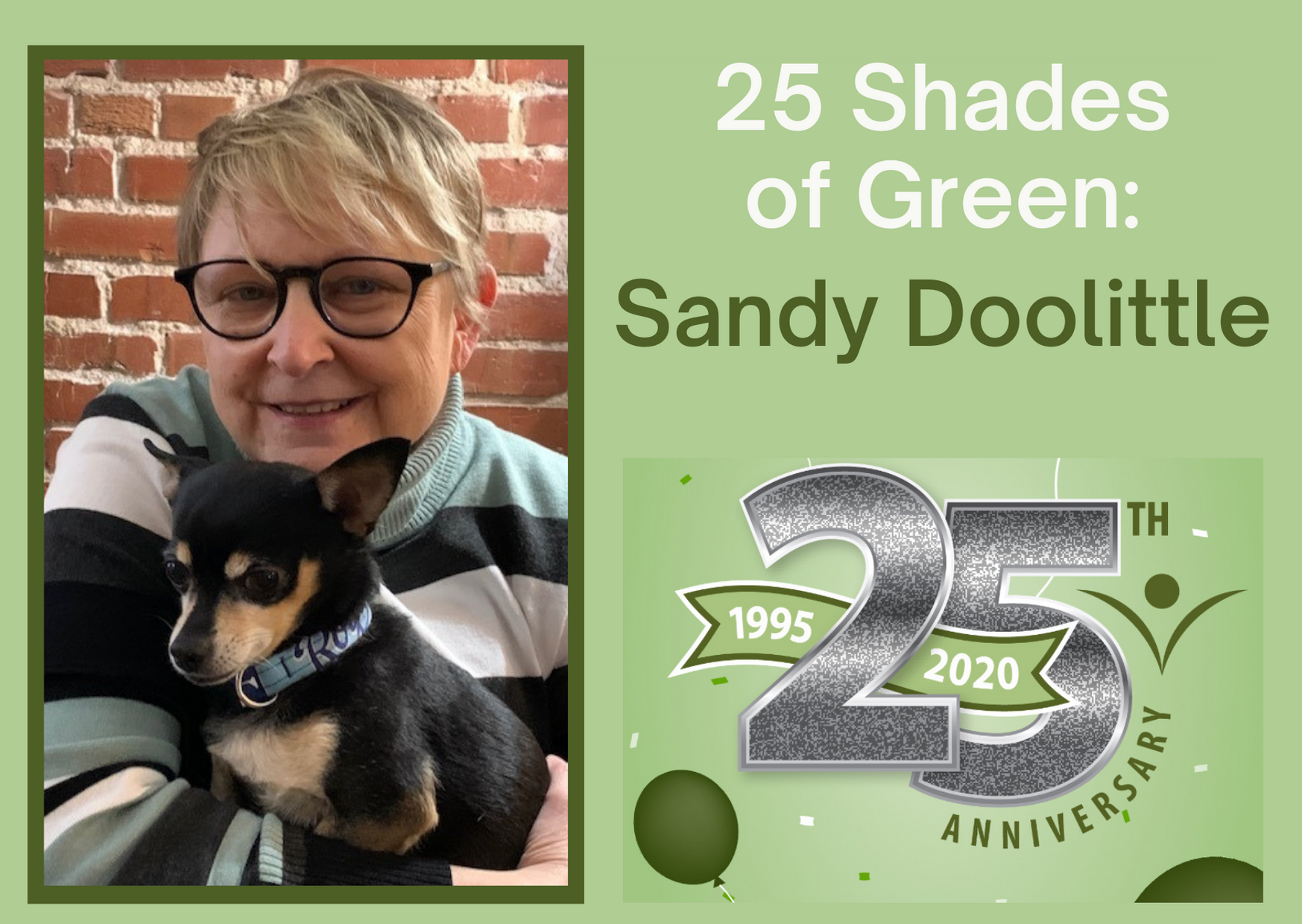 When Sandy Doolittle began working at Crossroads Hospice & Palliative Care in 1999, there was just one office serving both Kansas City, MO and Kansas City, KS. There were fewer than 50 patients and Sandy was the first full-time bereavement coordinator to work at the site.
 "I came to Crossroads because it was a new start-up and a cool opportunity," she remembered.  
Previously, Sandy had been a bereavement coordinator at another hospice. 21 years later, she is a deeply experienced end-of-life care expert and the two Kansas City area sites now serve hundreds of patients and their families.
Sandy is known for her generosity and willingness to share her depth of knowledge. Currently the Director of Patient Support Services at the Crossroads Lenexa site, Sandy oversees social workers, chaplains, bereavement coordinators and volunteer managers – all critical functions that support hospice and palliative care patients and their families.  
Sandy rises to occasions. 
Sandy champions her team and has learned how to stay personally strong while encouraging others to take care of themselves during an incredibly challenging and risk-bearing time for caregivers. The COVID-19 pandemic has made a difficult job even tougher.
But you won't hear that from Sandy. She believes in rising to occasions – even if that means getting up in the middle of the night to be at a patient's bedside when they pass. 
Sandy is passionate about hospice.
"What we do every day really does matter to patients," she said. "Paying attention. Listening. Doing something extra." 
Sandy's standards were developed "on the job" in a variety of hands-on and management hospice positions. She personifies the Crossroads mindset of doing more, providing more care and going above and beyond for patients and families.
Before joining Crossroads and going back to the University of Kansas for her Master of Social Work degree, Sandy began her career at the 49-bed Orchard Lane Nursing Home in Baldwin, KS. Here she was the high-energy Activities and Social Services Director.  She loved getting to know Orchard Lane's residents and recently remembered learning about the 1918 flu pandemic there from individuals who had survived it.
Bereavement is an area of interest and expertise.
Always interested in psychology over the years, Sandy admits to being amazed by grief and healing and how people are able to integrate loss into their lives and build new lives beyond it.
"Finances, faith and support systems really matter too," she said. Sandy has observed many times over how individuals muster their belief systems to heal.   
Sandy said she learned a lot about caring for others through the example set by her grandmother who she visited often in rural Atlanta, KS as a child growing up.
Sandy observed her grandmother making food in the winter and packing it up and bringing it to various shut-ins in a farm community that wasn't wealthy.  She would sit in the car, looking on while her grandmother made deliveries.
 "She also took in laundry which she did on a wringer in the wash house for money and gave haircuts while tending pigs, chickens and a garden," Sandy said.  "I learned a lot about hard and meaningful work from my grandmother."
So how does someone so accountable relax during a global health crisis?  Sandy said she gets lots of welcome laughs every day from her dog, Mr. Bean. She and her partner PJ also appreciate her condo community where neighbors of all ages gathered outside in the evenings during the summer to catch up and get to know and support one another. It's the type of place where a neighbor will stop by to give Mr. Bean a very long walk. 
A career in end-of-life care can be a calling. According to Sandy, "it takes a personal willingness to do what's great. We know what we do makes a difference. It takes commitment. It takes emotional fortitude. We do it because we're committed to an end-of-life that's meaningful and peaceful for patients and their families."
Note:  Sandy Doolitte is being featured in our 25 Shades of Green blog about employees who exemplify Crossroads' culture of "doing more."  These 25 fine professionals are being celebrated in recognition of Crossroads' 25th Anniversary.
To learn about more of the hospice team at Crossroads, give us a call at 1-888-564-3405.
If you found this information helpful, please share it with your network and community.
Copyright © 2021 Crossroads Hospice & Palliative Care. All rights reserved.