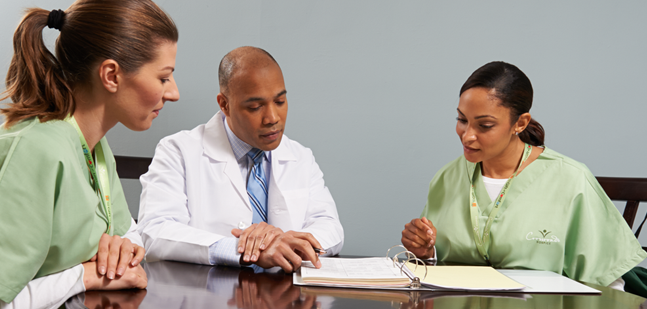 What Kinds of Hospice Medical Equipment and Supplies Do You Provide?
Crossroads Hospice & Palliative provides all medication and hospice medical equipment and supplies related to the patient's hospice diagnosis at no cost to the patient or family.
The Crossroads team will coordinate the ordering, delivery, and set up of all necessary medication, hospice medical equipment and hospice supplies. This allows the patient and their family to focus on their time together instead of worrying about financial concerns or leaving their terminally ill loved one alone to make trips to the pharmacy or medical supply stores. We know your time together is precious.
Hospice medical equipment may include (but is not limited to): 
bedside commodes
geriatric recliners (geri chairs)
hospital beds
nebulizers
overbed tables
oxygen
shower chairs
wheelchairs
Hospice medical supplies may include (but is not limited to): 
bandages and other wound care supplies
briefs, pads, and other continence care supplies
gloves
oxygen tubing and other oxygen supplies
personal care products including soap, shampoo, body lotion and barrier creams.
positioning devices including cushions and wedges
adult wet wipes
Having the proper medical equipment in good working condition and the medical supplies required allows patients to receive care in the location of their choice. The Crossroads team will provide expert instruction and education to the patient and their caregivers on the proper use of all hospice medical equipment and supplies. In addition, trained Crossroads staff are available to provide support and answer questions about the use of the hospice equipment and supplies 24 hours a day, 7 days a week.
Medicare, Medicaid, and most individual insurance companies cover 100% of hospice medical equipment and supplies related to a hospice patient's terminal diagnosis. Our team will work directly with these organizations to coordinate this benefit.
When will I receive my equipment?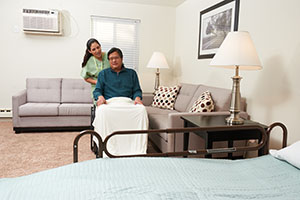 Once a patient begins hospice care, a hospice nurse will assess the need for hospice medical equipment and supplies. The nurse will arrange for any necessary equipment to be delivered to the patient's home or assisted living facility. The first delivery will take place within 24 hours. All equipment will be delivered and set up by our highly trained durable medical equipment (DME) provider. Additional supplies will be delivered by a member of the Crossroads team or by the medical supply companies working with Crossroads.  Crossroads care staff will monitor the use of all supplies and replenish as needed.

Crossroads will work with the patient's physician to determine if additional hospice equipment and supplies are required as the patient's needs change. When hospice equipment is no longer needed, Crossroads will arrange for a convenient time for our DME provider to pick-up the equipment from the patient's home or facility.

Crossroads Hospice & Palliative Care creates individualized care plans for each patient, designed to keep the patient safe and comfortable, with the highest quality of life, in their home or assisted living facility. This includes all the equipment and supplies needed to maintain patient safety, dignity, and comfort.

To speak with a member of the Crossroads team about the hospice equipment and supplies we provide or to arrange a hospice consultation, contact us using the blue Help Center bar above.

<! -- end live person -->