Crossroads Hospice & Palliative Care Unique Patient Care Programs
Ever since we opened our doors in 1995, the programs at Crossroads Hospice & Palliative Care have had one philosophy—expect more. Since then, we've been reinventing hospice by finding ways to spend more time with patients and families; and developing ideas to help them get the most at the end of life. That's why Crossroads' patient-to-staff ratio is among the best in hospice. We provide more daily visits to our patients than anyone in hospice care and will be by your side when you need us most.
We are 100% dedicated to giving you and your family more right now. That means offering patient care and hospice services you expect like administering medication along with ones you may not expect like light housekeeping and legal documentation. Plus, Crossroads Hospice & Palliative Care offers unique programs you won't find anywhere else:
Gift of a Day
We develop unique plans of care that include Jim Stoval's idea of inspiration through the Gift of a Day. Since its inception, we have helped thousands of hospice patients experience the perfect day. That day is based on the question: "If you had one perfect day, what would it look like?" Our staff members, volunteers and local businesses work together to bring these perfect days to life for our hospice patients. 
Evenmore Care©
Our commitment to patient care is best exemplified by our Evenmore Care program. Evenmore Care was developed to ensure every hospice patient receives the care they deserve…more support, more time, more attention.
How does it work? Through our unique staffing model, we have the ability to see patients virtually every day. With a higher level of patient contact, our staff can better identify an increase or sudden decline in a patient's condition. Once a notable change is identified, we initiate our Watch Program©.
The Watch Program is a special level of care created to monitor a patient's developments through multiple daily visits. Because a Crossroads staff member is present several times throughout the day, we can better recognize when the passing of a patient may be imminent. At that point, we exhaust every effort to stay by their side.
This intense level of care was developed so we can be there when patients and families need us most. The Watch and Evenmore Care programs have enabled Crossroads to consistently exceed the national average for being with patients and families at the time of passing…something everyone values.
Veterans Recognition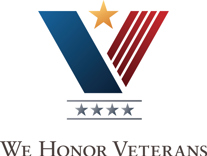 Throughout history, countless men and women have served in the United States armed forces, putting aside regard for themselves and leaving behind family and friends to defend our great nation and its ideals. The Crossroads Veteran's Recognition program recognizes the sacrifices these men and women have made and believe we owe a debt of gratitude for the security they have provided by defending our nation.
We also understand the traumatic effects war can have on Veterans and the feelings it can produce like anxiety, depression, reoccurring anger, self-blame, guilt, compulsive or aggressive behavior, and sleep disorders. This is known as post-traumatic stress disorder (PTSD). Some are affected so strongly that they are unable to live normal lives; and some may not experience any symptoms until they approach the end of life.
To better care for these patients, the Crossroads staff and volunteers are educated and trained in caring for Veterans at the end of life and the effects of PTSD.
Additionally, we have developed a Veteran Recognition Program to acknowledge our Veteran patients by providing a certificate and honorary presentation. In addition, our volunteers create Life Journals of their experiences to share with their families. 
Life Journals
The goal at Crossroads Hospice & Palliative Care is to provide the highest quality of life for our patients while supporting family members. Experience has taught us there are a few things most people want at the end of life:
To be remembered
To pass down their life experiences and beliefs
To know that their life mattered
As a way to fulfill these desires, Crossroads helps patients create a Life Journal to pass on their experiences and advice. Learn more.
Culturally Sensitive Care
Bi-lingual employees are specially trained to work with patients to develop unique care plans by incorporating cultural and other needs of the patient and family. Good communication is an important aspect of hospice patient care, so we are able to communicate in a manner that is most comfortable for everyone. We also provide our literature and critical documentation in Spanish, Vietnamese and Korean.
Grief Recovery 
While grief is normal and natural, most of the information we hear about dealing with grief is incorrect such as: time heals all wounds; don't feel bad; grieve alone; replace the loss; or keep busy. We offer families comprehensive bereavement support and grief counseling to help them with the grieving process.
As part of our commitment to providing MORE, we offer complementary access to The Grief Recovery Method® Outreach Program. It helps people "move beyond" the pain caused by loss. It is a twelve-week program led by a Crossroads' Grief Recovery Specialist trained and certified by the Grief Recovery® Institute. It creates a safe environment for participants to examine old beliefs about dealing with loss; what other losses have affected their lives; and explore new actions that can ease the pain of a loss.
Find Crossroads Hospice Programs in your area.
Memorials
In order to celebrate the lives of our patients, several types of memorial services are available. These services include butterfly releases, balloon releases, tree lighting ceremonies or moments of silence. Families are invited to attend these services.