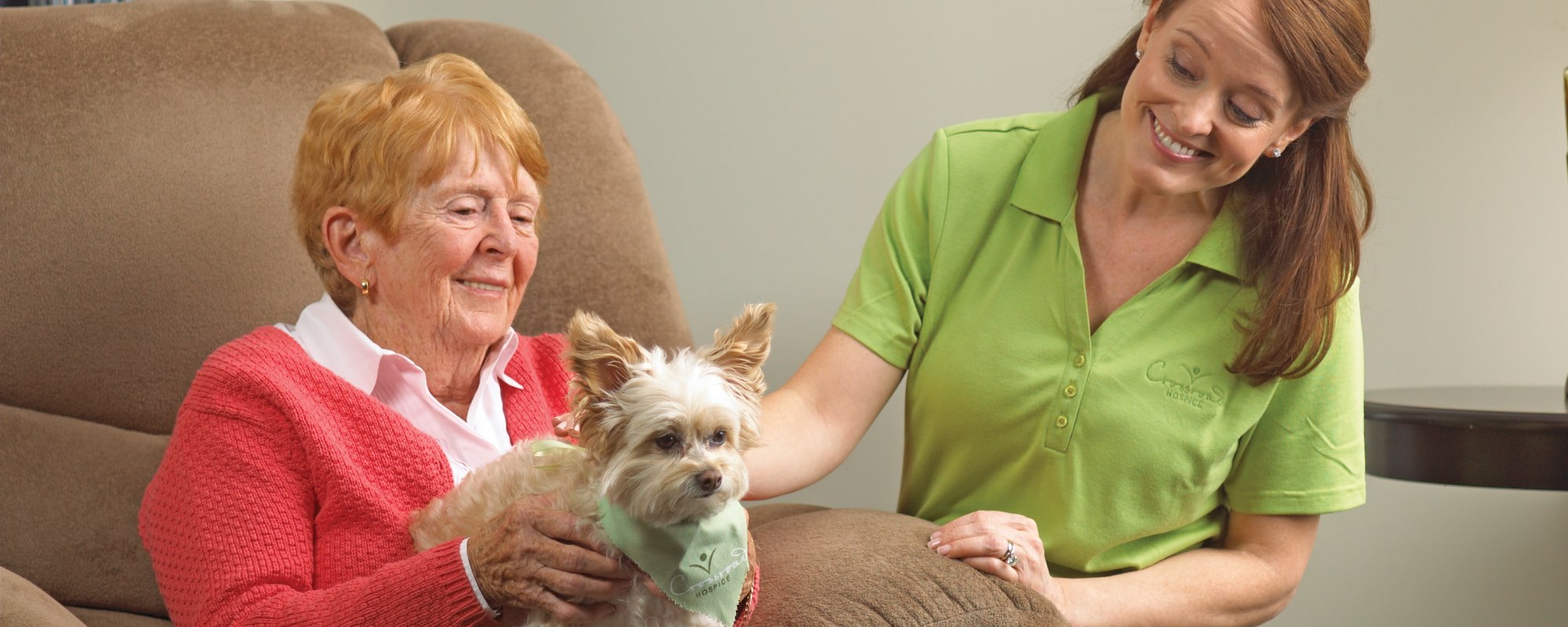 Volunteer Opportunities.
Want to learn how you can help? Crossroads Hospice has numerous volunteer opportunities for Ultimate Givers – our team of volunteers who dedicate their time to enriching the lives of hospice patients.
Crossroads Hospice volunteer opportunities.
Crossroads Hospice's Ultimate Givers are a vital part of our team. All duties of hospice volunteers benefit patients and families, directly or indirectly, through:
Patient Care – Provide companionship to patients and families at their place of residence.  
Office Support – Assist with routine office duties to enhance the sources provided by hospice.
Bereavement Support – May attend funerals, memorial services or visitation. Assist Bereavement Coordinator in maintaining grief follow up services.
Special Projects –In addition to essential hospice volunteer work like companionship and bereavement support, volunteers also assist with coordinating special projects inspired by Jim Stovall's novel, "The Ultimate Gift." Crossroads Hospice takes the life lessons taught in his book and puts them into actual care plans through the "Gift of a Day" and "Gift of Gratitude" Life Journals programs.

Gift of a Day. This Crossroads Hospice volunteer opportunity is based on the question: "If you had one perfect day, what would it look like?" Our volunteer coordinators work with staff members and local businesses to bring these ideas to life. We have created everything from an enchanting evening for patient Viola Chappell complete with a horse-drawn carriage ride to having a gigantic sand castle created for patient Don McDonnell. Learn more about the Gift of a Day Program.
Gift of Blessings & Gratitude. Life Journals are created for our patients to leave as a legacy to their family and loved ones. We help patients document their blessings and gratitude by passing on their life experiences and advice.

Vet to Vet – As a Crossroads Volunteer, Veterans are in a unique position to offer support to fellow Veterans navigating their end-of-life journey in hospice care. No one can understand military service and the experiences that go along with it like a fellow Veteran. Regardless of age, military branch, or location of deployment, Veteran Volunteers are able to make a connection and offer meaningful camaraderie.
Crossroads Vet-to-Vet Volunteers make companionship visits to fellow Veterans in hospice and participate in Veteran Recognition Ceremonies. They provide empathy and understanding like no one else can at a time when their fellow Veteran needs it most.
APPLY NOW TO VOLUNTEER: