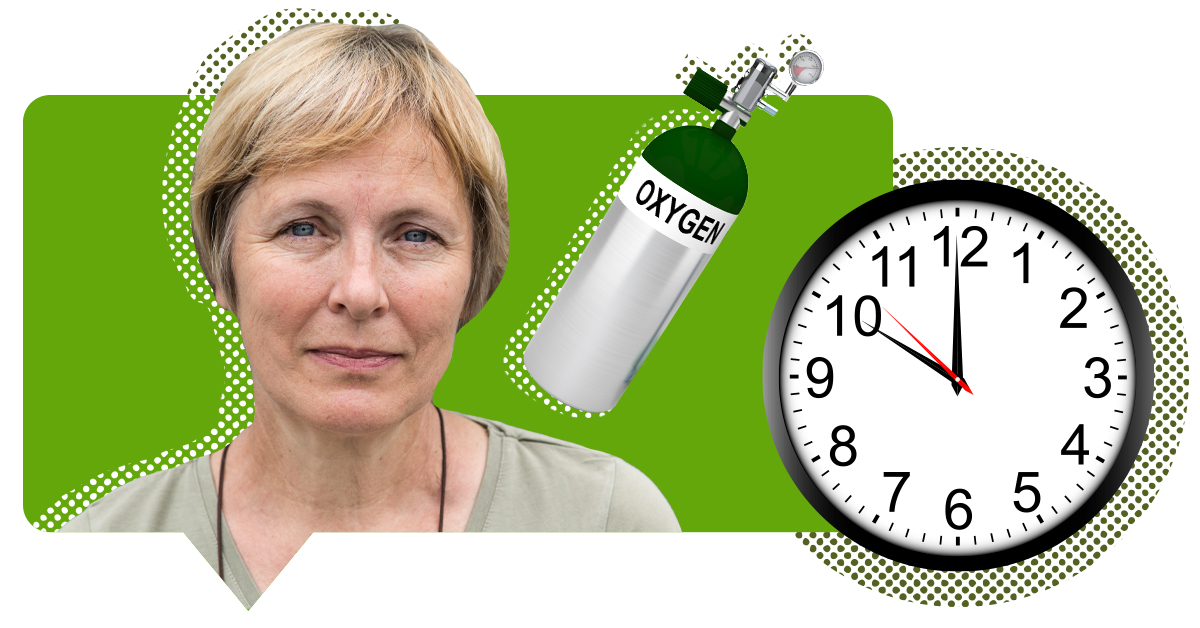 Dear Crossroads,
It's with a heavy heart that I write to you for some advice on my family's current issue. My father has had chronic obstructive pulmonary disease (COPD) for many years and it is beginning to progress more rapidly – increased oxygen demands, decreased ability to do the things he enjoys, and several hospitalizations for COPD exacerbations over the last few months. As a result, he has been referred to palliative care.
I'm having a hard time understanding what that means both for our family and for my father's quality of life. My mom is panicking because she thinks palliative care means hospice, and hospice means death.
Our family is struggling to understand what the future holds for us and how we can prepare ourselves for the road ahead. How long does palliative care usually last? I know it's impossible to predict what the future will hold, but knowing a little more about what to expect can help us all be a united front.
Sincerely,
A Concerned Daughter
Dear Concerned Daughter,
Thank you for reaching out. Understanding your loved one's condition and what to expect for your collective future is a large part of being an active and supportive caregiver. The Crossroads Hospice & Palliative Care website has resources that can help you to understand palliative care at its core. 
When it comes to how long someone usually stays on palliative care, each case is different. Depending on the patient's specific medical condition, the person, and the family's wishes, there are different ways to approach palliative care. Cases vary depending on diagnosis and the individual's goals of care.
For example, palliative care could be involved from the initial diagnosis of a disease or at a point when the disease progresses to a point that it demonstrates an increase in symptoms or is leading to a decrease in the quality of an individual's life. Regardless of when it is engaged, palliative care aims to support an understanding of the diagnosis, its trajectory, prognosis, and all of the care choices available.
In short, the answer to "how long does palliative care last" depends on several factors. Palliative care can be beneficial to anyone living with a progressive illness. It can be delivered concurrently with "curative" treatments and is always focused on providing support – clinical, emotional, social, spiritual – as needed across the healthcare continuum (hospital, outpatient clinic, community, home). 
Usually palliative care is offered when an individual's condition progresses with an increase in symptoms and depending on the individual's goals. But the main focus is that you and your loved one are comfortable and their wishes are being fulfilled.
Keep in mind that hospice care and palliative care are not the same. Hospice care is exclusively for patients with a terminal diagnosis of six months or less to live. Palliative care is a medical specialty that has expertise in caring for individuals with advancing illness. A palliative care physician and their team are experts in symptom management, understanding disease trajectory, and what is likely to be experienced due to the disease and clinical interventions and prognostication.
Palliative care providers such as Crossroads work in concert with all other providers involved to ensure a coordinated care plan based on what is most important to the patient and how they want to live regardless of disease. True palliative care is the highest level of honesty and working with individuals to co-produce a patient-centric, whole-person care plan that adjusts with where the patient is along their healthcare journey.
We ask the patient, "how do you want to live and what's sacred to you?" And then let's create a plan that honors that.
Sincerely,
Dr. Timothy Ihrig
Chief Medical Officer, Crossroads Hospice & Palliative Care

For more information on palliative care programs and services, give us a call at 888-564-3405. If you found this information helpful, please share it with your network and community. Copyright © 2019 Crossroads Hospice & Palliative Care. All rights reserved.