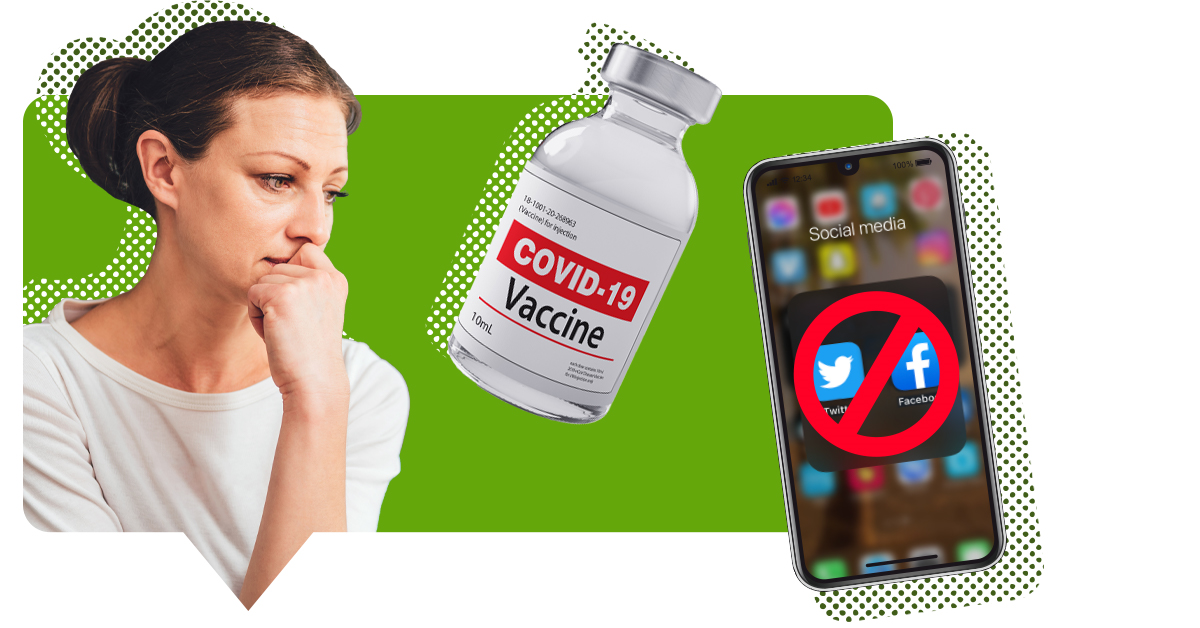 Dear Crossroads,
My dad is a stubborn, 75-year old man who lives by himself. You could say he's set in his ways. Over the past year, he has been reluctant to follow the CDC's social distancing guidelines. He rarely wears a mask when he's out in public. Now he's been telling me that he "doesn't trust" the vaccine, even though he's eligible to receive it. What also worries me is that he's not particularly healthy and has several underlying conditions that put him at increased risk of severe illness from the virus that causes COVID-19.
 I've tried to communicate the risks he's taking, but I'm having a hard time breaking through to him. He seems to have accepted the fact that he won't be taking the vaccine and he's justified in this action from his online groups and friends. I'm terribly worried that he will come into contact with someone who has COVID-19 and become seriously ill. I don't have any siblings to help me convince him either. What can I do?
 Sincerely,
 Pro-Vaccine Daughter
Dear Pro-Vaccine Daughter,
Thank you for reaching out. I am sorry to hear about the stress that this situation with your father is causing you. Convincing an elderly parent to do something that they don't want to do – even for their own health benefit – can be a frustrating and challenging situation.
At Crossroads Hospice & Palliative Care, we are here to help. One of my responsibilities as an Education Coordinator is to train and educate my patients, staff, and team members on the most up-to-date guidance and protocols being recommended by the Centers for Disease Control and Prevention (CDC). 
From the beginning of this pandemic, we have listened to the CDC's guidance and taken every precaution to keep our patients and their families safe. These steps include social distancing, wearing masks, and regular hand washing, which all help reduce the spread of COVID-19. Now that it's available, we are recommending the COVID-19 vaccine to anyone who is eligible to receive it. 
To begin, I hope to ease your concerns and tell you that you are not the only one with a stubborn family member. Several people in my life were concerned about receiving their vaccinations. They had reasonable questions and concerns around its safety and the speed in which it was produced. Over the course of several conversations, I was able to help them overcome those fears by showing them how the vaccine is the best option for getting back to normal life.
Before you get there, it's important to listen to your father's concerns about the vaccine. Ignoring his worries and waving them off as irrational has the potential to further isolate him. Saying things like, "You have no choice! You're getting the vaccine!" are common responses when you understand the risks involved and what's at stake with this virus. However, these types of comments will likely build more walls between you and your father. Instead, ask him where he receives his information about the vaccine and why he "doesn't trust" the recommendations provided by the officials who study it. By being curious about his beliefs, you will show him compassion and open up a larger conversation about the pandemic and the ways we can come together to end it. 
Being prepared with the most up-to-date facts and statistics from the CDC will also help guide your conversation and combat any misinformation your father may have adopted from his friends or from social media. It's important to remember that all of the vaccines currently available have been proven to be safe and highly effective. Something we like to tell our patients is that receiving the vaccine is like putting little warriors into your body that are fighting off the virus so it can't attach itself to you. It's a simple, visual representation of what the vaccine is doing in our bodies. It might also be a helpful strategy in reaching your father. 
Another important factor to consider are the additional risks your father faces because of his underlying conditions. For individuals with underlying conditions such as hypertension, chronic lung disease, or cardiovascular disease, among others, the risk of COVID-19 is much greater because their bodies are already fighting to stay healthy. With the vaccine, these individuals receive broad protection against most symptoms while their bodies become more effective in preventing the virus to begin with. So, even if he were to come in contact with the virus, the vaccine would likely prevent him from a serious illness or hospitalization. 
Lastly, we are all ready for our lives to return to normal. Many people have made great sacrifices over the last year. Some elderly folks I know haven't seen their grandchildren. Others have given up their favorite hobbies and pastimes. These sacrifices mean so much to our elderly family members and friends. So whatever activity or hobby your father had prior to the pandemic, it might be worth mentioning as something he can return to once he has received the vaccine. Because if he's like some people I know, he might be missing the social connection and community these activities can bring into our lives. The vaccine will help us get there. 
 Sincerely,
Debra Wagner, BSN, RN, NEO
Education Coordinator
Crossroads Hospice & Palliative Care
For more information on how Crossroads supports patients and their families, give us a call at 888-564-3405.
If you found this information helpful, please share it with your network and community.
Copyright © 2021 Crossroads Hospice & Palliative Care. All rights reserved.