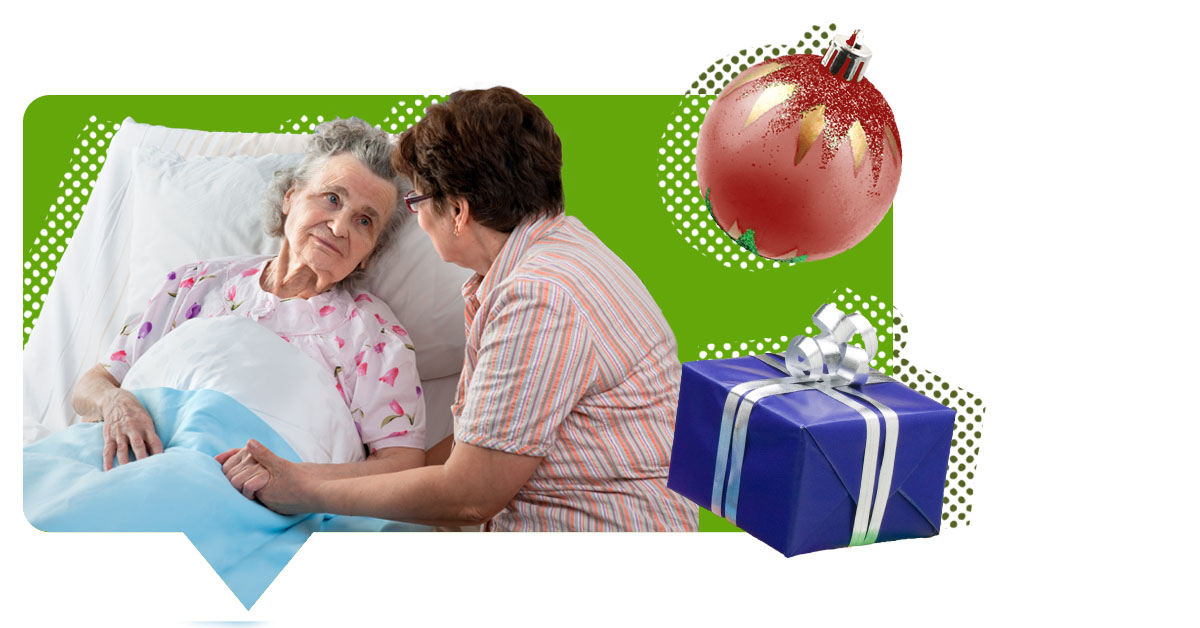 Dear Crossroads, 
The holidays are here and I have some extra time to visit my extended family. They're the part of my family that I don't often see. One person I plan on visiting is my aunt – who is in her final days on hospice care with Crossroads. I'm very nervous because I haven't seen her in a few years, and I don't know what to expect and I especially don't know what to say.
What do I say and how do I approach this? Do you have any advice on how to be respectful but also not a burden?
Sincerely,
Hospice for the Holidays
Dear Hospice for the Holidays,
Thank you for reaching out. Going home for the holidays and seeing family can bring up a myriad of emotions. And it's important to allow yourself to feel those things. There will be joy because you're spending time with your loved ones, and it's a special season. Then there's this other side of it. You might be feeling pain and grief because you want this person to be around, but they're not going to be.
At Crossroads Hospice & Palliative Care, we are here to help you through those moments. The most important thing to keep in mind is making sure that you're honest with yourself and with each other. I've seen many family members tiptoe around what's going on. Families don't want to say the "H-word." They don't want to acknowledge the reality. But the best thing you can do is give yourself permission to talk about those things and be transparent. Your aunt is receiving hospice care and that is OK to say out loud.
Obviously, you want to be sensitive to how others are feeling. Some people in your family might want to skip out on these moments and conversations, and that's also OK. What's important is honoring and respecting everyone's feelings. Give them space and recognize that everyone will have their own emotions about the situation.
It's also important to acknowledge that the holidays can be an especially emotional time for the person on hospice. We're often so focused on the family – if they are comfortable and how they are going to react to seeing their loved one receiving end-of-life care. But sometimes the patients can be just as uncomfortable, and they don't know what to say or how to act. Acknowledging and giving them the space and talking to them about their feelings is something you want to be aware of. You can include them in those conversations and make sure to allow for moments of peace and rest, so everyone has a moment to recharge.
When you go home this holiday season, don't feel like you have to pack a lot into your visit. What's important is quality time versus the quantity of things you do together. Being present with one another is usually what everybody needs. 
You don't have to have elaborate plans or cooked meals – and you can always ask for help so you all can just be together. Have people bring things to you, so you can focus on your loved one.
If you need additional help, ask your Crossroads social worker. They are there to coordinate conversations and help the family along this journey. We want everyone to enjoy the holiday season, and it can be done! It will just take some honesty and patience from everyone involved.
Kara Richardson
Social Worker Coordinator
Crossroads Hospice & Palliative Care
For more information on grief support, give us a call at 888-564-3405.
If you found this information helpful, please share it with your network and community.
Copyright © 2022 Crossroads Hospice & Palliative Care. All rights reserved.