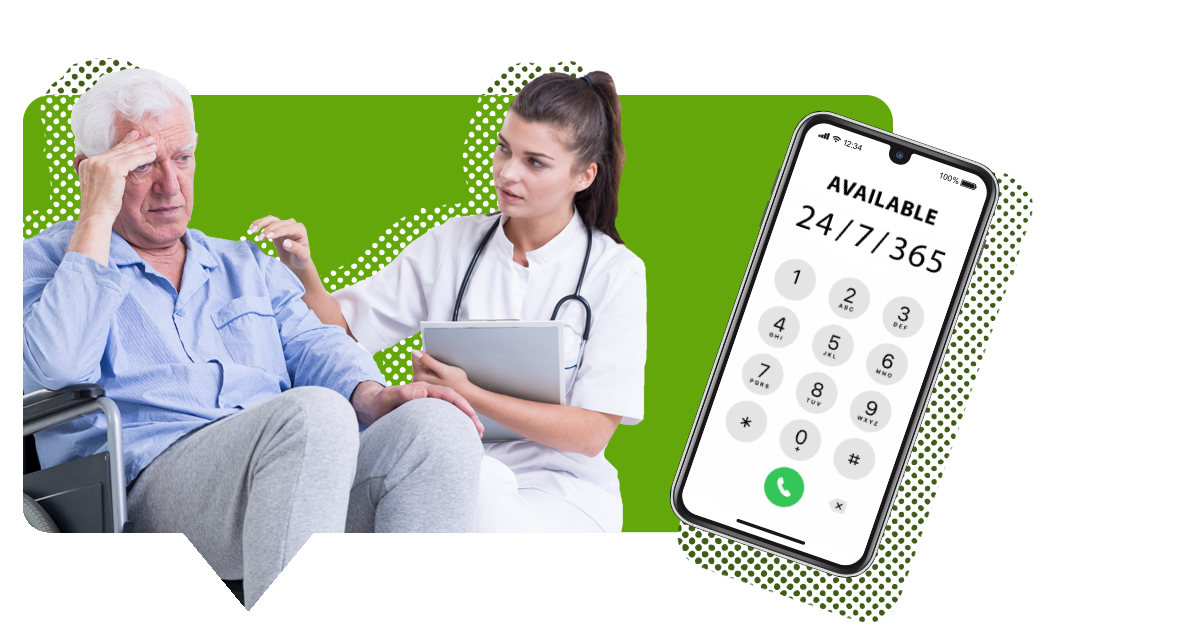 Dear Crossroads,
I'm writing as a healthcare professional at a local nursing home. I have a patient who is fully ready for hospice care. Everyone knows that it's time – his family, his friends, and his care team here at the facility. Still, he is reluctant to hear about his options and many of the people around him are growing a bit frustrated.
I fear that, like many who hold common misconceptions about this type of care, he equates hospice with giving up. But I have seen firsthand – time and time again – the positive impact that hospice has on the quality of life for those who have elected to receive care sooner than later. So how can I approach the hospice conversation when he continues to block everyone out?
Thanks,
Frustrated Professional
Dear Frustrated Professional,
Thank you for reaching out. Beginning the "hospice conversation" with patients can be one of the hardest parts of their journey. At Crossroads Hospice & Palliative Care, everyone on our team is trained to manage the nuances and subtleties of navigating this circumstance, so I'm glad you reached out and asked for guidance. Hopefully, this will help you feel less frustrated. 
We are here to help educate our patients and fellow healthcare professionals with the tools they need to make informed decisions around end-of-life care. We believe in everyone's right to hospice care, and we're always looking to ensure that's the case for our patients.
I would begin by exploring the stigma around the word hospice. This person might be relating hospice care with any number of negative connotations that are often incorrectly associated with the word. There is a "death sentence" implication that has historically given hospice care a very cold and hopeless reputation.  Fortunately, organizations like Crossroads have shed light on the actual benefits and beauty of hospice care by providing holistic and patient-centered care. It's our role as hospice providers to help people understand that hospice care is not the gloom and doom that it's been made it out to be. 
Regardless, it's important to allow space for your patient to explore their feelings and fears. To that point, ask them what images hospice brings up and what he thinks the care might be like. Sometimes our patients just need to be heard before their options and next steps are discussed. 
If he warms up to you during this conversation, you can explain that hospice has evolved into a quality-of-life service that allows people to live comfortably.  There can be many opportunities for him to experience in the time he has left. For example, he can spend quality time with his loved ones. He can journal about his life and all that he's accomplished. He can live free of pain. He doesn't have to keep fighting this alone if he chooses. 
Wherever your patient is in their end-of-life journey, I think it's important to remind them that our phone lines are open 24/7. That means they can call us, rather than going to the hospital if they're experiencing pain.
In these situations, we send a nurse directly to their location, provide medications, and do everything needed to get them into a comfortable place. Our nurses are experts at comfort care and pain management, and train other healthcare professionals in this discipline. Sometimes, a future patient is comforted knowing they don't have to go to a new facility or hospital when something comes up. 
Often, the hospice conversation involves other family members. If that's the case, it's important that we explore their fears and concerns too. Sometimes it's harder for a loved one to hear and accept the reality of what's happening. So, make space for them to express their feelings and concerns around hospice care. 
Hopefully, you can arrive at a place where the patient agrees to receive care. At that point, give us a call. You'll speak to an admissions coordinator, who will help retrieve the necessary documentation from the patient's primary physician. The coordinator will also speak to the patient to set up time where they can review their hospice paperwork which covers all our services, including their bills of rights and insurance policy.
During this conversation, our Crossroads team member will answer questions about what to expect, and explain that hospice care is comfort care, not curative care. At any point during their time with Crossroads, if a patient changes their mind and wants to resume curative care, they can come off our services. 
Whatever happens with your patient, know that we at Crossroads are here to support both your staff and your patients.  You may be the only person they will listen to, even if it seems like little progress is being made. We are here to help. Feel free to call us today to help guide you in these moments.
Best of luck,
Jeanne Morrison, LMSW
Support Services Director
For more information about when it is time for hospice, take this quiz or give us a call at 888-564-3405.
If you found this information helpful, please share it with your network and community. Copyright © 2021 Crossroads Hospice & Palliative Care. All rights reserved.