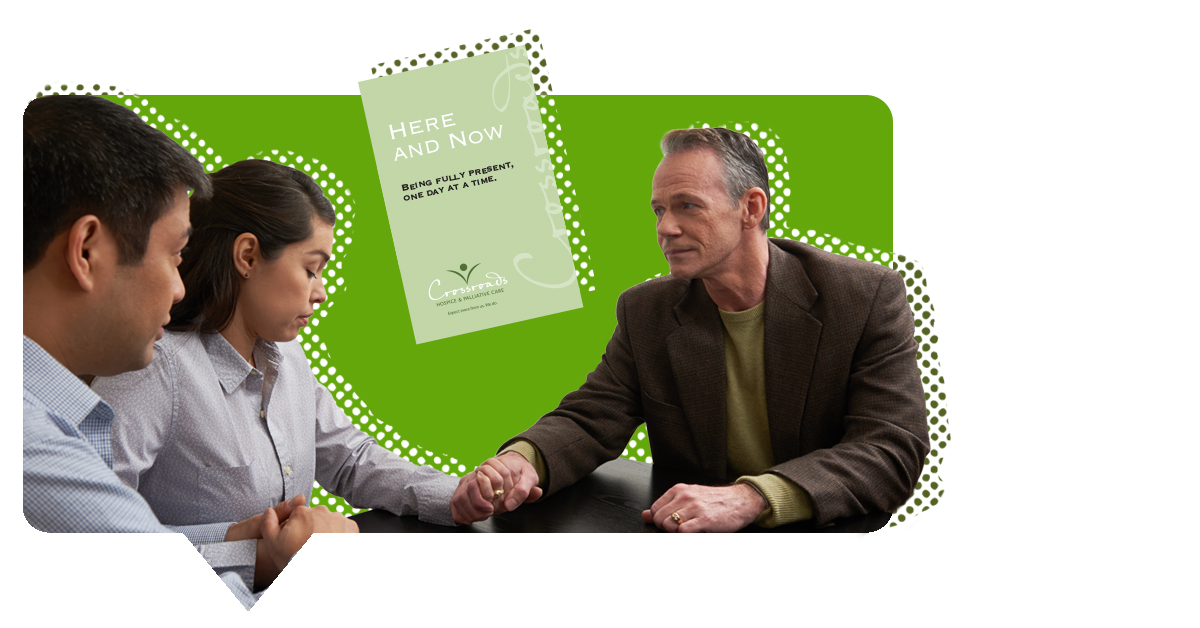 Dear Crossroads,
I overheard my physician use the term "pre-active dying" with another care provider when they were discussing my grandfather's condition. It was a little shocking for me to hear because it felt so… clinical and cold.
Can you help me understand what they were talking about? What does this term mean and what does it signify about his condition?
Thank you,
Looking for Clarity
Dear Looking for Clarity,
Thank you for reaching out. The quality of care your grandfather receives during his end-of-life journey is important to us here at Crossroads Hospice & Palliative Care. I hope I can provide some additional context around what the doctors were saying, so that you can better understand what he's experiencing and the care he's receiving.
I know the term "pre-active dying" may have sounded clinical; however, it refers to a phase of your grandfather's disease progression, which is the natural course or trajectory of his disease or illness. The pre-active stage of dying occurs before the active stage of dying – a roughly three-day period which leads up to a person's passing. The phase of pre-active dying can last a few weeks or a few months, and there are common things a nurse or doctor is observing to make sure their patients are comfortable and at peace during this time.
For example, during this phase, a patient might begin to sleep more or have a change in mental status, their appetite and fluid intake might decrease, pulse rates may change, and their skin color and eyes may become discolored and not appear as bright as they used to be. Since our goal at Crossroads is to ensure your loved one receives the highest quality of care, our team is closely observing and monitoring these changes and consulting one another as they happen.
Something else to keep in mind is that during this phase is that your grandfather might begin to talk about his death and what's coming next. I've had patients tell me how they are excited to leave their body behind and move onto the spiritual world. I've also seen patients become depressed and experience terminal restlessness with the sense of impending doom. At times, it might feel scary and overwhelming to watch this progression, but this is normal. Your Crossroads team is here to help you through whatever emotions you are going through, so don't hesitate to reach out to any of them if you want to talk. We are here to listen.
Another thing I recommend to my patients and the family members is the book Here and Now, which is one of the resources we provide to all of our clients. It's an educational pamphlet and provides a brief timeline to the phases of end of life. Sometimes just being aware of what's coming next can be helpful. If you don't have a copy, let us know and we'll send you one. 
Also, if you or someone from your family would like additional emotional support, we are here to help. Your chaplain, social worker, or bereavement counselor can help connect you to extra resources or support groups in your community that can help you process whatever this experience is bringing up. 
And we're not going anywhere. Our bereavement services will continue to be available to you and your family for up to 13 months after your loved one passes. Even after your grandfather passes on, we will be here to remember him and be a shoulder to cry on. You will always be a part of our family.
I like to tell all the nurses I educate that every patient's end of life is an individual journey. It's never the same for the patient – or for their loved ones. No one is fully prepared to lose someone they care deeply about, but when the moment happens, we will be here to help you grieve and find your path forward.
Sam Hartsfield
Site Educator, RN MSN
Crossroads Hospice & Palliative Care
For more information on end-of-life signs, give us a call at 888-564-3405.
If you found this information helpful, please share it with your network and community.
Copyright © 2021 Crossroads Hospice & Palliative Care. All rights reserved.