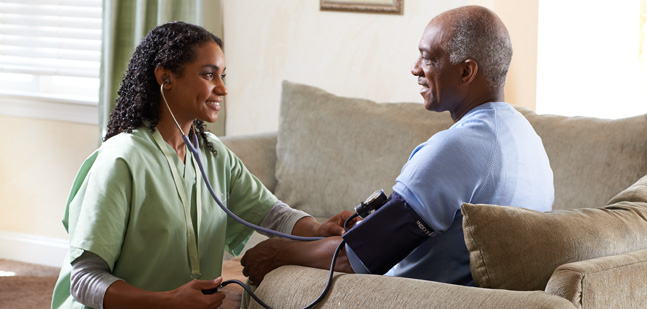 Cancer Hospice Eligibility Criteria.
According to the American Cancer Society, Cancer is the second most common cause of death in the United States, accounting for nearly 1 out of every 5 deaths. There are over 100 different types of cancer, and each is classified by the type of cell initially affected.  These cells divide and begin to crowd out) normal, healthy cells. Cancer is commonly treated with surgery, chemotherapy, and radiation.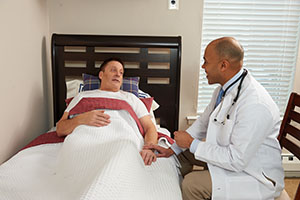 While treatment for cancer is often very successful, there may come a time when treatment is no longer effective or the patient may decide they no longer with to pursue curative treatment. At this point, the focus turns to comfort care and supporting the patient and their family through this transition.
Crossroads Hospice & Palliative Care provides expert end-of-life care to ensure patients maintain the highest possible quality of life, surrounded by their family.
Hospice cancer criteria list.
As there are many different types of cancer, the following hospice cancer criteria are general rules used by physicians and caregivers in order to determine if hospice is the right choice for a patient.
Clinical hospice cancer criteria may include:
Metastatic cancer
Decline in condition in spite of therapy
Palliative Performance Score or Karnofsky score of 70% or less
Electing to forgo further disease directed curative treatment
Palliative radiation or chemotherapy may still be included. 
Certain cancer diagnoses are often eligible for hospice without other criteria including small cell lung cancer, pancreatic cancer, and primary CNS malignancy.
The indicators listed do not replace CMS regulations, local coverage determinations, or professional judgement. As the patient's situation evolves, it is important to regularly look at their options. To schedule a hospice cancer assessment, please contact Crossroads Hospice and Palliative Care.
Palliative performance scale (PPS).
The Palliative Performance Scale is used to assess the progressive decline of palliative patients, and is frequently used to determine if a cancer patient is eligible for hospice.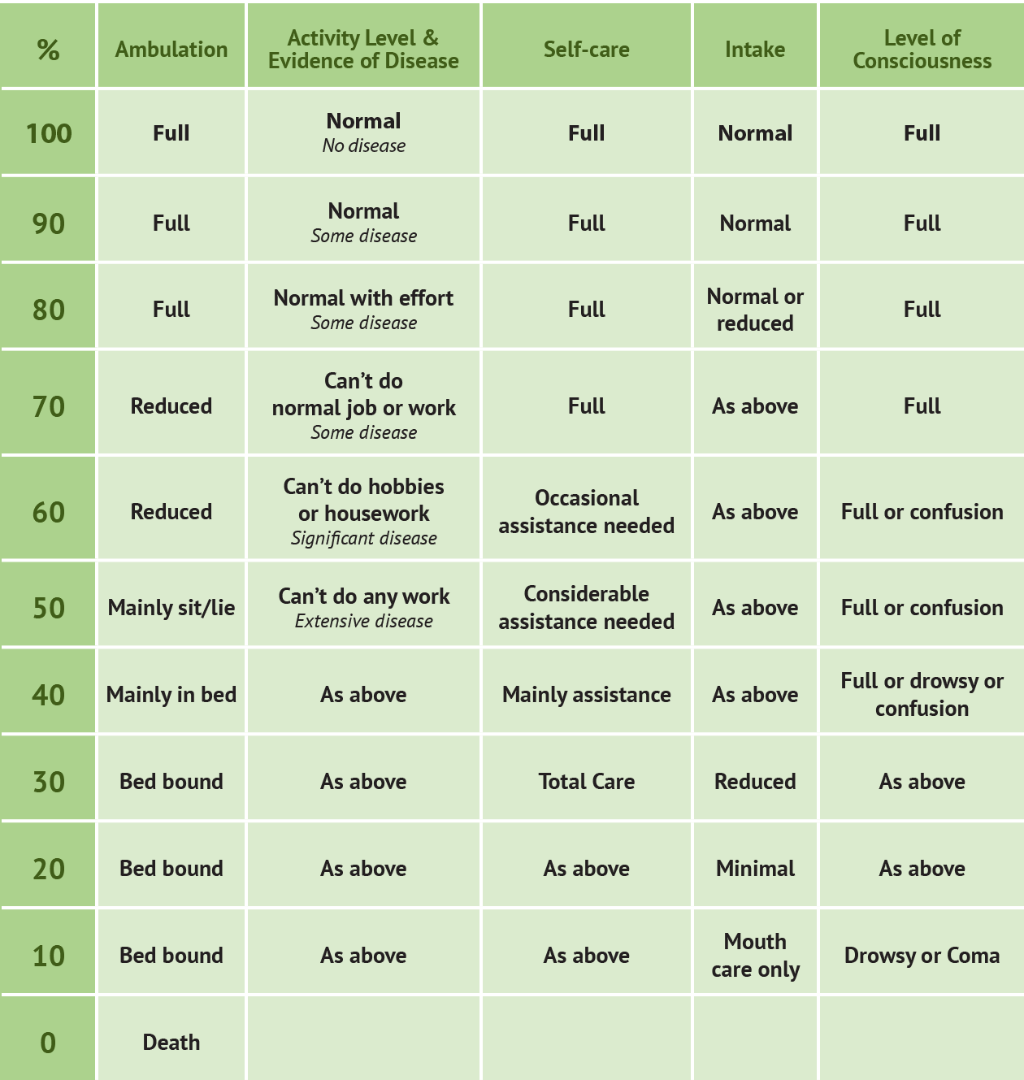 Copyright © 2001 Victoria Hospice Society
Karnofsky performance status scale definitions rating (%) criteria.
The following scale is used to classify patients in regards to their functional impairment as well as understand the effectiveness of certain therapies.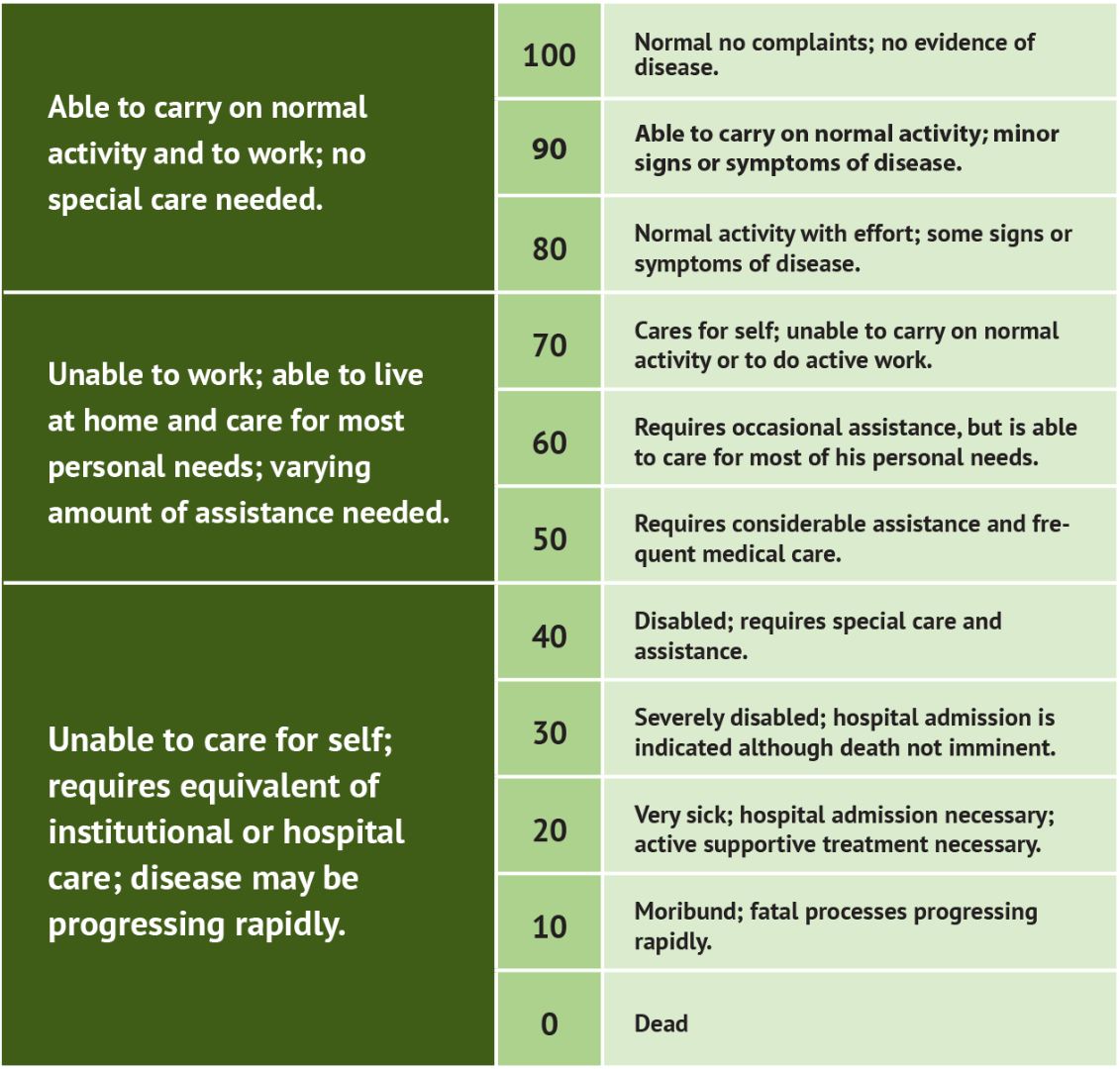 Copyright © Karnofsky DA, Abelmann WH, Craver LF, Burchenal JH. The Use of the Nitrogen Mustards in the Palliative Treatment of Carcinoma – with Particular Reference to Bronchogenic Carcinoma. Cancer. 1948; 1(4):634-56.
Cancer symptom management.
If a cancer patient is eligible for hospice, the Crossroads Hospice & Palliative Care team provides aggressive symptom management for a wide range of cancer-related issues. The interdisciplinary team of nurses, aides, social workers, chaplains, volunteers, and bereavement specialists work together with the patient and their family to address physical, emotional, and spiritual needs.
In addition, our team provides education to family caregivers on medication and medical equipment to ensure the patient receives the greatest benefit and increase the patient and family understanding of the diagnosis, treatment, and prognosis.
Once a patient begins hospice care, all medication related to the patient's primary diagnosis and medical supplies and equipment such as oxygen, wheelchairs, and hospital beds will be provided at no cost by Crossroads Hospice & Palliative Care. We will arrange for the delivery of medication and supplies, so the family does not have to make an extra trip to the pharmacy.
Crossroads Hospice & Palliative Care volunteers are also available to provide added companionship and support to patients, giving family caregivers the opportunity to take a break.
In addition to clinical and personal care support, Crossroads Hospice & Palliative Care offers specialized programs to enrich patient lives.
These include:
This program honors the service and sacrifice of our military Veteran patients with a ceremony complete with a certificate and honorary presentation. All of our staff have received specialized training to meet the unique needs of military Veterans as they approach end of life.
The Gift of a Day program gives our patients the opportunity for one perfect day doing what they love. Some patients choose to spend that day doing something they've always dreamed about like a hot air balloon ride while others spend it revisiting a favorite activity like fishing or a special meal with their family. The day is built into each patient's plan of care to provide the patient and their family with a special memory.
The Life Journal program pairs the patient with a Crossroads volunteer. Together, they collect stories and photos from the patient's life. These are gathered together in a hardbound book and presented to the patient and their family. The Life Journal allows the patient's life story to live on for generations.
For primary care physicians.
Crossroads Hospice & Palliative Care is your partner in ensuring your patient and their family receive the support they need when cancer treatment options are exhausted. If you believe your patient meets the cancer hospice eligibility criteria, we are available 24 hours a day, 7 days a week, 365 days a year to evaluate and as appropriate, admit new patients. Our pain and symptom management experts will work closely with you to facilitate an easy transition to hospice care, avoiding unnecessary hospital readmissions.
If your patient is currently pursuing curative treatment or not yet ready for hospice care, the support of palliative care may be appropriate. Our palliative care team is trained to treat side effects from cancer treatments in addition to managing the symptoms of cancer. Our team partners with oncologists and primary care physicians to provide extra support and an extra set of eyes and ears in the patient's home. Physicians are kept abreast of treatments and any changes in the patient's condition.
When to call hospice.
When cancer patients and their families shift the focus to comfort care, Crossroads Hospice & Palliative Care is available to provide expert care and support the "whole patient " support in the location of the patient's choice including their home, assisted living facilities, and in-patient  inpatient units.
Beginning the hospice conversation early allows you to have the time you need to explore all your options and have all your questions answered before a crisis occurs. Crossroads Hospice & Palliative Care can meet with patients and their families at the location of your choice at any time, 24 hours a day, seven days a week, 365 days a year.
If you have questions about whether a patient meets the criteria to begin cancer hospice care, please contact us via the blue Help Center Bar above, or fill out the form on the right for a hospice consultation.