COPD Hospice Eligibility Criteria.
Chronic Obstructive Pulmonary Disease (COPD) is a term used to describe several progressive lung diseases including chronic bronchitis, emphysema, refractory (non-reversible) asthma, and some forms of bronchiectasis. COPD affects an estimated 30 million individuals in the United States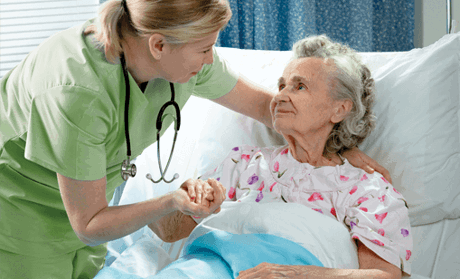 The slow decline of COPD often has patients unsure when they meet hospice eligibility for COPD. In addition the general hospice eligibility, we consider the following factors in hospice eligibility for COPD patients.
Hospice criteria for COPD:
Recent visits to the ER or hospitalization for pulmonary infections or respiratory failure
Dyspnea or tightness in the chest (FEV1 <30% of predicted)
Identification of specific structural/functional impairments
Relevant activity limitations
Changes in appetite and unintentional progressive weight loss
Impaired sleep functions
Decline in general physical endurance
Impaired mobility
Requires oxygen some of the time or all of the time
May require breathing treatments or use of inhalers
May have difficult eating or carrying on conversations without become short of breath
COPD symptom management.
Crossroads Hospice & Palliative Care provides an added level of support for patients and their families in managing symptoms and personal care. Our team is available to answer questions and provide support 24 hours a day to help control patient symptoms at home, avoiding late night visits to the emergency room and avoidable hospital admissions.
In addition, we offer unique programs to enhance patient quality of life including the Gift of a Day program, giving patients one perfect day doing what they love, and the creation of a Life Journal, collecting their most treasured stories and photos into a book for their families.
For primary care physicians.
If believe your COPD patients meet the hospice criteria for eligibility, we're here to help. Crossroads Hospice & Palliative Care is your partner in providing support to patients with end-stage dementia. We are available 24 hours a day, 7 days a week, 365 days a year to admit new patients and respond to worsening symptoms. Our pain and symptom management experts will work closely with you to facilitate an easy transition to hospice care for the patient and their family.
When to call hospice.
Due to the slow progression of COPD, it can be difficult for family members to determine when a COPD patient becomes eligible for hospice care. Crossroads Hospice & Palliative Care is available to assess the patient in their home environment to determine whether they meet the criteria to begin hospice care. If you or someone you know is experiencing worsening COPD symptoms, please contact us at 1-888-564-3405 to arrange a hospice consultation.