National Smoke Out Day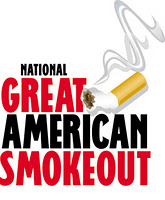 In the United States, tobacco use is responsible for nearly 1 in 5 deaths. That is why the American Cancer Society has sponsored the Great American Smokeout, encouraging thousands to join together and and give up smoking for one day. Hopefully motivating all smokers to kick their habit and aim for healthier lives.

Knowledge makes a difference! There is a high price for smoking, here are some facts about smoking and other health risks from the American Cancer Society that may have you thinking twice:
 

Tobacco use remains the single largest preventable cause of disease and premature death in the United Staes.

 

Each year, smoking results in an estimated 443,000 premature deaths, of which about 49,400 are in non-smokers as a result of exposure to secondhand smoke.

 

Nearly 47 million Americans still smoke.

 

Smoking accounts for $193 billion in health care expenditures and productivity losses.

 

Tobacco use accounts for at least 30 percent of all cancer deaths and 87 percent of lung cancer deaths.

 

More than 8.5 million Americans have chronic illnesses related to smoking.

 

Tobacco use increases the risk of cancers of the lung, mouth, nasal cavities, larynx, pharynx, esophagus, stomach, colorectum, liver, pancreas, kidney, bladder, uterine, cervix,over and myloid leukemia.

 

Cigarette use has had a dramatic decline since the release of the first U.S. Surgeon General's Report on Smoking and Health in 1964. Even so, about 24 percent of men and 18 percent of women still smoked cigarettes in 2009, with almost 80 percent of these people smoking daily.

 

Adults who smoke cigarettes die 14 years earlier than nonsmokers.

 

1 in 4 high school students report current tobacco use.

 

About 3,500 kids start smoking and 850 kids become regular smokers every day.
Join the SmokeOut and spread awareness of the risks of lung cancer, COPD and other related lung disease by sharing this with friends and family – Stay healthy!