The Importance of Volunteers in the Crossroads Family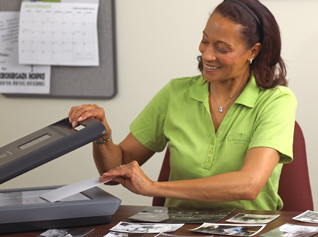 Volunteers at Crossroads Hospice are special people who make a difference when they generously share their talents, time, and compassion with patients facing a terminal illness, and their families.
These "Ultimate Givers" visit patients in their homes, in assisted living facilities, and in nursing facilities. Volunteer duties vary with patient needs. A volunteer may provide companionship, read to a patient, play games, assist with errands, or provide a moment of rest for a family member. Other specialized volunteer opportunities include pet therapy and art therapy.
Volunteers play an important role in two unique gifts that Crossroads provides for patients and families. The Gift of a Day, inspired by Jim Stovall's book, "The Ultimate Gift" asks a patient to describe his perfect day, then volunteers and staff work to make that day a reality. It may be as simple as a family holiday party or as complex as arranging a flight in a World War II era airplane.
The Gift of Blessings and Gratitude is a gift the patient gives to their family with a volunteer's assistance. A volunteer will work with a patient to gather up the important stories of a patient's lives, and family members provide photographs to illustrate milestones and memories. It's not just reflections on the past though, the patient can also offer advice, share experience, and proclaim love. The volunteer compiles all this amazing info into a Life Journal, a lasting gift for future generations.
Crossroads Hospice Veterans Recognition actively seeks veterans to volunteer with patients who are also veterans. Besides companionship and empathy, these volunteers assist with recognition ceremonies, where veterans are honored for their tremendous service to our country.
Volunteers also provide clerical support (filing, typing, answering telephones, and assisting with marketing efforts and special events) freeing up other members of the Crossroads team to work with patient, and also offering the volunteers an opportunity to learn new skills or sharpen old ones.
Volunteers are mentored by members of the Crossroads staff who share their experiences working with patients and families. Crossroads also provides on-going support for all volunteers. Prospective volunteers also complete an application, a background check, and a TB skin test before beginning duties.
So for all those of you who are looking to be a one-of-a-kind volunteer, applications are available here.