HIV Testing is an Important Habit to Learn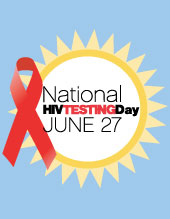 Recently, a colleague of mine was at a community health fair where HIV testing was being offered and a mother and her 13-year-old daughter both took an HIV test. My colleague asked the mother why she was having her daughter take the test. She responded that while, to her knowledge, her daughter was not sexually active, she wanted her to be in the habit of getting tested as a part of her routine health care as she moved into adulthood.
The HIV/AIDS statistics are alarming: every 9 ½ minutes, someone in the US becomes infected with HIV, and there are an estimated 1.1 million people living with HIV in the US.
The disease is hitting our youth. Hard. According to the Center for Disease Control (CDC), one in four new infections occurs in people ages 18 to 24. In 2010 alone, about 12,000 youth were infected with HIV. As with its horrific past, the disease isn't isolated to a certain race, gender or sexual orientation. Any youth, anywhere, is susceptible if they're engaging in high-risk behaviors.
Fortunately, over the past 32 years, tremendous strides have been made in the treatment of HIV.   Today doctors have a small arsenal of drugs to help people live a long and healthy life with HIV – but only if they know they have the virus, and are able to access and maintain treatment. Early diagnosis of HIV can not only improve treatment prognosis, but has also been shown to significantly reduce new infections.
Unfortunately, 1 in 5 people living with HIV in the US do not know it because they haven't had a recent HIV test, and about 60% of all youth with HIV do not know they're infected.
In 2006, the CDC recommended that HIV testing become a part of routine medical care, and that everyone between the ages of 18 and 64 have an HIV test annually. Yet a recent report by the Kaiser Foundation found that only 54% of adults in the US have ever been tested for HIV, and only 21% have been tested in the past year.
June 27 is National HIV Testing Day. HIV tests are offered regularly throughout the year at health clinics, physician offices, emergency rooms, family planning facilities, prisons and jails, homeless shelters, recovery programs and mobile units that travel to neighborhoods and community events.
National HIV Testing Day provides an opportunity to draw attention to the importance of HIV testing. Many community-based organizations and healthcare facilities will be doing special outreach and programs to further increase people's access to HIV testing that day.
I applaud the mother who is leading by her own example, and instilling in her daughter the importance of routine HIV testing. National HIV Testing Day on June 27 would be the perfect time for all of us to follow her example by getting an HIV test and encouraging others to do so.
For information about HIV test sites in your community visit:  http://hivtest.cdc.gov
Robb Reichard
Executive Director
AIDS Fund