Our Judges For The Caring More Awards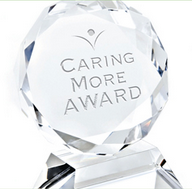 This year marks Crossroads Hospice's third annual "Caring More" Awards. Since 2010, these awards have recognized the outstanding efforts of social workers who dedicate their careers to improving the quality of living for others. Winners from individual Crossroads sites are awarded $500 to a non-profit of their choice – as well as a breakfast banquet held in their honor. Colleagues, family, friends, and a panel of judges are all invited to celebrate the amazingefforts of the winners.
March is National Social Work Month, a month dedicated to thanking those who dutifully provide great service in social work. "Caring More" Awardees embody traits that make social work a beautiful profession. Our panel of judges, pulled from each city presenting an award, is comprised of professionals who have distinguished themselves as pioneers in their fields and include representatives from disease and professional social work associations, chairs of social work departments from area universities, elder care attorneys, nursing home administrators, geriatric physicians and more. These individuals know what makes a great social worker – because they too do more for the people they serve every day. Today, we'd like to highlight a few of the judges and their achievements: Kenneth Daily, Elizabeth Mulroy and Laura Lopez are three leaders in the social care industry that will be judging candidates.
 Working in long-term health care for over 25 years is a tremendous milestone to reach.Kenneth Daily has done just that. A founding judge of the "Caring More" Award in Dayton, Kenneth, President of Elder Care Systems Group, has worked tirelessly to improve the quality of service provided in the healthcare profession. As a member of the Ohio Health Care Association Board of Trustees, Kenneth has lectured nationwide on ways to improve the service and integrity of social workers. The author of numerous articles and professional guides on the Quality Indicator Survey, Kenneth and his consulting firm specialize in quality improvement, productivity and education.
Alzheimer's disease is the #1 cause of dementia- a loss of brain function that affects memory, thinking and behavior.Elizabeth Mulroy is a leader in educating people on the memory effects of Alzheimer's disease and how to fight it.As Program Director of Greater East Ohio Chapter of the Alzheimer's Association,Elizabeth provides  direction for the chapter's family services programs, including family meetings, support groups and a 24/7 helpline. She directs all educational programs for the Alzheimer's Associations 17-county service area, manages program staff and oversees federal and state grant administration.
The Go Red For Women Half Day for Your Heart Luncheon & Health Expo is an event that brings people together to advocate healthy living and educate the community on the prevention of heart disease our No. 1 killer. Laura Lopez,the Director of Go Red For Women for theAmerican Heart Association Kansas City Chapter is charged with raising funds to support the life-saving mission of the American Heart Association.  Locally the Go Red For Women movement raises $500,000 to support research and education in Kansas City.   Always in good humor, she loves bringing people together to form common goals for a better future.
These are just a few of our "Caring More" Award judges and only a glimpse at the great work they do each day. Our judges are passionate about social work and will award the candidates who best represent social workers that heal people each and every day. Winners come from unlikely places and perform some unbelievable miracles. We thank all of you for your contributions and we cannot wait to announce the 2013 winners of Crossroads Hospice "Caring More" Awards.