Becoming Comfortable with Assisted Living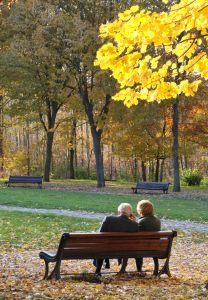 It can be a sobering reality: Mom and Dad can no longer safely live on their own.
They often don't realize it, but the dangers are glaringly obvious to an adult child. Countless questions are left unanswered:
What if Mom leaves the stove on? 
What if Dad gets lost while driving and can't find his way home? 
What if Mom falls and can't call for help? How long will she have to wait before someone discovers her and she gets the help she  needs? 
As adult children, we often feel guilty because we can't monitor their living situation 24/7. But, it is not physically possible to be there at all times to ensure that they are properly taking their medications or eating nutritious meals.
We don't want to think of our parents being lonely or isolated. We would rather go about our daily lives, with the image of Mom or Dad in our minds engaging in conversation and activities with a group of friends and living in a safe environment with good healthcare and a watchful, trained eye on them at all times.
We are very fortunate in this day and age to have wonderful assisted living communities that provide safe and stimulating environments where our parents can be comfortable and truly flourish and thrive.
During National Assisted Living Week, we focus on the important role an assisted living community can play in our parents' later lives. As we start our search for that ideal setting, what should we keep in mind?
 

Seek out a community that provides on-site 

around-the-clock

 nurses to handle any emergency situations.

 

Consider the 

longevity

 of the management team. Are they truly devoted to growing the facility and putting their hearts and souls into caring for their residents?

 

Make sure the community

 provides daily transportation

 to enable residents to enjoy the freedom of being able to remain fully engaged in the community around them.

 

Look for a 

receptive community

 with friendly staff who will welcome your parents to their new home with open arms.
It is equally important to have an open-door policy for family members because we never outgrow the need to come home to Mom and Dad—and it's important they know they can come to us, too.
Lisa Anyan, M.A.
Belmont Village
Community Relations