'Santa' Delivers the Gift of Recognition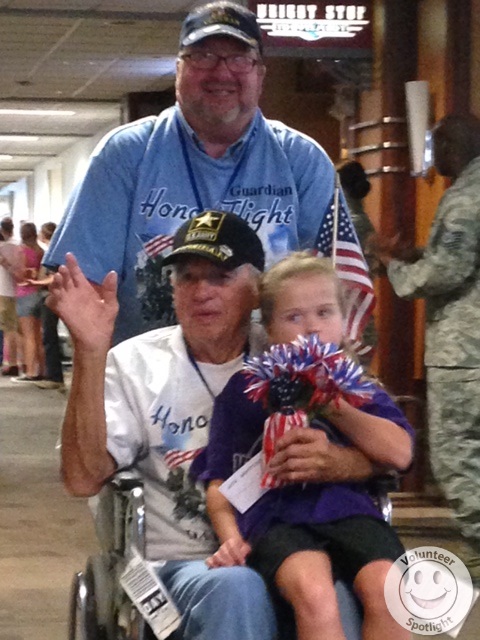 When kids see him and his distinctive white beard, they call him "Santa." It's a name that fits even when it's trimmed short for summer.
Although Ed Webb is more likely to arrive by car than a reindeer-driven sleigh, he brings a Santa-like generosity as a volunteer in the Crossroads Hospice Veteran Recognition program.
Ed enlisted in the Navy in 1974, but was deemed 4F and joined the Reserves instead. He was activated three times and even deployed during the Persian Gulf War, but his unit was never sent overseas.
These days, his service focuses on honoring Veterans whenever and wherever he can at Veteran Recognition Ceremonies.
"I'd do anything for a Veteran. When I heard about this program, I didn't think twice. I jumped right in," he says.
The Crossroads Veteran Recognition Ceremony honors patients for their military service. They are thanked and presented with a certificate, a hat and a pin.
"It's my way of saying thank you – thank you from everyone. My heart is with all the Veterans, but especially the Vietnam Vets. They're my age, and they were treated so horribly when they came home. I have a neighbor who came home in uniform, and people spit on him and threw eggs. I want to give them the thanks they deserve … It's an honor to pin these gentlemen and ladies from any time of service. When you see the look in their eyes – so thankful someone recognizes what they've done, you can't help but tear up."
Ed has participated in many Veteran Recognition Ceremonies in the past year with Crossroads Hospice, but one in particular stands out.
"We did a posthumous pinning for a Veteran who passed away before his ceremony could happen. We went the church before his funeral started and did the whole presentation in front of his immediate family. We even did the military funeral salute. There wasn't a dry eye in the room. It was one of the greatest things we've done."
Crossroads Hospice is always looking for new volunteers for our Vet-to-Vet program which pairs a Veteran volunteer with a Veteran patient either for regular visits or to participate in the Veteran Recognition Ceremony.
Ed advises fellow Veterans to dive into it. "It doesn't much time, and it's an honor to help another Veteran. If you can't do visits, just do the pinnings. You'll be so happy you did."
To learn more about volunteer opportunities in your area, please call us at 888-564-3405 or visit our website.
If you found this information helpful, please share it with your network and community.
Copyright © 2015 Crossroads Hospice. All rights reserved.