Rossister's Country Birthday is the "Ultimate Gift"
Mary Rossister has always been a fan of country music.
The soulful guitar chords, the meaningful lyricism and the celebration of America's pastoral roots have resonated with the Marshall, MO native since she was a child. Mary still lives in the small farming community where she grew up, but is now a resident of the Mar-Saline Manor Care Center.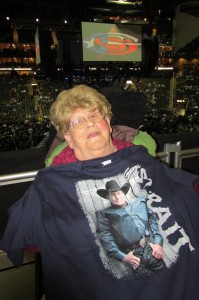 When Mary's 78th birthday fell on the same night as a performance by George Strait, her favorite country artist, she knew exactly how she wanted to spend her Gift of a Day.
To celebrate, Mary's Crossroads team took her out to Independence for a birthday dinner at Corner Café, a restaurant specializing in down-home cooking. After the meal, Mary joined a packed house in Kansas City's Sprint Center, where George Strait performed one of the final shows in his farewell tour.
With a night of celebration in the big city behind her, Mary returned home to Marshall. If the concert t-shirt she brought back wasn't evidence enough that she had the perfect day, it was clear from the smile on her face.
If you found this information helpful, please share it with your network and community.
Copyright © 2015 Crossroads Hospice. All rights reserved.