"Gift of a Day" Is Fun and Games For Patient
The colorful flashes of an arcade's blinking lights, the roars of delight at the peak of a roller coaster, the smell of fried dough and cotton candy. These are the senses that defined John Layne's professional life as a carnival ride operator. And on his perfect day, they called to him once again.
Layne, a Crossroads Hospice patient in Bridgewood Manor, recently had the chance to revisit the magical environment of a carnival. Along with Crossroads staff members, the Kansas City native visited Power Play, an entertainment complex featuring the types of games and rides that Layne used to operate. He played arcade games, rode in a pirate ship and enjoyed a fairground lunch. He spent the day among the amusements he had provided to others for so long. This time, he was the one having all the fun.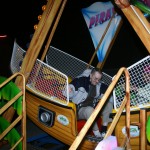 If you found this information helpful, please share it with your network and community.
Copyright © 2015 Crossroads Hospice. All rights reserved.