Recognizing our Family Caregivers: Introducing Voices of Caregiving
At Crossroads Hospice we're committed to doing more not only for our patients, but for the family members who care for them. A recent Pew Study found that four in 10 U.S. adults are caring for a sick or elderly family member. Too often, the sacrifices of these devoted family caregivers go unnoticed. As part of our new blog series, Voices of Caregiving, we'll share the remarkable stories of our caregivers. These are the stories of the children, spouses, siblings and friends who care for our patients through challenges and adversity – embodying a sense of commitment, compassion, and unconditional love that deserves recognition.
Voices of Caregiving: Through the Eyes of Terry Henderson
Terry Henderson wakes up early each morning, getting himself dressed and ready as if he were still working as a computer programmer for the data systems company he left over 10 years ago. But instead Terry spends his days at home, dedicated to caring for the love of his life, Peggy. He dresses her, feeds her, braids her hair, and gives her the medication and breathing treatments she needs. Terry is the primary caregiver for his wife, and he doesn't take a day off.
Peggy has been the center of Terry's world ever since they started dating in high school. They were married 40 years ago, but their commitment to one another has never wavered. Not even when Peggy was diagnosed with multiple sclerosis.
Terry's responsibilities grew as Peggy's condition gradually worsened. For a few years, she was indistinguishable from any young, healthy adult. Eventually, however, she began to rely on Terry for basic needs.
"She started tripping over things that weren't there, had balance issues, and her reaction time was slow," Terry recalls. "She started going downhill pretty quick. Eventually, she started getting tremors, and she needed a wheelchair to get around. That's when I'd say I became her full-time caregiver."
Today, Terry's life revolves around Peggy's care and she has become completely dependent on him. He has been by her side through doctor's visits and treatments, researched her condition and methods of care. Although it is rare for patients with multiple sclerosis to live with the disease for as long as Peggy has, Terry has heard a few theories on her longevity.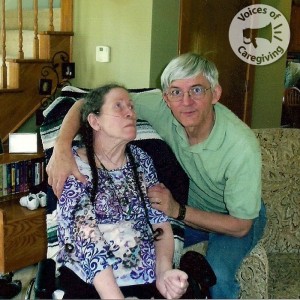 "At one point, the doctor had told me that caring for her was a waste of time, that she probably wouldn't last long," he says. "One day, I realized she wasn't looking through me but at me again. She hadn't done that in weeks. After that, she perked back up again. Some nurses have said they don't know how she's hung on for as long as she has. Everyone says it's me."
One of the greatest challenges that Terry faces isn't the day-to-day work of a caregiver, but the work's solitary and often thankless nature. Although he keeps constant company with his wife and best friend, Peggy's condition has left her unable to speak or communicate. Naturally, this has been trying for Terry and he has come to rely on the support of Crossroads Hospice.
"The Crossroads staff is as much a help for me as they are for Peggy," he says. "They help me emotionally. I obviously don't get out a lot and don't see people too much, so people coming by and talking to me is a big help. That doesn't sound like a lot, but it really makes a difference."
A social worker, chaplain, nurses and home health aides provide regular medical, emotional and spiritual support to the Hendersons. For Peggy's "Gift of a Day," Crossroads brought a spa to the couple's doorstep, including a manicure and massage.
"We all figured this was something she would probably enjoy," he says. "It was nice to get something done for her."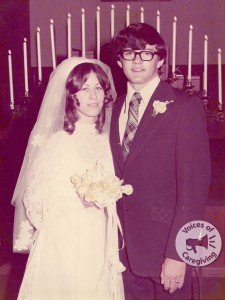 For encouragement, Terry lets his mind wander back a few years. He remembers an afternoon when Peggy's gaze kept drifting to a corner of the couple's living room ceiling. Life was different than it had been when they were newlyweds. Peggy could be distant and confused. Terry never hesitated to commit himself to her care, but he began to wonder if he was doing the right thing, if Peggy wanted to be cared for.
"At that point I was questioning myself," he says. "This had been going for so long, I was wondering if this was really what she would want. Am I helping her?"
Without holding out much hope for a coherent response, he told her that he knew she would have to leave him one day, but wanted her to stay with him for as long as she could. He was grasping for some sort of affirmation that his years of dedication were making the difference he hoped they were.
"She went from smiling to getting a sad look on her face," he remembers. "She looked at me and said, 'Good, because I don't want to die yet.' That removed any doubt."
If you found this information helpful, please share it with your network and community.
Copyright © 2015 Crossroads Hospice. All rights reserved.