What is a Hospice Discharge?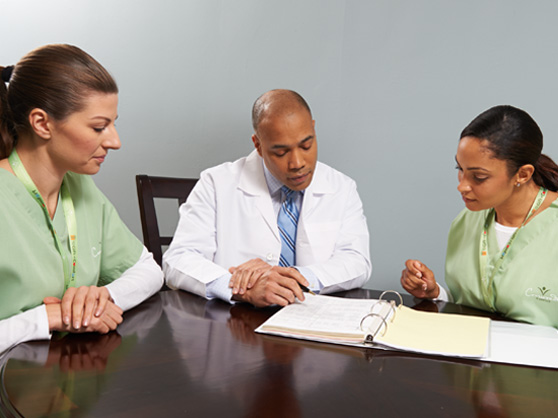 If you have a loved one on hospice care, you might not expect to hear about a hospice program discharge. You might even be thinking, "Does that even happen?" Well, yes. It's not a daily occurrence, but sometimes a patient is discharged from hospice care because they improve and no longer meet the criteria for hospice services.
At Crossroads Hospice, every two weeks, our hospice care team discusses a patient's disease progression in a team meeting. The team consists of a doctor, nurse, hospice aide, social worker, spiritual care, volunteer coordinator and bereavement coordinator. They discuss what has been going on with the patient and where they see things going in the next two weeks. All members of the team have their chance to discuss the care that discipline has provided and any concerns. The family is also invited to these meetings.  
There are two instances where a patient may be discharged from hospice:
When the patient's condition has improved to the level where they no longer meet hospice criteria.
When the patient's condition has stalled in disease progression and has not shown continued decline after a six month period.
In both instances, Crossroads would then consider discharge from hospice services.
The team watches patients very closely and if one of these situations becomes apparent, the team will begin to look at discharging the patient. The family is informed of this decision and then we start the discharge process. If at any time during this process the patient shows disease progression, we will continue to keep them on hospice care to monitor for further progression.
If a patient is discharged, our team will ensure a smooth transition by helping with scheduling doctor appointments, switching out any durable medical equipment, and making sure the patient has enough medication to last until the follow-up doctor appointments. We try to get all of this accomplished in a 14-day period.
Once a patient is discharged from Crossroads, they return to the medical care they received before beginning hospice services. We'll do a periodical follow-up to check on the discharged patient.
Once a patient is discharged from hospice for stabilization it does not mean they cannot return to hospice care. The indications for readmission to hospice would be that there is some kind of active disease progression that would return them to a possible terminal state.
Examples include:  
Repeated infections
Sudden decline in physical abilities
Sudden change in mental status
Unexplained weight loss
Sudden loss of appetite
If any of these things occur, the patient should not hesitate to contact the hospice provider for a re-admission evaluation. Crossroads Hospice is always available to answer any questions you may have. Contact us online or call us at (888) 564-3405.
Amy Keener RN BSN CHPN
Corporate Quality Assurance Nurse
Crossroads Hospice
If you found this information helpful, please share it with your network and community.
Copyright © 2015 Crossroads Hospice. All rights reserved.