Student Hospice Volunteer Makes a Connection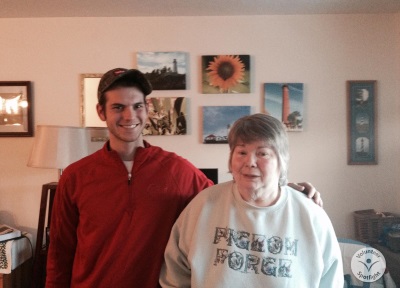 The mission of Wittenburg University is for students to become responsible global citizens, to discover their callings, and to lead personal, professional, and civic lives of creativity, service, compassion and integrity.  
The high expectations from this Ohio-based school led sophomore student Andre Lorenz to become a hospice volunteer. For him, there's no where else he'd want to volunteer because the Crossroads Hospice philosophy -- "expect more" -- resonated with him and the university's mission.   
Andre works in the university's Student Volunteer Office, helping guide other students to find volunteer opportunities that fulfil the 20 hours of community service they're expected to complete. When he's not guiding others, he's leading himself through a learning process at the Crossroads Hospice in Dayton, OH.
Hospice volunteering spoke to Andre because of his family history in the field. "I knew my grandmother had volunteered for hospice when she was younger, so it was something I wanted to do," he says.
Andre has been visiting with several patients this year, and he developed an especially close relationship with his first patient who recently passed away. Andre provided companionship for both the patient and his wife.
"I would stop by the house a few nights a week and read with him. Then his wife and I would watch Jeopardy together," he shares. "It was a memorable time. Joe had dementia, but he would wave goodbye when I left."
He recalls, "His wife would share photos of when they were young. They had been together for 45 years."
Asked to give advice to future hospice volunteers, Andre says, "Always give your time because people matter. Take the time to listen to them - even in awkward silence. Wait and listen."
"It's a great experience and can be a lot of fun, and you'll grow as a person if you speak less and spend time listening to other people's stories," he says.
If you would like to volunteer, please visit our Volunteer Application form or call us at 888-564-3405.
If you found this information helpful, please share it with your network and community.
Copyright © 2015 Crossroads Hospice. All rights reserved.