Penguin Doorstop: A Craft for Dementia Patients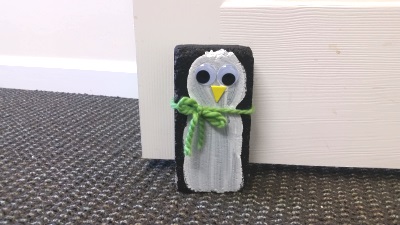 When winter's chill is upon us, it can be hard for a caregiver to get a loved one with Alzheimer's disease or other dementia out of the house. With shorter days and less opportunities to spend time outdoors, cabin fever can easily develop. Prevent it from happening with this engaging Penguin Doorstop craft.
If your loved one does need to venture out into the cold, here are some tips for caregivers:
Take extra care to prevent falls on slick winter surfaces and ensure your loved one is dressed warmly.

If you use electric blankets or space heaters, keep an eye out for fire hazards and check that electric blankets aren't too hot for a loved one who may not be able to communicate their discomfort.

Many people with Alzheimer's are prone to wandering and in freezing temperatures this can be quickly become a tragedy. Lock doors even when at home and set home alarms to chime when an exterior door opens. If you don't have an alarm, you can add bells or wind chimes to door handles for a low tech warning system. You can also consider a GPS tracking system like Medic Alert + Safe Return® or Comfort Zone® , which will let you know if your loved one has left an approved zone.
Whether your loved one is at home or in an assisted living facility, keep them busy with this craft that can serve as a doorstop for years to come.
What You'll Need:
1 brick paver

black paint

white paint

googly eyes

self-adhesive yellow foam sheet

yarn of any color

glue
Steps:
Paint entire brick paver black. Let dry.

Paint a white face and body to make the penguin shape. Let dry.

Glue eyes to the face.

Cut a yellow foam triangle beak and attach to the face.

Tie yarn around the neck like a scarf.
Caregiver tips:
You can add other accessories — such as a hat — to your penguin to give it more personality.

Get your loved one involved by starting the activity yourself and asking them to join in.

Activities have the best chance of success in the morning between breakfast and lunch when your loved one is well rested. Short winter days can add to the development of sundowning, so make the most of daylight hours. If they don't want to participate or get frustrated, don't force it. Try again at another time.

Remember that the goal is for you to have fun doing the activity. Don't worry about what the end result looks like.

If your loved one has dementia, a hospice care team can provide support for both the patient and family. This added assistance can be key in avoiding caregiver burnout.
See more dementia craft ideas and caregiver tips on ourPinterest board.
If you found this information helpful, please share it with your network and community.
Copyright © 2016 Crossroads Hospice. All rights reserved.