Cooking for Comfort: Easy to Swallow Soups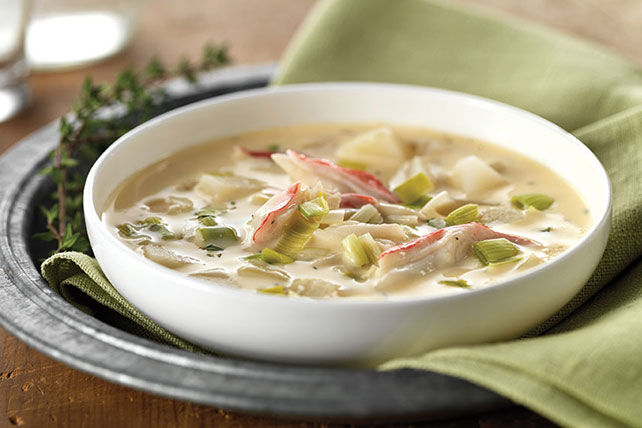 Cooking for Comfort is a Crossroads Hospice blog series designed to bring you ideas for beneficial recipes specifically for aging adults and loved ones. If you have a request for a recipe idea for a particular illness or need, send us an email. 
In the previous Cooking for Comfort post, you learned about small plates loaded with flavor that could be a treat for a person on hospice. Check out those recipes.
Now, we continue learning from Rebecca Katz, who is a chef, author and nutritionist who specializes in cooking for cancer patients and survivors. Her philosophy is: the way our patients eat can transform their end-of-life experiences:
"Often times, food can be a tremendous comfort to people who are terminally ill, but not the way you may think," she says.
According to Katz, a smooth and delicious soup can go a long way for a person with dementia.
"Are they having trouble swallowing?" she asks. "In that case, I would recommend a beautifully blended soup."
According to the Alzheimer's Association, in the middle and late stages of Alzheimer's, swallowing problems can lead to choking and weight loss. Caregivers often need to remind loved ones that they need to chew.
These easy-to-swallow soups can simplify the process of cooking and comfort on both ends:
This seafood bisque is a popular starter that is flavorful and reminiscent of a beautiful summer afternoon at the seashore.
What You'll Need:
-1/2 cup chopped onion
-1 tablespoon butter
-2 1/4 cups milk
-1 can (10 3/4 ounces) condensed cream of celery soup, undiluted
-1 can (10 3/4 ounces) condensed cream of shrimp soup, undiluted
-1 package (8 ounces) imitation crabmeat, chopped
-1 teaspoon chicken bouillon granules
-1/2 teaspoon dried parsley flakes
-1/4 teaspoon garlic powder
-1/4 teaspoon dried marjoram
-1/4 teaspoon pepper
How to Make it:
-In a 3 quart saucepan, sauté onion in butter until tender.
-Stir in remaining ingredients.
-Cover and cook over medium to low heat for 20 minutes or until heated through, stir occasionally.
Serve the Carrot Vichyssoise in shallow bowls with the vegetable matchsticks and snipped chives. Fancy and easy to swallow!
What You'll Need:
-2 tablespoons butter
-2 scallions
-2 cups chicken broth
-2 cups diced, cooked carrots
-1/2 teaspoon salt
-1/8 teaspoon pepper (optional)
-1/2 cup heavy cream or nondairy creamer
How to Make it:
-Melt butter in small saucepan.
-Add sliced scallions and cook over moderate heat — about five minutes.
-Add 1 cup of the broth and cooked carrots, and bring to a boil.
-Cover and let simmer over low heat for 15 minutes.
-Place in blender and add the other cup of broth.
-Blend until smooth.
-Add cream and chill.
A little cooking can go a long way for a caregiver!
For more caregiver resources, check out the Caregiver blog.

If you found this information helpful, please share it with your network and community. Copyright © 2015 Crossroads Hospice. All rights reserved.