COPD Patient Finds Relief in Palliative Care Services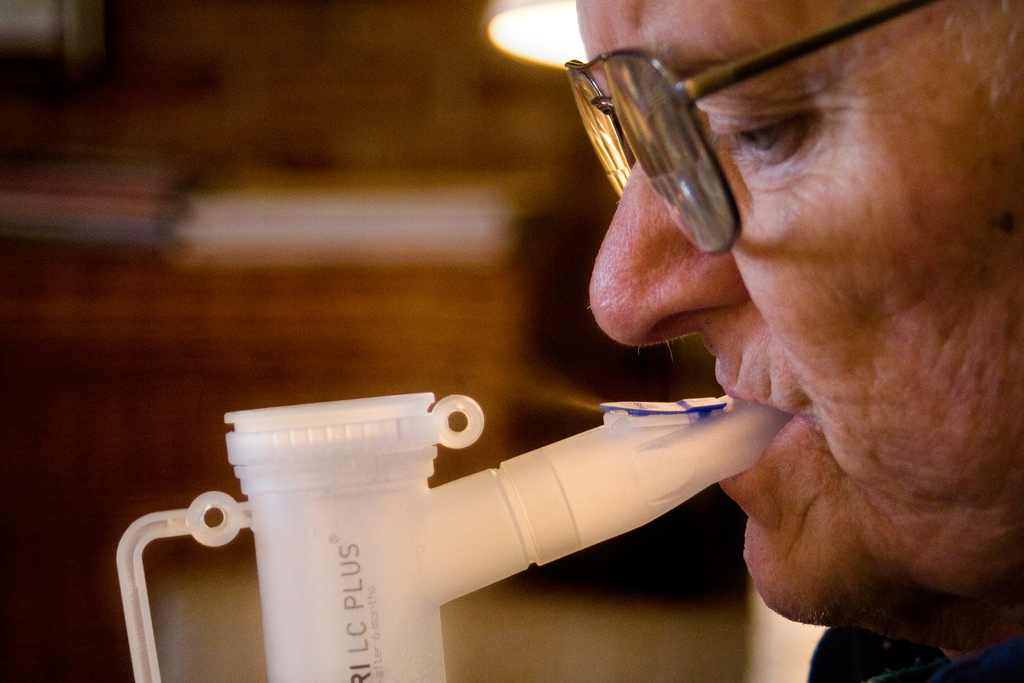 As the healthcare industry continues to evolve, how healthcare service providers communicate with one another is a key issue. Electronic records, telemedicine and even smartphone apps are becoming commonplace as doctors and their staff look for new ways to improve on patient care, monitoring and follow-up.
But as Dr. Jared Dirks, Medical Director for Crossroads Hospice & Palliative Care, Kansas City, MO, points out, one should never lose sight of the most important line of communication – the one that ties directly to the patient.
Helping a COPD Patient
For one Crossroads palliative care services patient, that simple truth meant a world of difference.
According to Dr. Dirks, a patient with chronic obstructive pulmonary disease (COPD) had been in and out of the hospital five times over the course of two months.
COPD is a chronic, progressive lung disease that makes it difficult to breathe. The disease affects millions of Americans, and is the third leading cause of death in the U.S. In addition to the usual discomfort from having to gasp for oxygen, the recurrent readmissions created a high anxiety level for the patient.
Not only that, but the repeated hospital treatments were extremely expensive. With the average stay costing about $37,000 per visit, the patient's medical treatment bill for those two months ran to over $150,000.
Coordinating Palliative Care Services
Obviously, something wasn't working. Inpatient hospitalists initiated a palliative care consultation with Dr. Dirks and his team to try to determine what to do to facilitate a more effective treatment program.
"We discovered that when the patient was released from the hospital, they gave her medication for her COPD, but no one asked if she had a nebulizer at home," Dr. Dirks said.
For a COPD patient, a nebulizer is essential. A nebulizer is a machine that is used to administer medication in the form of a mist inhaled into the patient's lungs. Without a nebulizer, the medication would be pretty much useless.
"We made sure she had all the palliative care and other services she needed in order to be able to be treated effectively in her home, where she was happiest and most comfortable," Dr. Dirks said. That meant coordinating among hospital staff, the durable medical equipment provider and also having a nurse practitioner show the patient how to use the machine."
That was nine months ago, and the patient has not been back in the hospital since. As a result, she is much more comfortable and has much less anxiety at home, where she receives her nebulizer treatments at a fraction of the cost of hospital treatment, Dr. Dirks said.
Things to Come
According to Dr. Dirks, that kind of coordination will be increasingly evident as value-based healthcare takes hold. A key focus for value-based healthcare is to pay for outcomes, rather than services provided – coordinating medical services more efficiently and in line with a patient's specific needs. The end goal is to improve performance while at the same time reducing healthcare expenditures over the long-term.
"Part of our goal as palliative care service providers is to remove the social determinants and other barriers to healthcare through education, coordination and making care a more patient-focused effort," Dr. Dirks said.
For more information about end of life changes, please call 1-888-564-3405 or visit the Crossroads Hospice & Palliative Care website today.
If you found this information helpful, please share it with your network and community.
Copyright © 2016 Crossroads Hospice. All rights reserved.