Veterans Continue to Serve by Volunteering for Hospice
Posted on
Friday November 11, 2016
in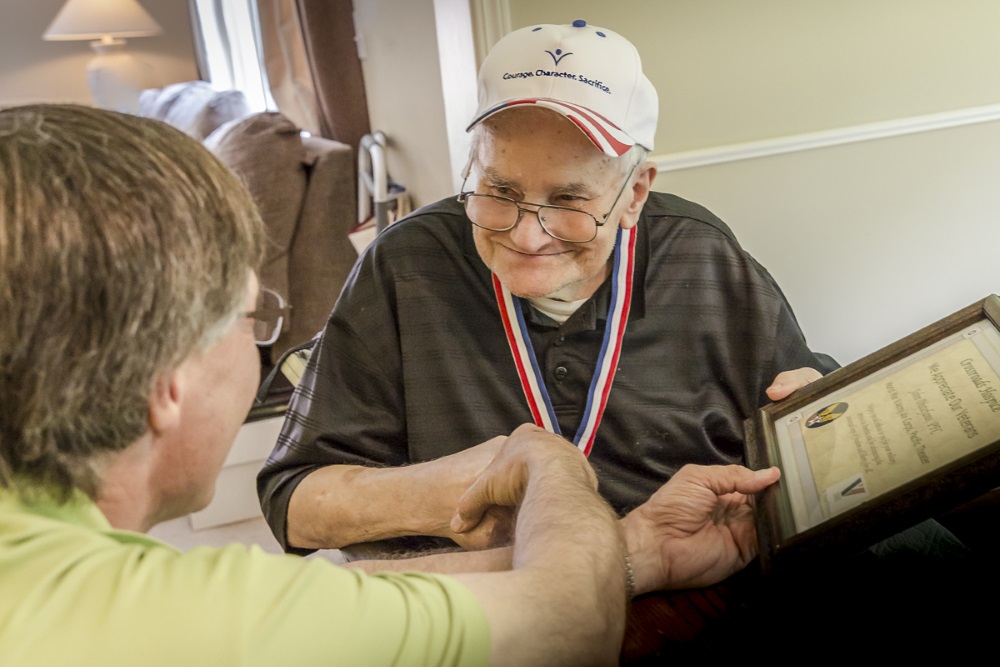 There's an old adage that says to truly understand someone, you have to walk in his shoes. That's why Crossroads Hospice & Palliative Care makes a special effort to recruit volunteers for hospice who have served in the military.
We have found that veterans who volunteer for hospice bring a unique perspective that helps them relate to hospice patients who are also Veterans.
Why is this such a critical issue?  According to statistics from the U.S. Department of Veterans Affairs, only 240,329 of the 16 million Americans who served in World War II are alive in 2021. And their numbers continue to dwindle. In fact, Veterans account for about one out of every four deaths that occur in the U.S. every day.
"Most of these Veterans are very humble. They don't consider what they did to be heroic. They believe they simply did what they were asked to do," said Linzy Laughhunn, Crossroads volunteer in St. Louis who is also Wing Chaplain and Lieutenant Colonel with the Air National Guard. "That's part of the reason why honoring our Veterans at this final stage of their lives is so important."
It's not just World War II Veterans. Laughhunn recalled a former patient who had served in Vietnam. When he came back, he never talked about his experience.
"For fifty years, he kept all that in a box," said Laughhunn. "He was never thanked. Never recognized. We came in, provided services, held a special ceremony, and made a point of thanking him for his service. It was very healing for his heart and soul."
Easing Lines of Communication
Reminiscing about one's military service can be cathartic, Laughhunn said. It's a key reason why volunteers who are Veterans play such an important role at Crossroads.
There is a common language and culture among those who served in the military, Laughhunn explained. "When you pair volunteers and patients who are both Veterans, the bond comes much more quickly."
In addition, that connection can have practical implications. For example, Veterans who have gone on with their lives after leaving the military may not be aware that they still are entitled to certain military benefits.
A fellow Veteran volunteering for hospice who has shared that experience and has been trained in Veteran-to-veteran outreach may be able to put them in touch with the Veterans Administration (V.A.) or other resources.
We Honor Veterans
As part of that training, Crossroads is a proud participant in the We Honor Veterans program – a collaboration between the V.A. and hospices across the nation. Its goal is to identify hospice patients who are Veterans and pair them with Veteran volunteers.

In addition, Crossroads has developed its own Veteran Recognition Program to acknowledge our Veteran patients by providing certificates and honorary presentations. Many of these take ceremonies take place around Veterans Day throughout our markets. In addition, our volunteers work with patients to create Life Journals of their experiences to share with their families. 
"The goal is to not only honor our Veterans one last time as they reach the end-of-life," Laughhunn said. "We also try to make sure that they are getting all the services they deserve while they are living, and for their families when they pass. By doing so, maybe we can also provide a bit of peace and closure."
To learn more about the Crossroads Hospice volunteer program, please call us at 1-888-564-3405.
If you found this information helpful, please share it with your network and community.
Copyright © 2016 Crossroads Hospice. All rights reserved. Updated October 20, 2021.