Hospice Volunteer Makes a Special Bond
Posted on
Sunday September 11, 2016
in
Volunteers for Crossroads Hospice & Palliative Care come into our hospice patients' lives at a unique time. Some, like Pat, quickly form incredible bonds with their patients.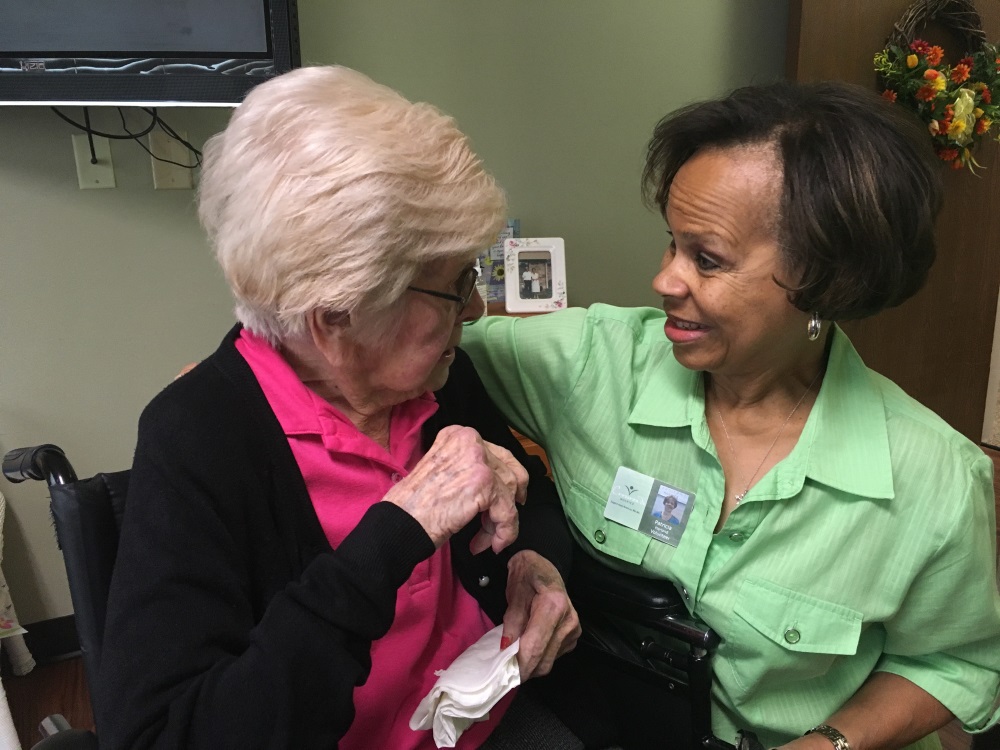 "Every once in a while, you have the privilege of meeting someone who you instantly know will become a very special part of your life," says Pat. "I found that someone, in my patient and friend, Vera. Even with her occasional lapses of comprehension, Vera and I have formed a bond that is able to move past all her limitations. Although I know, as a volunteer, it is part of my job to attend to her social needs, Vera attends to mine, as well. Her instant recognition of me is so pleasurable, it lifts my spirits whenever I walk into her room."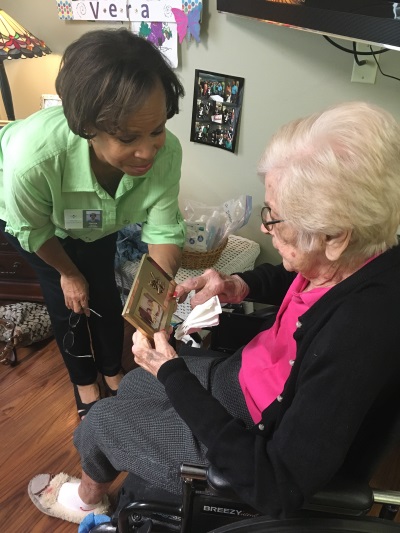 Volunteer Manager Veronica Evans shares, "Recently, we walked in the door and to the left of the entrance was a large community room. There must have been about 15 people in there playing a memory riddle game.  Pat and I peeked in looking for Vera, and when we turned around, there was Vera waving making sure Pat saw her.  The look on her face was priceless, so happy to see her volunteer Pat."
Vera's daughter Barbara tells us, "It means so much to my mom, she just lights up when Pat walks in the room. She really likes her, she talks about her even when she isn't there.  She will say, you know that lady came to visit me, she doesn't remember her name but she know she was there with her.  This is one of the nicest things Crossroads does, having people other than family visiting my mom means so much."
It means a lot of Pat, too. "Vera never ceases to thank me for visiting with her, reading to her, getting her to the dining hall, or simply rubbing her back. I feel so blessed to have had the opportunity to meet Vera and spend time with her. I always look forward to each of my visits with her."
To learn more about volunteering with Crossroads Hospice & Palliative Care, contact a Volunteer Manager at 1-888-564-3405.
If you found this information helpful, please share it with your network and community.
Copyright © 2016 Crossroads Hospice & Palliative Care. All rights reserved.