It's OK to Live: Making the Most of the Time You Have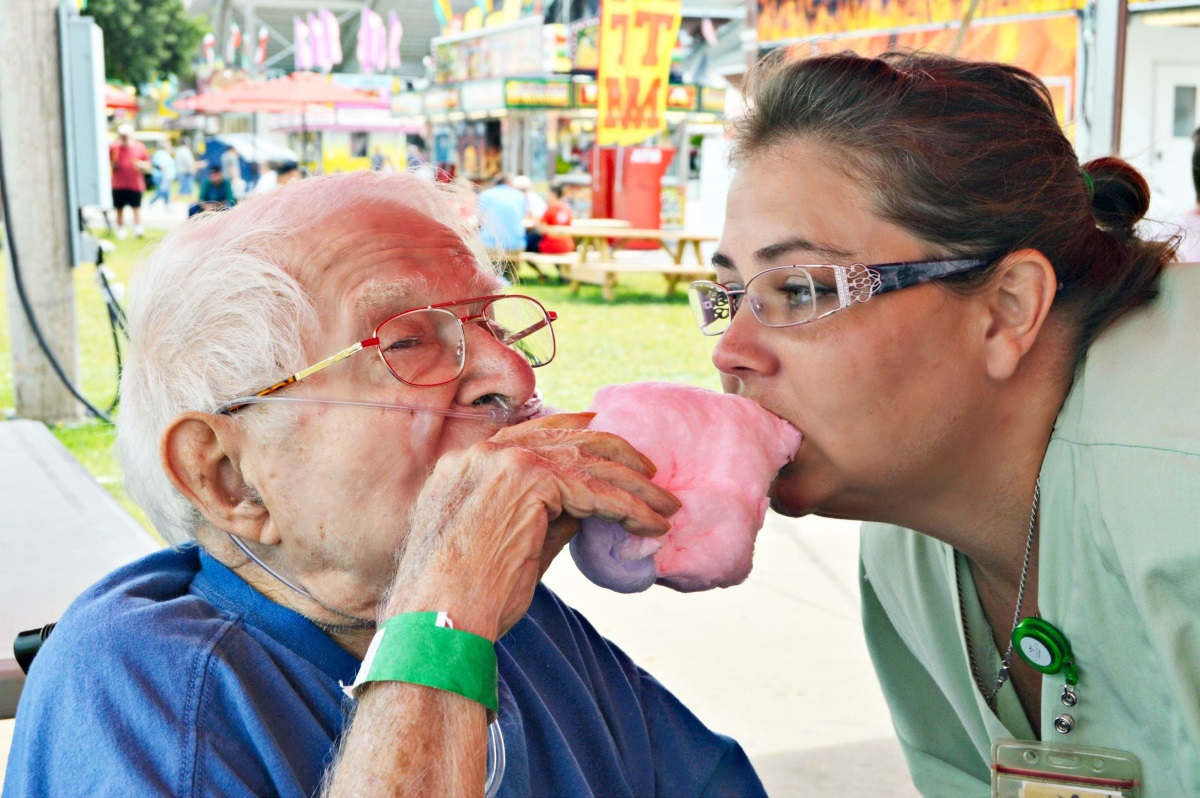 Even when a person is expecting it, a terminal diagnosis is a shocking thing to hear. It can take time to process – for the patient and their family and friends. Sadness and anger is a normal reaction.  It's also normal to want to make the most of all the time you have left. 
This holiday season, Crossroads Hospice & Palliative Care wants you to know that it's okay to live life to the fullest for as long as you can – and that we're here to help you do it. Here's how you can.
Spend time with family.
Tell stories. Share recipes. Go through old photos. Play board games. Cherish every moment you can.
Crossroads Hospice Aide Dianna Summitt shares: "Too often we underestimate the power of a touch, a smile, a kind word, a listening ear, and honest compliment, or the smallest act of caring - all of which have the potential to turn a life around or bring happiness and comfort at the end times."
Eat the pie.
Dietary restrictions should be considered, but take at least a bite of your favorite pie. Take a sip of wine, too. We won't tell.
"Sometimes we all need help when it is raining," says Crossroads Hospice Nurse Celeste Johnson. "It's how we get to see the rainbows together!"
Go outside.
When you're tired, rest. But on the days you feel up to it, get outside. Even if it's just for a few minutes. Go for a drive through your old neighborhood. Visit your favorite restaurant. Go see a show. Call ahead if you need special accommodations. Most places are happy to help. 
"It is important for people to continue living in the face of having a terminal illness," explains Vice President of Clinical Support Services Sherri Bickley. "Do what you love. If you have always listened to music, ensure it surrounds you. If you have shared your life with pets, bring in the furry visitors! If you loved getting outdoors, make sure you continue to fuel your spirit with time in your favorite outdoor spots. Life doesn't have to stop because you are on hospice. It is a time to really live in the ways you find most meaningful."
Crossroads is committed to helping patients make the most of every day they have. We build quality of life programs into every patient's plan of care.
Gift of a Day
Our Gift of a Day program gives every patient the chance for one perfect day doing something they love including concerts, fishing trips, and special events. 
"You have the opportunity to celebrate your life and truly live and love each day that remains," says Executive Director Janet Hessenflow. "So many people die tragically or suddenly and don't get this same opportunity."
Veteran Recognition
Veteran Recognition ceremonies honor the sacrifices our country's heroes have made in service to our country. We provide a certificate, a hat, and a pinning ceremony to celebrate their service.
Crossroads Hospice Provider Relations Representative Stephanie Alejandrino suggests, "Let those who you love you, honor you." These recognition ceremonies instill pride in Veterans and their families, and in some cases, it provides recognition they did not receive when they originally returned home from their military service.
Life Journals 
Life Journals give our patients the opportunity to create a book of their stories, photos, jokes, and favorite things. These beautiful bound journals are treasured by families for generations.
"Every journal has its own story and some journals have a specific purpose," shares Volunteer Manager Veronica Evans. "Some journals offer opportunities for their life story to be shared and not forgotten, while others express messages that are not able to shared verbally due to emotions. Some have left individual messages to their children to be read after passing while others have asked for forgiveness. Journals are not about their entire life, but more of a snapshot of their life and how they want to be remembered."
Chaplain Nancy Layne says it best: "Living on Hospice is just plain living. Live your best day every day until you no longer can." To learn more about how Crossroads can help support patients and their families, please call 1-888-564-3405.
Recommended Reading:
Stay Home for the Holidays with Hospice Care
Recording a Legacy: How to Create a Life Journal
Traveling with Alzheimer's or Dementia
If you found this information helpful, please share it with your network and community.
Copyright © 2017 Crossroads Hospice & Palliative Care. All rights reserved.