Mosaic Coasters Craft: Activities for Dementia Patients
As winter's cold increases, patches of ice grow along with the safety concerns for those caring for a loved one with Alzheimer's disease and other dementias. Crafts and other fun indoor activities are a great way to pass the time and avoid some of winter's more serious risks.
Some major concerns for those dealing with dementia include:
Icy sidewalks - A risk for all of us, but some individuals with dementia experience impaired coordination and balance leading to an even greater risk of falls.
Hypothermia - As temperatures drop to dangerous levels, it only takes a few minutes for individuals prone to wandering to be at risk. This is also true for those who wear clothing that is not warm enough to guard against the cold.
Space heaters and electric blankets- Even when you stay inside, there are risks to consider. Space heaters and electric blankets create a risk if your loved one forgets to turn them off. Select products have an automatic shutoff timer, but also check on your loved one's skin. Just as they may forget to wear warm clothing, they may not recognize that a too-hot electric blanket is burning their skin.
Stoves - Warm food is a wonderful treat, but stovetops and ovens must be turned off to avoid burns and fires.  Make sure that fire alarms and carbon monoxide detectors have fresh batteries during the winter months.
The best thing you can do when it's cold and icy outside is to engage in uplifting indoor activities for your loved one with dementia, like this easy mosaic coasters craft. Make a whole set to expand the time you spend working on it together and everyone truly wins.
Mosaic Coasters Craft 

What You'll Need: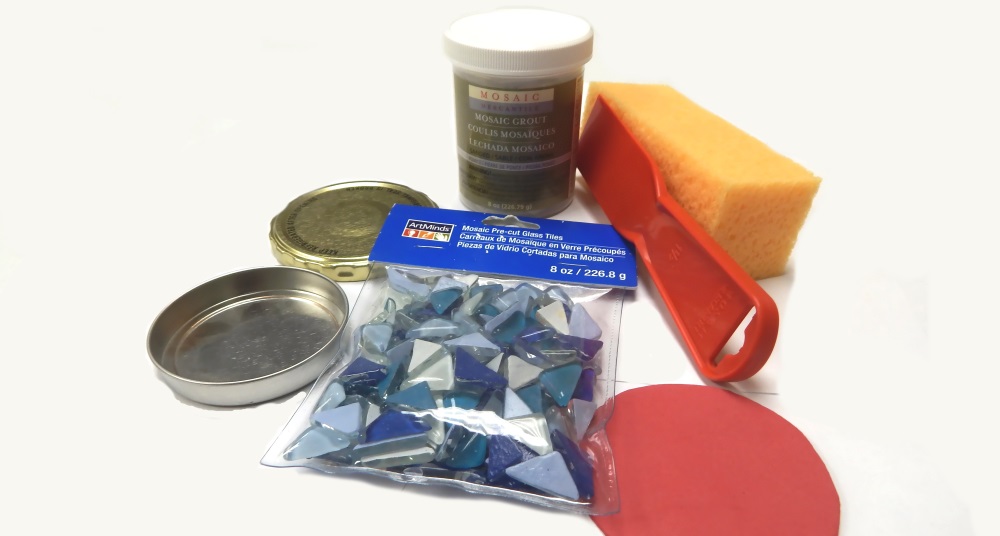 Pre-cut glass tiles
Mosaic grout
Jar lid - A large pickle jar lid works well!
Flat blade spreader
Sponge
Felt (optional)
Steps: 
Arrange the pre-cut glass tiles in your jar lid.

Combine cool water and the grout compound according the package instructions.
As soon as your grout has a stiff, creamy consistency, use the flat blade to apply the grout to crevices between the tiles.

Allow the grout to fully set - typically 20-30 minutes.
Remove any excess grout with a damp sponge.
Use a damp paper towel to clean off tiles.

The coasters will need a few hours to dry.
Once the coasters are dry, you can add a felt base to the bottom of the jar lid if desired.
Caregiver Tips:
While doing activities with a loved one with dementia, play their favorite songs. Keep the mood light.
Get your loved one involved by starting the activity yourself and asking them to join in.
Activities for people with dementia have the best chance of success in the morning between breakfast and lunch when your loved one is well rested. If they don't want to participate or get frustrated, don't force it. Try again at another time.
Remember: With activities for dementia patients, the goal is for you to have fun doing it. Don't worry about what the end result looks like.
If your loved one has dementia, a hospice program and hospice care team can provide support for both the patient and family. This added assistance can be key in avoiding caregiver burnout.
Get more ideas for activities for dementia patients.
If you have questions about how Crossroads Hospice & Palliative Care supports patients with dementia and their families with our Evenmore care program, please call us at 1-888-564-3405.
Recommended Reading:
Communicating With Dementia Patients Who Don't Know Your Name
Acceptance Leads to Better Understanding of Alzheimer's Patients
Making Hospice Meaningful for Patients with Dementia
If you found this information helpful, please share it with your network and community.
Copyright © 2017 Crossroads Hospice & Palliative Care. All rights reserved.