Patriotic Straw Wreath: Activities for Dementia Patients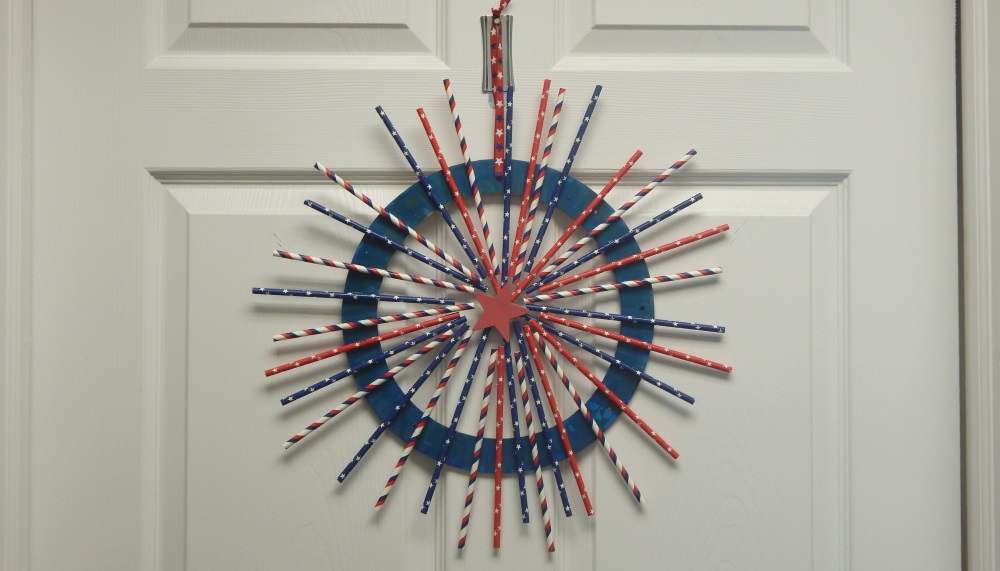 Summer dehydration is a concern at any age, but when an individual has Alzheimer's disease or another dementia, additional precautions must be taken to ensure that they stay hydrated.
Dementia patients may not know or understand their own need to stay hydrated. While others feel thirsty and know to get a drink, they may not recognize this feeling as thirst or be able to communicate their needs.
Caregivers should keep close tabs on their loved one's hydration and frequently offer water, juice, or tea when necessary. Straws can help make drinking much easier for a loved one that is in the earlier stages of dementia. In later stages, they make forget how to suck the straw. At that point, it is important to make sure they take sips directly from a cup.
Activities for a loved one with dementia like crafts can also help keep your loved one inside where the temperature can be controlled.  Not only does this summer wreath do that, but it  is designed to keep hydration top of mind by incorporating patriotic-themed straws into the design!
Patriotic Straw Wreath
What You'll Need: 
A mix of red, white, and blue paper straws
A floral craft ring
Red and blue paint
A papier mache or wooden star
Ribbon
Clear glue
Steps: 
Paint the floral ring red and the star blue. Allow to dry.
Glue straws to the ring, alternating the colors as you go. You may need to vary the placement of the straws to be able to make a space for the star to be added. Allow to dry completely.
Glue the star to the center of the ring of straws.
Add a ribbon to the back for easy hanging.
Caregiver Tips: 
Remember – the most important thing is having fun. Don't worry about the end result.
Consider making several wreaths, so you can work on the next one while the first one is drying.
Serve drinks and fruit your loved one enjoys during the activity to keep their hydration up.
While doing activities with a loved one with dementia, play their favorite songs softly in the background.
Get your loved one involved by starting the activity oneself and then asking them to join in.
Activities for people with dementia have the best chance of success in the morning between breakfast and lunch when this loved one is well rested. If they don't want to participate or get frustrated, don't force it. Try again another time.
If a person has dementia, a hospice program and hospice care team can provide support for both the patient and family. This added assistance can be key in avoiding caregiver burnout.
Find more ideas for activities for dementia patients here.
For any questions about how Crossroads Hospice & Palliative Care unique care programs supports patients with dementia and their families, please call us at 1-888-564-3405.
Recommended Reading:
End-Stage Dementia: How Do I Know?
Summer Safety Tips for Seniors
Cooking for Comfort: Easy to Swallow Soups
If you found this information helpful, please share it with your network and community.
Copyright © 2017 Crossroads Hospice & Palliative Care. All rights reserved.