Turkey Centerpiece: Activities for Dementia Patients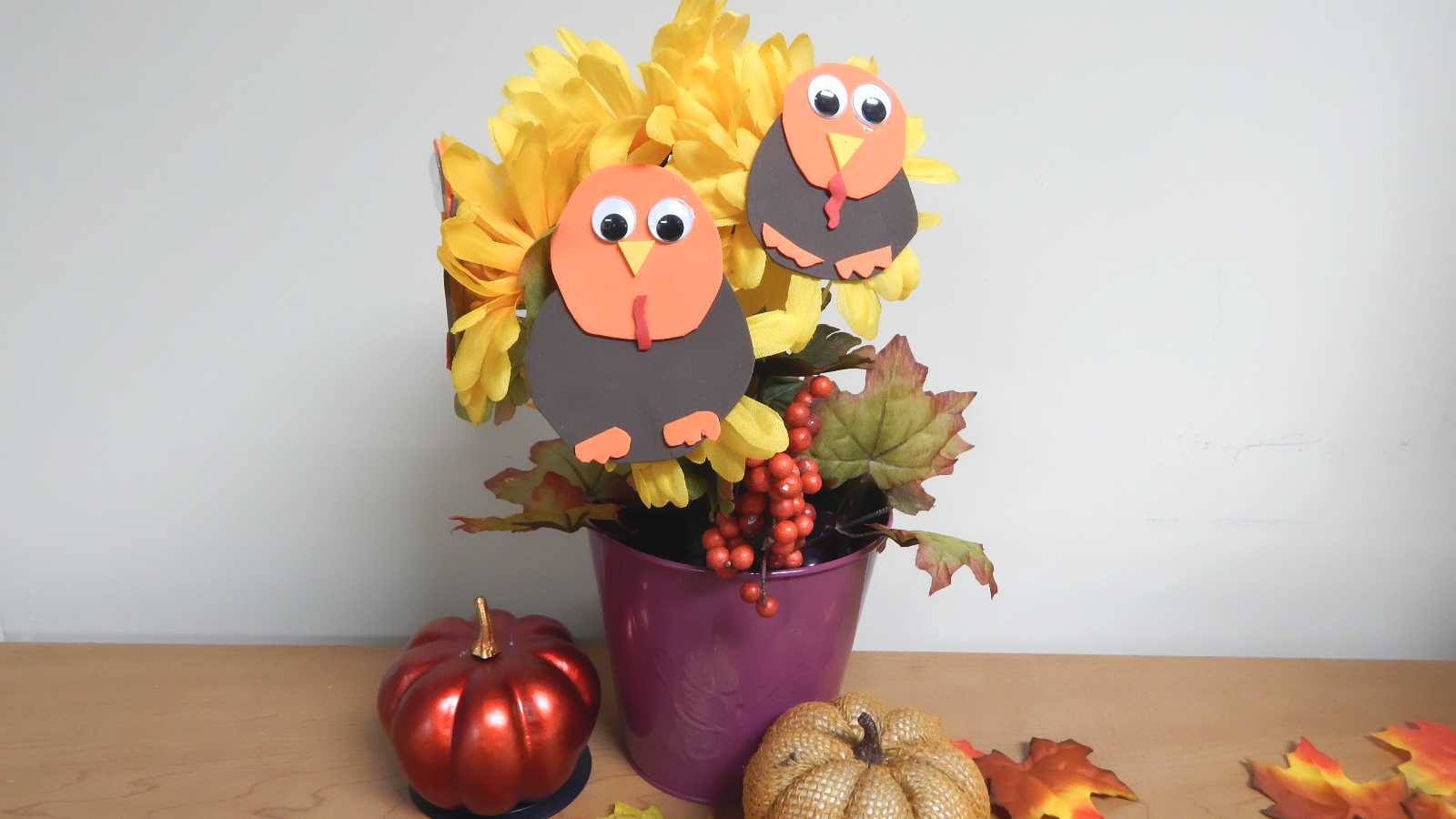 Family gatherings are the hallmark of Thanksgiving, but those gatherings that bring us such joy can be confusing and overwhelming for someone with Alzheimer's or other dementia. They can also be difficult for those who haven't seen their loved one recently and don't realize how much their dementia is affecting them. Planning ahead can make the holiday easier for individuals on both sides.
To prepare your loved one with dementia, involve them in activities like this turkey centerpiece craft, so that they feel like they are a part of the festivities. But also make sure you have a quiet room they can retreat to for a nap or a break if the hubbub gets to be too much for them.
Read more tips for preparing someone with dementia for the holidays.
For those who are unsure how to interact with a loved one who no longer remembers their name, remind them to be flexible. Pushing people with dementia to remember something from the past or correcting their statements will only cause frustration. Instead, family members should join in on the craft making and other activities their loved one with dementia enjoys.
Learn more about how to adjust family expectations.
While holidays can be stressful, planning activities your loved one with dementia can engage in with family members will help make your next gathering a success for everyone.
Turkey Centerpiece Craft
What You'll Need 
Artificial flower with stems
Red, brown, yellow, and orange adhesive foam core
Googly eyes
Safety scissors
Basket
Foam block
Clear Glue
Pinecones, twigs, artificial fall berries, and other autumnal pieces
 Steps: 
Cut your foam core into the elements of a turkey: a brown circle for
a body and a smaller orange circle for the head.
Add additional turkey elements: orange feet, a yellow triangle beak, and a red wattle.
Remove the adhesive backing of the elements and form your turkeys.
Add googly eyes.
Glue the completed turkeys to the center of the flower with the petals forming the turkey feathers.
Place the foam block inside your basket.
Push your turkey flower stems into the foam block.
Add pinecones and additional foliage.    
Caregiver Tips 
Remember the turkey centerpiece does not need to be perfect. The goal is to have an enjoyable time making it together.
If your loved one can no longer use scissors, pre-cut the turkey elements for them.
While doing activities with a loved one with dementia, engage them in conversation. Play music your loved one enjoys softly in the background to create a positive mood.
Activities for people with dementia have the best chance of success in the morning between breakfast and lunch when this loved one is well rested. If they don't want to participate or get frustrated, don't force it. Try again another time.
If you do have questions on Thanksgiving Day, the Alzheimer's Association has a 24-hour Helpline at 1-800-772-8672 to provide advice and answer questions about warning signs.
Crossroads Hospice & Palliative Care is also open 24 hours a day, 7 days a week, 365 days a year to support patients with dementia and their families. Please call us at 1-888-564-3405 to learn more about how our unique care programs help provide a higher quality of life for dementia patients while helping caregivers avoid burnout.
Recommended Reading:
Crafting with Dementia Patients: Thanksgiving Fun
Thanksgiving Craft: Activities for Dementia Patients
More Activities for Dementia Patients
If you found this information helpful, please share it with your network and community.
Copyright © 2017 Crossroads Hospice & Palliative Care. All rights reserved.