Meeting Veterans' Spiritual Needs at End of Life
Posted on
Wednesday October 11, 2017
in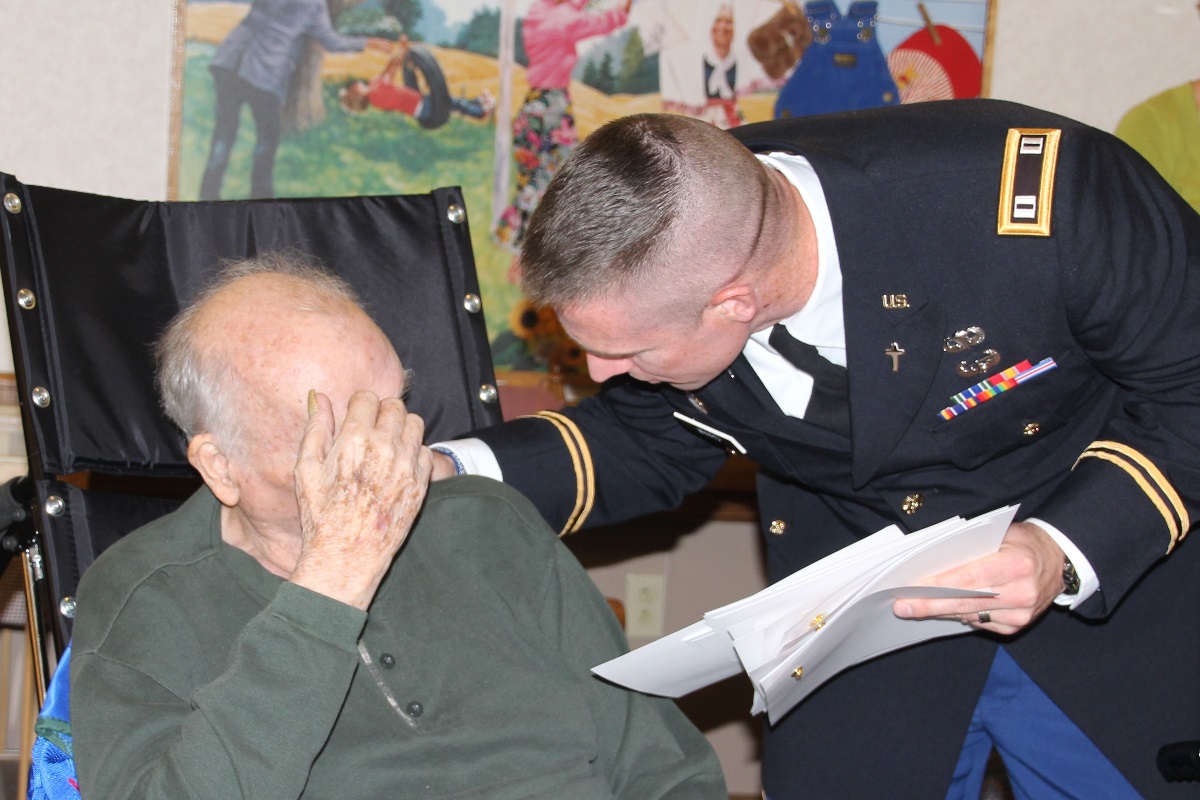 For our military Veterans, their time in combat may have had a profound impact on their spirituality. Many Veterans are able to push aside these feelings for years, but as they approach end of life, the feelings of spiritual distress return.
Spiritual distress is defined by the North American Nursing Diagnosis Association as "a disruption in the life principle that pervades a person's entire being and that integrates and transcends one's biological and psychological nature."
For a Veteran raised in the church, "Thou Shall Not Kill" is an unequivocal commandment. Yet, in combat, they may have witnessed or committed acts that resulted in death or injury. They may have seen extreme devastation or experienced the loss of good friends. They can experience guilt for the actions they took or actions they did not take while in the service.
Some Veterans simply refuse to speak about these experiences when they return from combat. Some isolate themselves from loved ones. Others try to blot them out by turning to drugs and alcohol. Despite these efforts, when they begin to contemplate their own mortality, they begin to exhibit signs of spiritual distress including:
       Guilt
       Nightmares
       Loss of hope
       Anger at God
       Feeling abandoned by God
       Fear of the afterlife
       Believing their illness is a punishment
Crossroads Hospice & Palliative Care chaplains have received specialized training from the Department of Veteran Affairs on providing spiritual support to Veterans at end of life. They use both spiritual and life review techniques to help distressed Veterans.
Spiritual Techniques for Veteran Healing 
Veterans with a strong sense of faith and religious tradition often find relief in the "confession of sins" to a hospice chaplain.
These confessions from Veterans at end of life often go beyond the acts of war to the way their inner conflict led them to treat others when they returned home. Many families talk of a loved one who was "never the same" after they returned from the service. A chaplain will discuss all these feelings of guilt and regret and work toward healing and personal forgiveness. Chaplains are also able to point to stories from the Veterans faith background where religious figures faced similar wartime challenges.
Hospice chaplains minister to patients of many different faiths with respect for the patient and their families beliefs. Should the patient wish to speak to clergyman of their own faith, the chaplain can arrange for this visit to happen to facilitate this final, healing confession.
Life Review Techniques for Veteran Healing 
For Veterans who have turned away from faith, chaplains, social workers, and Veteran volunteers can provide support without a religious approach by helping the Veteran learn to talk about their experience. In fact, a Veteran with spiritual distress may refuse a visit from a chaplain, but they may be more willing to talk to another Veteran.
"When you keep guilt and hurt deep inside you, it becomes a wound that cannot heal. When you let that pain into the light by talking about it, you can work with it," says Crossroads Support Services Director Jeanne Morrison, MSW. "You can learn to forgive yourself."
Our military Veterans are heroes who have made many sacrifices to service their country, it is our duty and privilege to help support their physical and emotional needs at end-of-life.
To learn more about the unique programs Crossroads offers as part of our hospice care for Veterans, please call 1-888-564-3405.
Recommended Reading:
How We Can Better Serve Vietnam Veterans at End of Life
Serving Korean War Veterans 65 Years After the War
Real Heroes Wear Dog Tags: To Our Young Veterans in Hospice
If you found this information helpful, please share it with your network and community.
Copyright © 2017 Crossroads Hospice & Palliative Care. All rights reserved.