Surprising Things You Didn't Know About Social Workers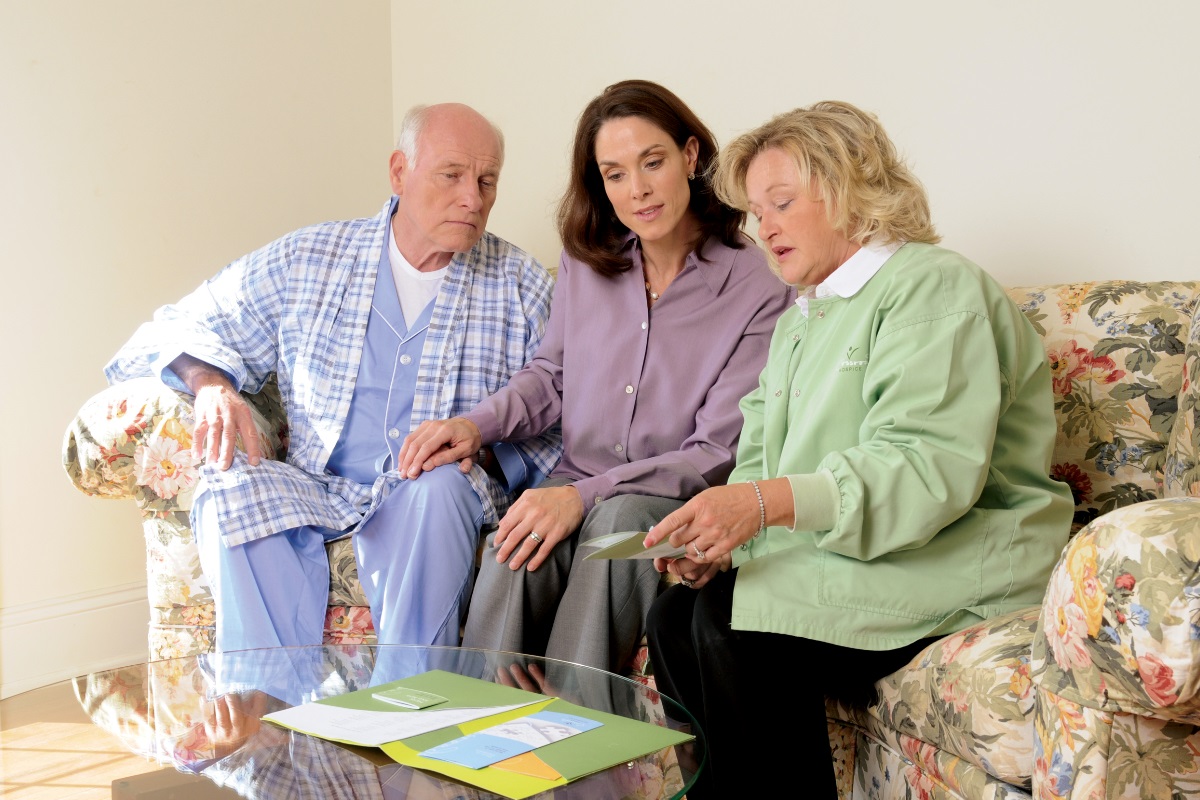 Sir Winston Churchill once observed: "We make a living by what we get; we make a life by what we give." 
Social workers can definitely relate.
"Most social workers go into the field really wanting to make a difference in the quality of patients' lives," says Sandra Petrosino, LMSW, Palliative Social Worker in the Lenexa, KS office of Crossroads Hospice & Palliative Care.
But it's much more than just caring.
"We're more than 'friendly helpers,'" Petrosino explains.  Many personal care providers are there to assist patients with everyday needs – helping them dress, bathe, or eat. Their focus is on the immediate – what the patient may need at the moment.
Social workers are trained to look at the dynamics of the whole person and their environment to figure out what might be done to help them do more things for themselves and to live more independently.
"We are looking at the challenges they face and what are the dynamics that may be keeping them from attaining their full potential," says Petrosino.  
Ultimately, it's about empowering the patient to help themselves adds her colleague, Sandy Doolittle, MSW, and Support Services Director in Crossroads' Lenexa office.
"Our job is to shine the flashlight along the path, guiding our [patients], providing support and facilitating change with all the resources we have at our fingerprints," she says.
That ultimately involves unique training and inherent compassion to learn how to be there for someone in need and provide a powerful presence to support them.
Identifying Strengths 
"One thing people may not be aware of is just how versatile social workers are," says Jeanne Morrison, MSW, in Crossroads' Philadelphia office.  "Our education tends to be pretty broad until we narrow it down to clinical social work or some other specialized area."
Morrison says social workers are trained to evaluate patients from a strength standpoint (as opposed to a disease mode). 
"It's a wonderful way of looking at every person you encounter – whether it's the family, an individual or a group of people," she explains. "You first identify their strengths. That becomes an assessment – either a psychosocial, or bio-psychosocial, or even bio-psychosocial-spiritual."
As the social worker is able to identify strengths, it becomes increasingly clear how certain issues affecting the patient might be addressed.
It's really a partnership between the social worker and the patient, Morrison says. As a result, any kind of social work is very collaborative, looking at strengths, identifying issues that are present, and working with the patient's strengths to address those issues.
To do that effectively, it's important "to meet people where they are," she says. "In order to identify their hopes and plans, you need to understand things from their standpoint. If you expect people to come to you, you'll get nowhere fast."
Common Misconceptions 
"Most social workers – at least those who are MSWs, are trained initially as mental health practitioners," says Peter Moraghan, MSSA, in Crossroads' Northeast Ohio regional office.  As a result, they are trained to give as much weight and attention to psychological and emotional issues as biological problems. 
"The big misconception is that so many people think of social workers as the ones who come in and take the kids out of the home," Moraghan says. "Ultimately, we don't do that – that has been something that has been ordered by the court. Our goal is to try to preserve the family unit whenever possible." 
Particularly during tough economic times, the challenges can seem almost overwhelming. That's why some social workers make it a point to develop expertise in public policy matters.
"It might seem like a strange, but necessary overlap," says Moraghan.  For example, there may not be enough funding for services to which the patients are entitled or the window for accessing certain services or support may have closed.  "We tend to work in situations where it's already two years too late," he adds. "So it's important to have an understanding of public policy and how it impacts peoples' rights."
Avoiding Judgments 
Part of that distinction also involves supporting patients even when they make a decision that others might judge as "wrong."
"You might go into a home where the person is dying of cancer, but is smoking," Moraghan says. "It's there right to make that decision."
"There's a cultural competency that we need to observe. Here in Northeast Ohio, we serve 11 different counties with urban areas, rural areas, and everything in between. Some folks are highly educated. Others are not.  We have to be careful not to impose our background and beliefs on them," says Moraghan.
A Rewarding Job
Those who aren't in the field might view social work as a thankless job, says Moraghan. But for social workers in hospice, the rewards can be abundant.
"When I'm out in the field, I make it a point to say 'Thank you' to the families I'm working with. It's a privilege to be with them in what I know is going to be one of the toughest things they're going to deal with. So I thank them for letting me in during what for them is a most vulnerable time."
For more information about hospice and the role of social workers, visit our website or give us a call at 1-888-564-3405. 
If you found this information helpful, please share it with your network and community.
Copyright © 2018 Crossroads Hospice. All rights reserved.