Kindness Rocks: Activities for Dementia Patients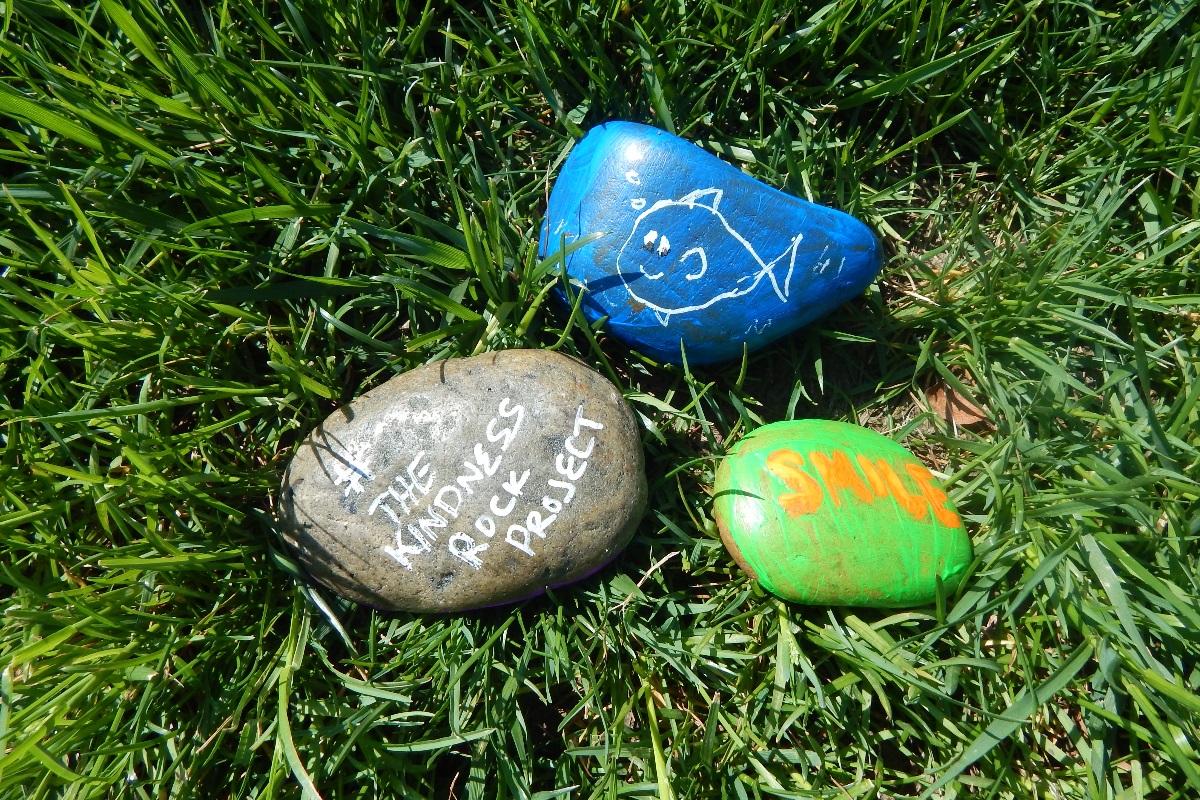 We could all use a little extra kindness. That was Megan Murphy's thought when she started leaving rocks painted with inspiring messages around her local beach. The Kindness Rock Project has now grown into a movement brightening local communities around the world.
Children paint rocks.
RV camping groups paint rocks.
And you can paint rocks as a spirit-lifting activity for a loved one with dementia.
How Does It Work? 
It's easy to be kind and it's easy to be a part of the kindness rock project. If you want to be a part of a local group, try typing "Kindness Rock Project" into Facebook and you may find some other locals who are spreading kindness near you. Or you can connect to the larger movement by simply adding the hashtag #TheKindnessRockProject to the back of your rocks. 
As you paint the rocks, talk to your loved one with dementia about the activity. Encourage them to be creative with their designs and messages. Suggest simple happy thoughts like "Smile" or "I love you."
Once your rocks are painted, go for a walk around your community and place rocks in places where they can be easily found. Stick with parks or other local green spaces instead of private property so those who find the kindness rocks know they can take the rock with them. Once you leave the rock, don't worry about who will find it or what happens to it. Your goal is to create a positive message for the finder and positive activities for your loved one with dementia.
Kindness Rocks 
What You'll Need: 
Smooth river rocks for painting. You can find your own in your yard or buy a bag from craft or home improvement stores.
Acrylic Paint
Paint Pens
Paint Brushes
Outdoor sealer or outdoor modge podge
Steps: 
Cover the top of your rock with a base layer of paint. While that dries, you can add a base layer to some of your other rocks. You don't need to paint the bottom of the rock.
Paint a design or add some inspiring words to your rocks using your paint pens. It's easier to do precise work like writing words with the pens rather than paint brushes.
Allow the rocks to dry.
Add the hashtag #TheKindnessRockProject to the bottom of your rock so anyone who finds it can learn more about the project.
Once the rock is completely dry, seal it from the elements by adding a layer of sealant or outdoor modge podge.
Leave your rocks where others will find them.
See more activities for dementia patients.
Caregiver Tips 
The goal of this craft is to have an enjoyable time making it together. Don't worry about the end product or making it look perfect.
If your loved one is not able to do the sealant step, you can do this yourself after the painting is done.
Do not take decorative rocks from private property or community spaces to paint. Find loose rocks in your yard, the woods or along the beach. You can also purchase them.
While doing activities with a loved one with dementia, engage them in conversation. Play music your loved one enjoys softly in the background to create a positive mood.
Activities for people with dementia have the best chance of success in the morning between breakfast and lunch when this loved one is well rested. If they don't want to participate or get frustrated, don't force it. Try again another time.
Crossroads Hospice & Palliative Care is also open 24 hours a day, 7 days a week, 365 days a year to support patients with dementia and their families. Please call us at 1-888-564-3405 to learn more about how our unique care programs help provide a higher quality of life for dementia patients while helping caregivers avoid burnout.
If you found this information helpful, please share it with your network and community.
Copyright © 2018 Crossroads Hospice & Palliative Care. All rights reserved.