Celebrating Our Certified Therapy Animals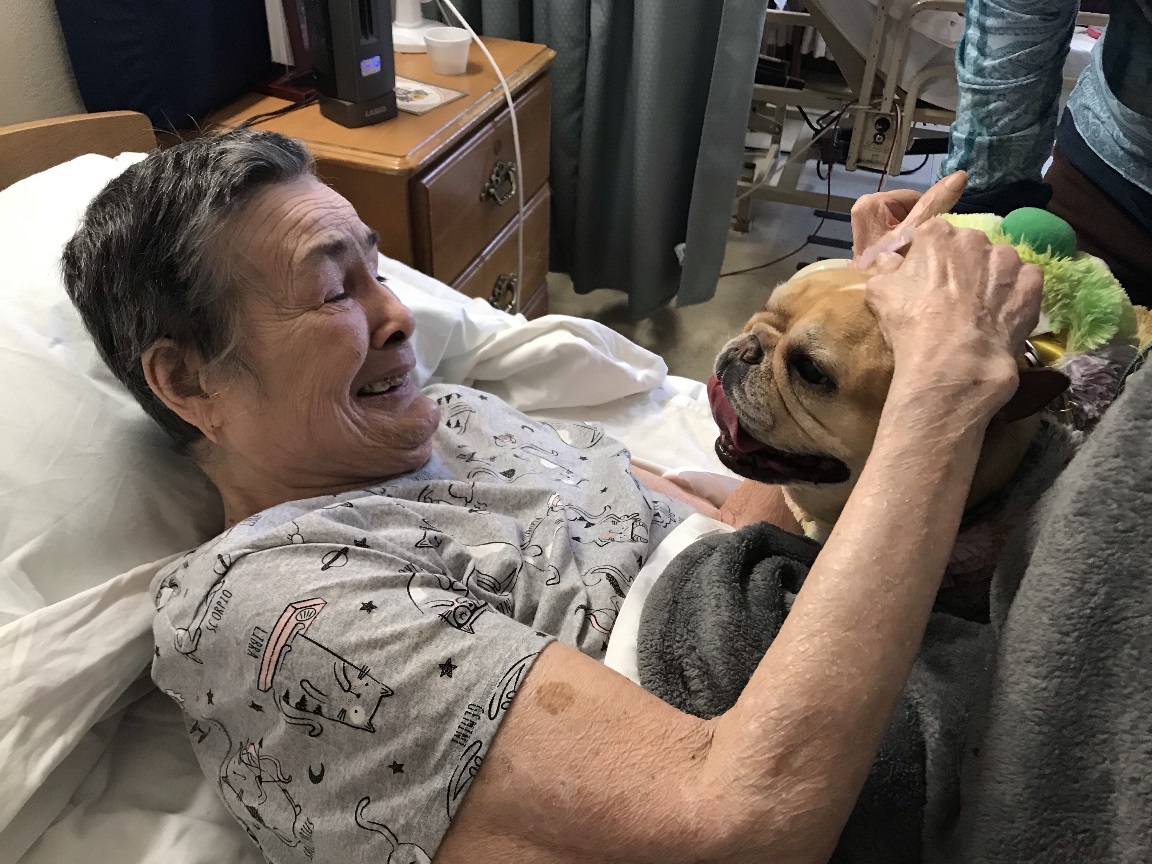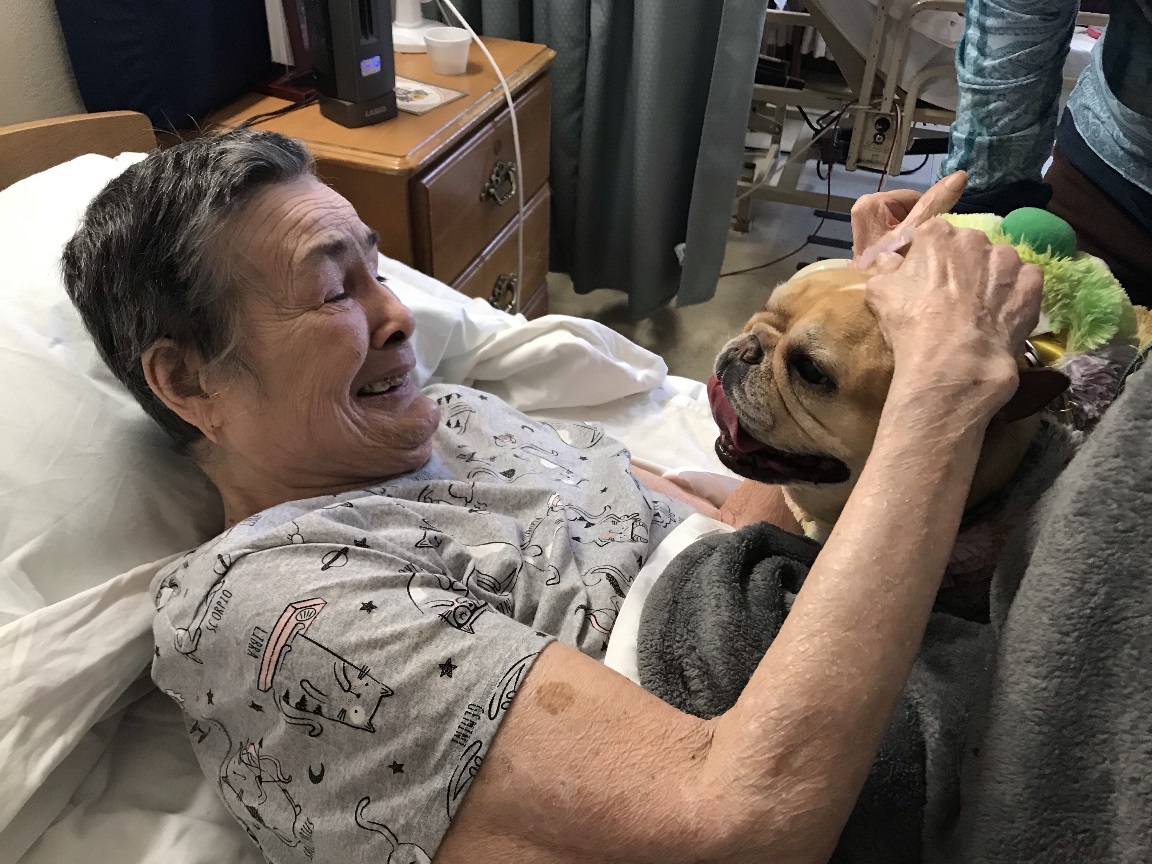 When Crossroads Hospice & Palliative Care Volunteer Marie Simpson enters a room at a senior living facility with golden retriever Kylie, the dog immediately gravitates to the individual that she senses needs her the most. She'll sit right next to the person, just being there with patience and a remarkable sensitivity.
"Kylie senses more than I can imagine sensing," Marie says. Kylie is a certified therapy animal.  
April 30th is National Therapy Animal Awareness Day. Created by Pet Partners, a charitable organization that specializes in pet therapy for seniors and those with disabilities, the event recognizes and honors therapy animals and their handlers for their time and compassion.  
This day is also meant to raise awareness and educate the public about the role therapy animals play in enhancing the health and well-being of humans.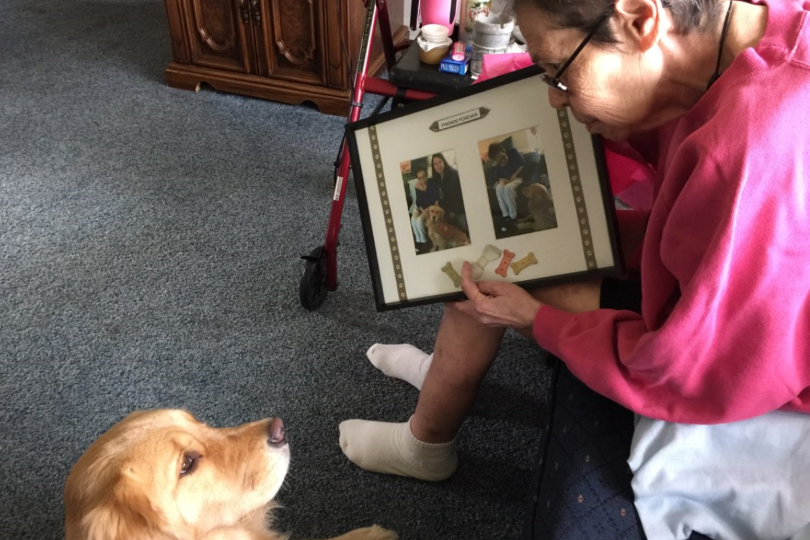 Kylie was born to be a hospice therapy dog.
Marie and Kylie are part of the volunteer corps at Crossroads' Cleveland site.  Kylie showed a propensity for companionship as a therapy animal from a very young age. Marie attributes that to her daily informal training as a pup companion to Marie's father, who Kylie visited every day for at least three hours from the time she was eight weeks old – first in assisted living and then in a skilled nursing facility.
"I brought her home on a Friday and by Wednesday, she was visiting," Marie says.
It was Kylie's gentleness and calm with her father that inspired Marie to want to volunteer with her as a therapy animal.
"I decided then that I wanted to raise a therapy dog," Marie says. Kylie was certified by Therapy Dogs International (TDI), one of several major certifying organizations.
It was when they were in training that Marie and Kylie met Cindy Billideau, volunteer manager at Crossroads in Cleveland. Cindy was conducting a Veterans recognition program at the skilled nursing facility where Marie's Dad was living.
"At just six months, Kylie sat through the whole program beautifully," Cindy said. She displayed the calm attributes of an excellent therapy animal.  Cindy approached Marie and asked her if she and Kylie might like to volunteer as companions to hospice patients.
It was the beginning of a wonderful relationship. Now Kylie and Marie visit patients several times a month. Cindy said Marie rarely says no, especially when she relays, "This family really needs to see Kylie."
One of Marie's favorite recollections is a visit she and Kylie made to a patient in her final days.  Marie put the patient's hand on Kylie's head and got a little grin. She then asked, "May we visit?" and got a smile in return.  When asked if the patient liked dogs, she nodded, "Yes."  Marie asked, "What kind?" The patient answered "Beagle."  
When leaving that day, Marie was approached by the patient's nurse who mentioned that the patient hadn't spoken a word in months. There were tears in everyone's eyes. Marie said, "I hope when I'm 90, someone will pay it forward to me in this way." This is an example of the emotional reward and joy Marie and Kylie so often deliver and receive.
It turns out that Kylie is an aunt to another therapy dog. Golden retriever Ben and his owner, Liz Roberto, are the second certified volunteer therapy animal team at Crossroads Cleveland, also certified by TDI.
According to TDI, "all dogs must be tested and evaluated by a Certified TDI Evaluator.  A dog must be a minimum of one (1) year of age and have a sound temperament. Each dog must pass a TDI temperament evaluation for suitability to become a Therapy Dog. The test will also include the evaluation of the dog's behavior around people with the use of some type of service equipment (wheelchairs, crutches, etc.)."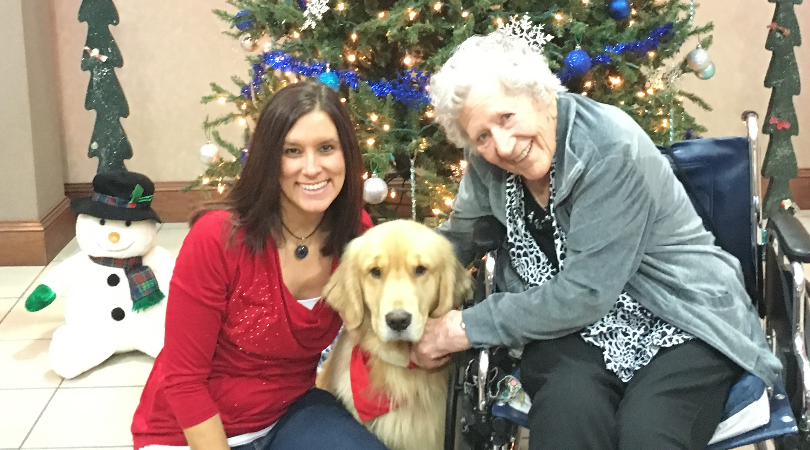 "Let's go to work, Ben."
Volunteering with Ben has made a world of difference for Liz, who recently lost her sister and was looking for rewarding ways to give back.
"I enjoy seeing Ben make a difference," she says. "And he enjoys what he does."
When they're getting ready to make companion visits, Liz ties Ben's Crossroads volunteer bandana around his neck and says, "Let's go to work."  Ben jumps right up and heads to the door.  They visit with hospice patients three or four times a month.  
While Ben and Kylie are very special dogs, golden retrievers are known to be a people-loving breed that thrive on human interaction, Liz explains. "They have a loving temperament and gentle eyes."
"This has been such a rewarding experience for me and Ben," Liz says.  She strongly recommends certification because "many organizations require it and the training experience is so valuable."
To learn more about the Crossroads hospice volunteer program and how to get involved, visit our website or give us a call at 1-888-564-3405.
If you found this information helpful, please share it with your network and community.
Copyright © 2019 Crossroads Hospice & Palliative Care. All rights reserved.