Local Radio Personality Shares Her Hospice Experience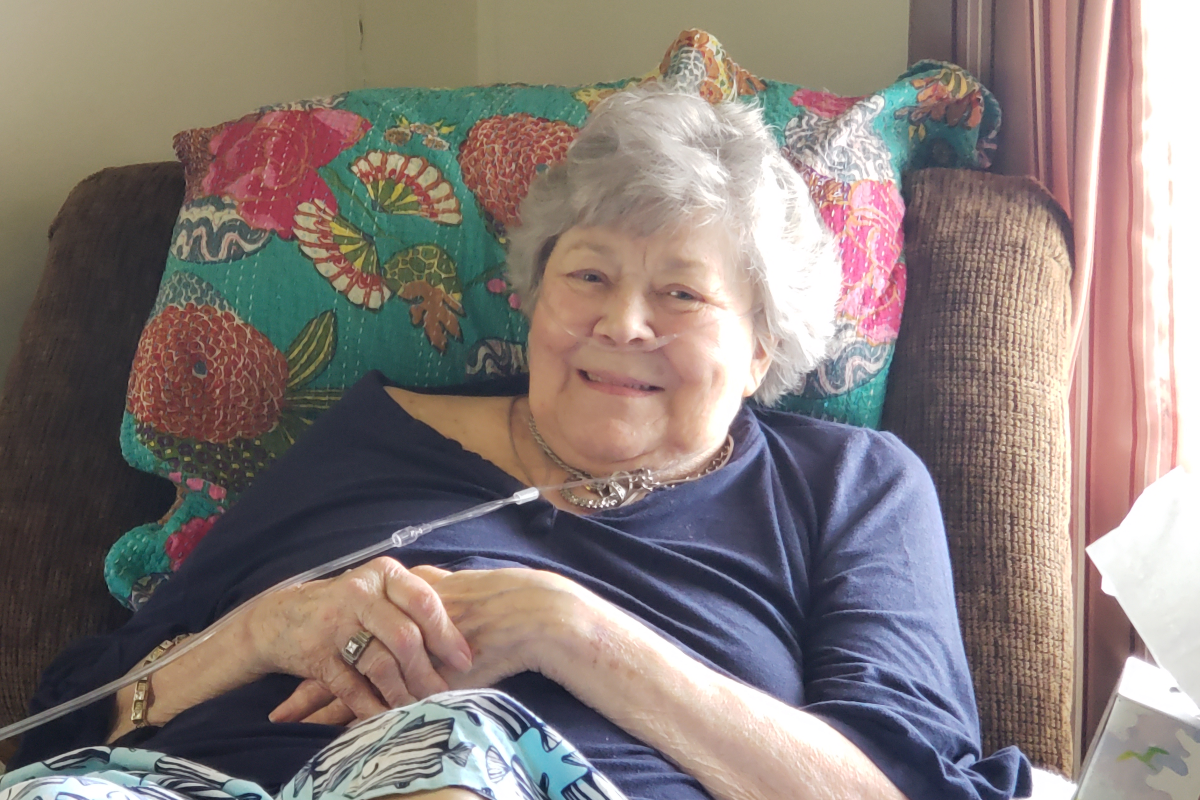 "Remember, you can do it!"
"Keep good thoughts and a positive attitude."
Those are words of wisdom to other seniors and their families who are considering hospice from 92-year-old Crossroads Hospice & Palliative Care patient Dene Liott of Pottstown, Pennsylvania, a well-known local TV talk show host and advocate for senior citizens and issues of aging.
Dene's What's Happening Live TV Show
Dene's words resonate in Philadelphia – where she has been a well-known advocate for aging adults. Dene's commitment started close to home, with 15 years of experience as a caregiver to her mother, who suffered from Alzheimer's, and her husband, who had cancer. One day in 2004, she joked with some friends at the local senior center that she should transform her personal experience as a caregiver into an educational TV program that could help others.  
"I always made goals for myself," Dene says. And when she puts her mind to something, she's "like a dog with a bone."  She wasn't about to let her friends' challenge go unmet.
Thus was born Dene's What's Happening Live Show – a local Pottstown TV talk show about issues surrounding aging that aired every Thursday at noon on PCTV (Pottstown's public access cable television network).  Dene interviewed doctors, social service experts, and even funeral directors on her popular show.  
"Everything and anything that had to do with everyday questions about aging," Dene says.  
Over the years, that one show expanded into five on topics as diverse as cooking, current events, and even a dance show. But all had one thing in common: they were tailored to give practical advice to the elderly and their caregivers. What's Happening Live ended in 2012 when Dene suffered a stroke and the physical demands of live television broadcasting became too difficult. 
Television was only a small part of Dene's advocacy work for senior citizens. She served on local and regional aging councils including the Parkhouse Advisory Council and the Montgomery County Aging and Adult Services Council, and in 2012 Pennsylvania Governor Tom Corbett appointed her to the Pennsylvania Council on Aging.  She has received numerous awards for advocacy and volunteerism, including the United Way of Southeast PA's Sally Lee Community Service Award.
Caregiver to Cared-for Transitions 
Dene and her daughter Donna Towers both admit that, for such a lifelong go-getter like Dene, it wasn't an easy decision at first to reach out for palliative care services, which quickly morphed into hospice care. Now they agree that the extra physical and emotional support the mother and daughter receive from the Crossroads care team has improved their quality of life exponentially.  
Donna, who moved in with her mother about two years ago, says that in addition to Crossroads' services, Dene also receives at least 12 hours of home care every day.  The aides and their training are an important part of her mother's care, Donna says.
Eve Frebergé, MSW, LSW, a Crossroads social worker in Philadelphia, has been a key member of Dene's hospice care team.  She says Dene receives a lot of support from her daughter, her home care aides, and the Crossroads care team.  According to Eve, as is often the case, much of the support she provides is to Donna, the family member of the patient.
Having Crossroads caring for her mother has given her "tremendous peace of mind," Donna says. "They have gone over and above. We're very happy.  We're all for it (hospice)."
To learn more information about hospice care, please call 1-888-564-3405.
If you found this information helpful, please share it with your network and community.
Copyright © 2019 Crossroads Hospice & Palliative Care. All rights reserved.