Using Fidget Blankets for Alzheimer's or Dementia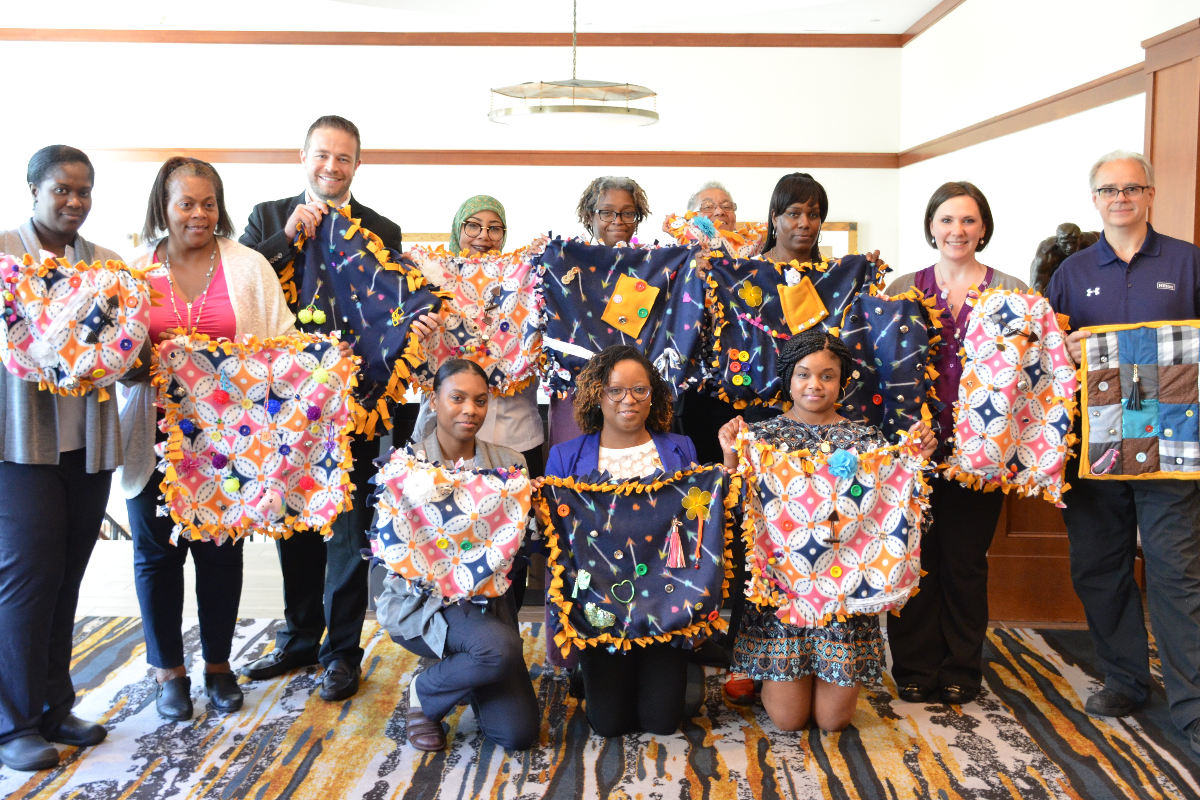 One of the ways that individuals with Alzheimer's or dementia show anxiety or agitation is in their hands. They will begin to fidget, restlessly pulling at clothes or blankets, wringing their hands, or rubbing their hands together. Fidget blankets are one way to help restore calm.
"When you bring someone with Alzheimer's or dementia a fidget blanket, they immediately gravitate to it," says Crossroads Hospice & Palliative Care Volunteer Manager Kimberly Mumper. "It rests in their lap and gives them comfort."
Fidget blankets can be purchased through a variety of online retailers, but they can also be easily made at home.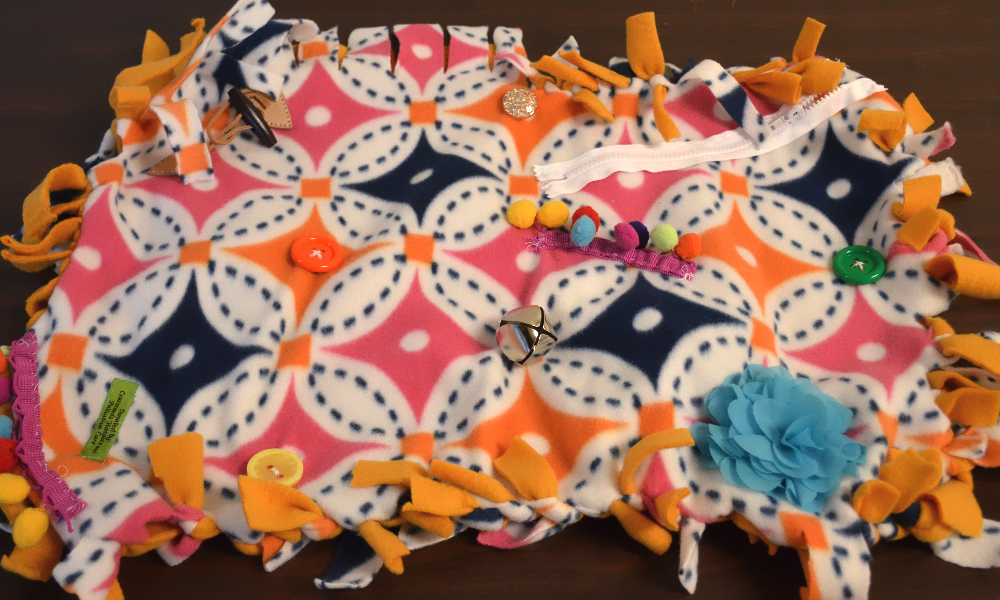 How to Make a Fidget Blanket
Before you start making your fidget blanket, you should gather a variety of items from your home or a craft supply store.
"We include a variety of items and textures for sensory stimulation including zippers, buttons, buckles, ribbon, silk, and bells," Kimberly shares. "Choose bright colored materials and interesting buttons made from different shapes or materials like glass or wood."
You'll also need fleece, scissors, and heavy-duty thread.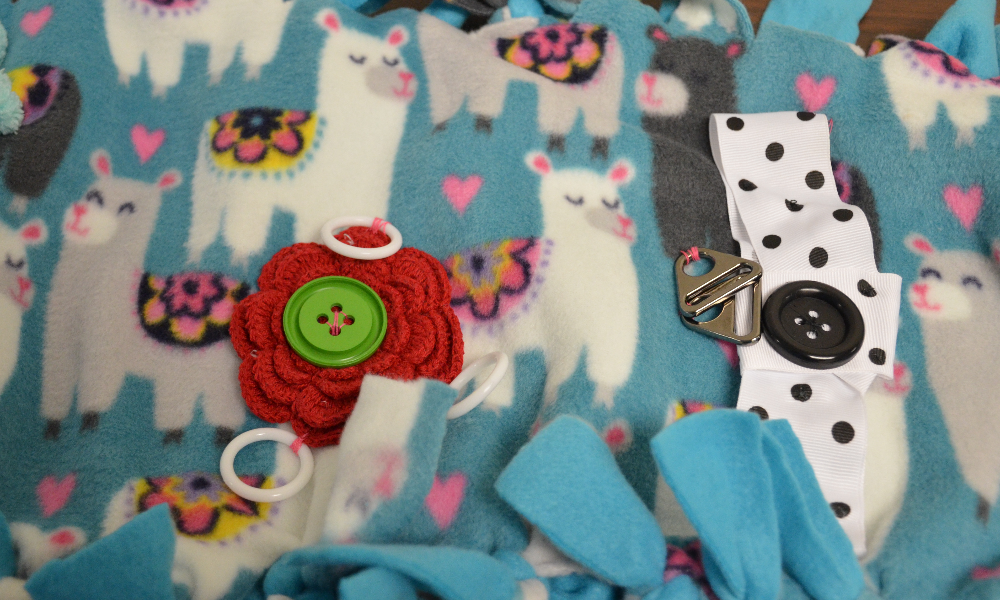 To begin, cut two pieces of fleece into a lap-sized square. Using the heavy-duty thread, begin sewing the different items onto one piece of fleece.
"You have to make sure everything on the fidget blanket is reinforced because someone with Alzheimer's or dementia might pull on them or put them in their mouth," says Kimberly.
Once you've sewed on all of your items, take the second fleece and line it up under the first piece so the stitches are hidden. Make two-inch cuts all around the border of the two fleece pieces. Then tie these pieces into knots.
Your completed fidget blanket is now ready for use!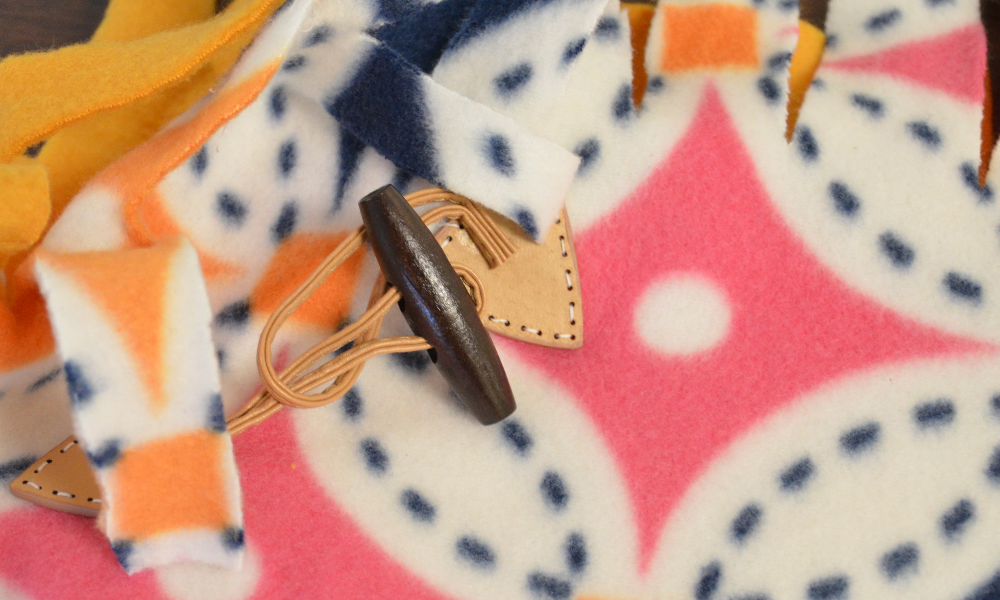 Supporting Individuals with Alzheimer's
Kimberly has worked with a number of companies and organizations in the Philadelphia area including the Hilton Inn at Penn, United Healthcare, and Temple University School of Sport Tourism and Hospitality Management who have made fidget blankets for hospice patients as a team-building community service project.
"The staff loves it. It's a fun project for them to do, and some of them get really into it adding their own special touches and themes to the blankets," Kimberly says with a smile. "They love being able to do something that makes an impact in the community, and our patients love using the blankets they made."
Crossroads Hospice & Palliative Care is proud to provide support for patients with Alzheimer's and their families. To learn more about the services we offer for dementia patients, please call 1-888-564-3405.
If you found this information helpful, please share it with your network and community.
Copyright © 2019 Crossroads Hospice & Palliative Care. All rights reserved.