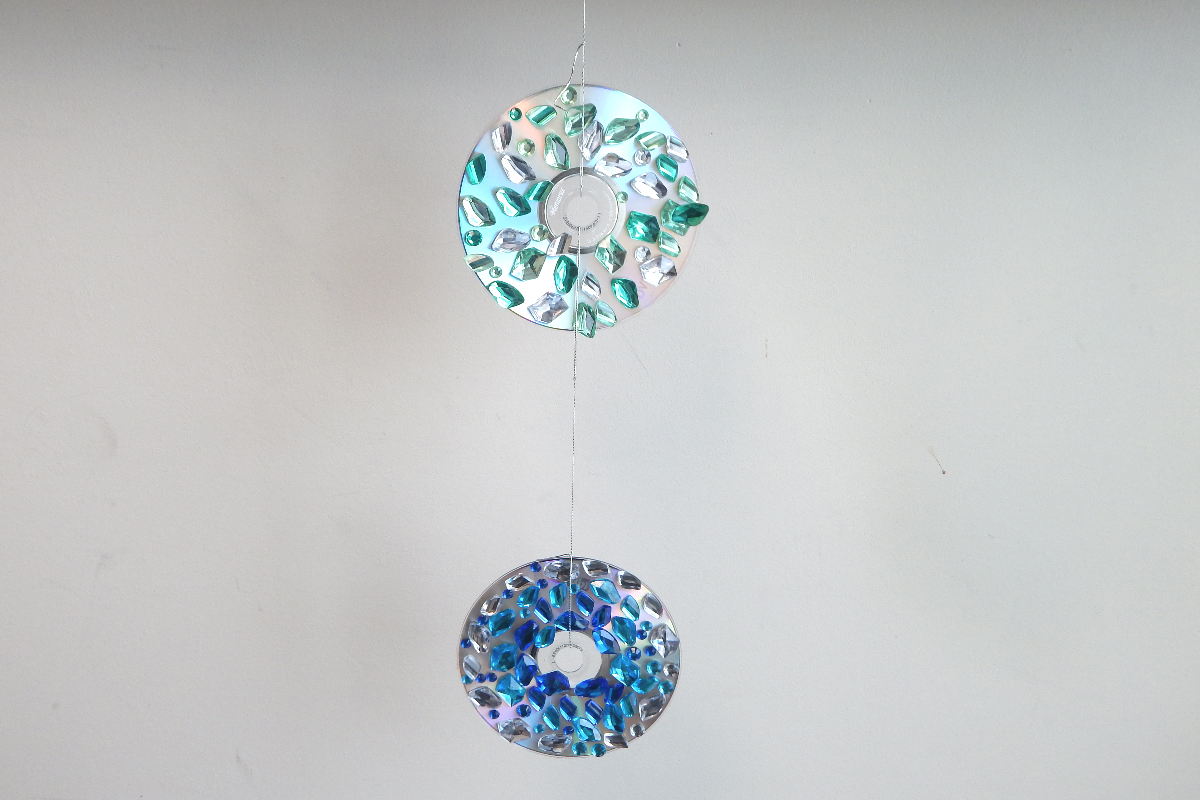 Hobbies and fun activities are an important part of healthy living.
When a loved one is living with Alzheimer's disease or other dementia, crafts and engaging activities help them maintain their spirit and sense of self by providing an outlet for their own artistic choices.
Crafts can also be forms of mental, physical, and emotional stimulation. Crafts that use multiple senses and supplies that have a variety of textures can be a form of therapy that battles agitation and boredom.
Tailor crafts and other activities for a loved one with dementia's interests and abilities. Make the time together special for them by sharing stories or playing music they enjoy.
Remember: coming up with ideas and supplies to engage a loved one with dementia in a new activity doesn't need to be an extra chore. You can use supplies you find around your house to create special moments for you and your loved one.
Today, we will be creating fun wind spinners from old CDs that are no longer in use and colorful buttons and trinkets most of us have stashed away in a drawer somewhere.
CD Wind Spinners 
What You'll Need:
CDs
Buttons, Stickers, Costume Jewelry
Clear Glue (optional)
Ribbon for hanging
Optional: Acrylic Paint
Steps:
If the CD cover is too distracting, you can paint it before applying decoration.
Gather items of a variety of textures including buttons, stickers, and jewelry.
Stick or glue to the CD on one or both sides.
Add ribbon to hang the CDs where they will catch the light.
See more activities for dementia patients.
Caregiver Tips
While doing activities with a loved one with dementia, engage them in conversation. Play music they enjoy softly in the background to create a positive mood.
Even though your loved one may not remember names or things that happened in recent days, they may still remember their childhood. Ask them to share stories.
Activities for people with dementia have the best chance of success early in the day when your loved one is well rested. If they don't want to participate or get frustrated, don't force it. Try again another time.
Crossroads Hospice & Palliative Care is open 24 hours a day, 7 days a week, 365 days a year to support patients with dementia and their families. Please call us at 1-888-564-3405 to learn more about how our unique care programs help provide a higher quality of life for dementia patients while helping caregivers avoid burnout.
If you found this information helpful, please share it with your network and community.
Copyright © 2019 Crossroads Hospice & Palliative Care. All rights reserved.