Pine Cone Flowers: Activities for Dementia Patients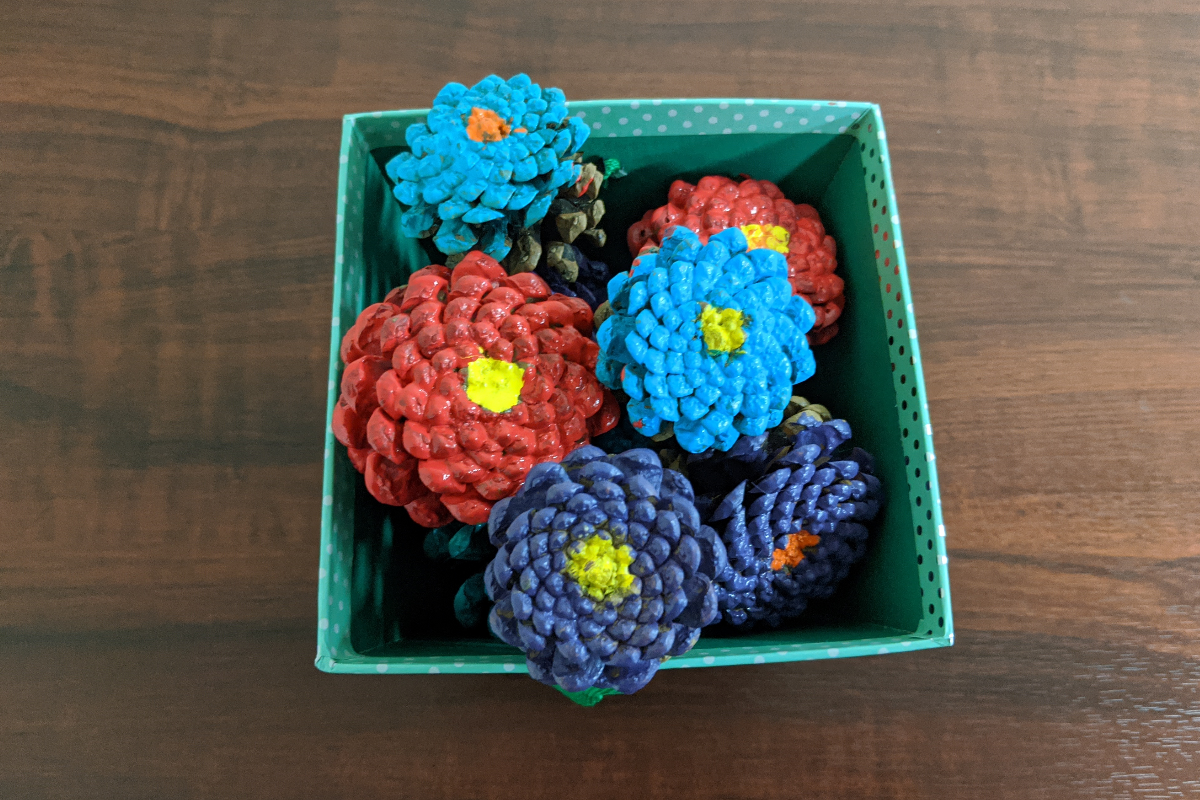 For family caregivers who are longing for spring, March can feel like a tease. The occasional early crocus appears on the lawn, but trees remain stubbornly bare. Days finally grow longer, but the weather can be unpredictable – jumping from warm and breezy to cold and snowy.
Despite Mother Nature's fickleness, family caregivers can plan activities for a loved one with dementia that welcome the approaching arrival of spring like the pine cone flowers below.
On a pleasant day, take a stroll around the yard or a nearby park to get you and your loved one with dementia out of the house and pick up pine cones along the way. (Or take a shortcut and get them from your local craft store. They even make unscented!)
Then, follow the steps below to make a bright arrangement that can become a bowl of "flowers" or displayed on a wall in a picture frame or shadow box.
The rough edges of the pine cone are an interesting texture if your loved one fidgets, but the real benefit to this easy and fun craft is spending some pleasant time engaging with your loved one, making a handcrafted item that can be treasured as a spring decoration for years to come.
Pine Cone Flowers
What You'll Need: 
Pine Cones
Brightly colored acrylic paint
White acrylic paint (optional)
Paint brush
Bowl or basket for display
 Steps:
Turn pine cones upside down as the bottom of the pine cone will be your flower.
Use the paintbrush to add brightly colored paint to each pine cone.
If the paint is not showing up bright enough on the pine cones, start with a base coat of white paint.
The tops of the pine cones can be painted or left unpainted depending on your preference. The tops will not be seen in the arrangement.
Gather your pinecones in a bowl or basket for display.
 See more activities for dementia patients.
Caregiver Tips
While doing activities with a loved one with dementia, engage them in conversation. Play music they enjoy softly in the background to create a positive mood.
Even though your loved one may not remember names or things that happened in recent days, they may still remember their childhood. Ask about favorite colors or clothing they used to wear.
Activities for people with dementia have the best chance of success early in the day when your loved one is well rested. If they don't want to participate or get frustrated, don't force it. Try again another time.
Remember that the goal is to have an engaging activity with your loved one with dementia. Don't worry about the end result.
Crossroads Hospice & Palliative Care is open 24 hours a day, 7 days a week, 365 days a year to support patients with dementia and their families. Please call us at 1-888-564-3405 to learn more about how our unique care programs help provide a higher quality of life for dementia patients while helping caregivers avoid burnout.
If you found this information helpful, please share it with your network and community.
Copyright © 2020 Crossroads Hospice & Palliative Care. All rights reserved.