Cleveland Wall Mural Salutes Volunteers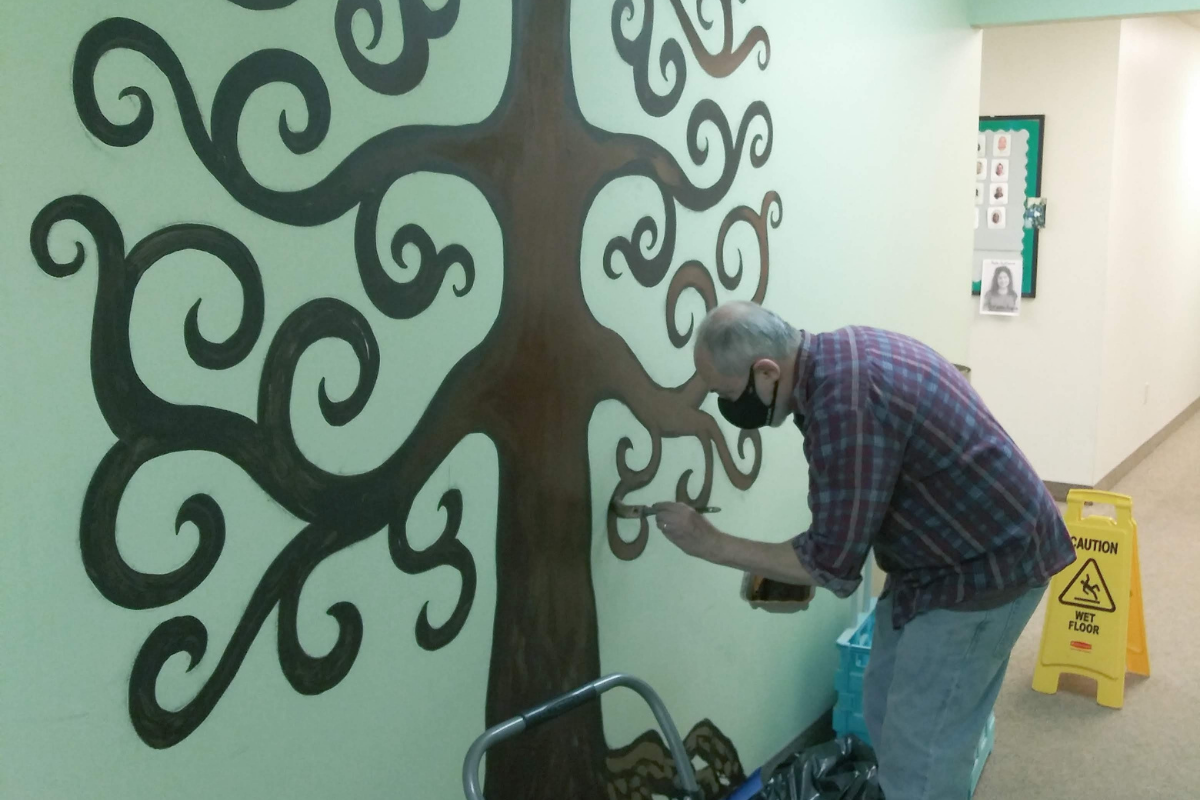 When Cindy Billideau put out a request for a volunteer artist to paint a wall mural at the Crossroads Hospice & Palliative Care offices in Cleveland, she wasn't expecting an immediate response.
Robb Durr's Generous Artistry Inspires
Cindy, one of the volunteer managers in Cleveland, also wasn't expecting Robb Durr to be the volunteer that stepped forward in less than 24 hours to accept the challenge. Robb, a Veteran of the US Army, is typically recruited to volunteer playing his flutes.
While he's been on hiatus due to the COVID-19 pandemic, Robb said, "I have a 50-to-60-minute program I perform at nursing homes. I play the penny whistle which is high sounding and Native American flutes, which are low."
He hooks up an amplifier and plays crowd favorites like the Lord of the Rings theme song and Elvis Presley's "Love Me Tender."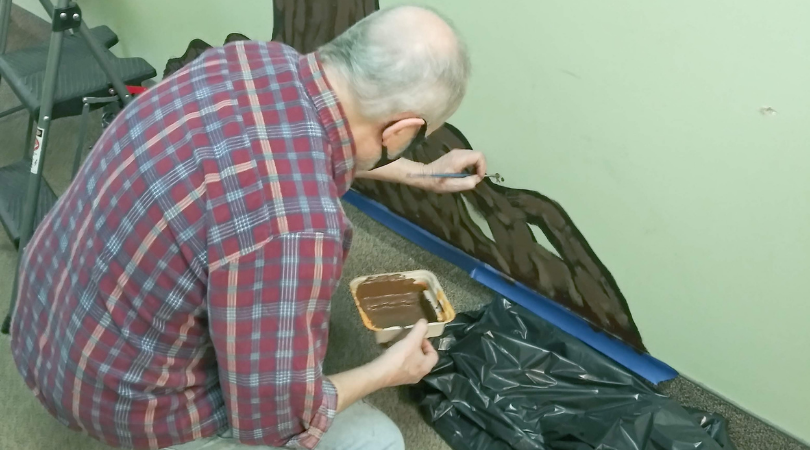 Native American Flute is Comforting
Robb was humbly inspired by the Native American flute after being called to his brother's bedside in Florida at his end-of-life.  Arriving just a few days before he passed, Robb said playing the Native American flute was comforting to his brother in his final days.  Robb thought, "this would be a nice ministry to get into."  Shortly thereafter, he began volunteering at Crossroads.
In addition to his nursing home concert selections, Robb plays his Native American flute in another volunteer role as a one-on-one companion who visits other Veterans who are receiving end-of-life care from Crossroads.  He also plays his penny whistle at Crossroads' Veterans recognition ceremonies. 
While music is a passion, Robb has enjoyed a career as a professional fine artist.  He maintains a studio at the Screw Factory in Lakewood with other artists.  Previously, at the Cleveland-headquartered card company American Greetings, he sculpted ornaments and cards for 11 years.  Then, at Wild Republic, another Ohio company that makes realistic stuffed animals and toys, Robb sculpted prototypes for the company's popular PVC animal collections.
Professionally, Robb even did a stint as a sign maker.  It was because of that background that he knew he could ace Cindy's volunteer wall mural concept.  Cindy said a wall mural honoring volunteers was something on her wish list for a long time.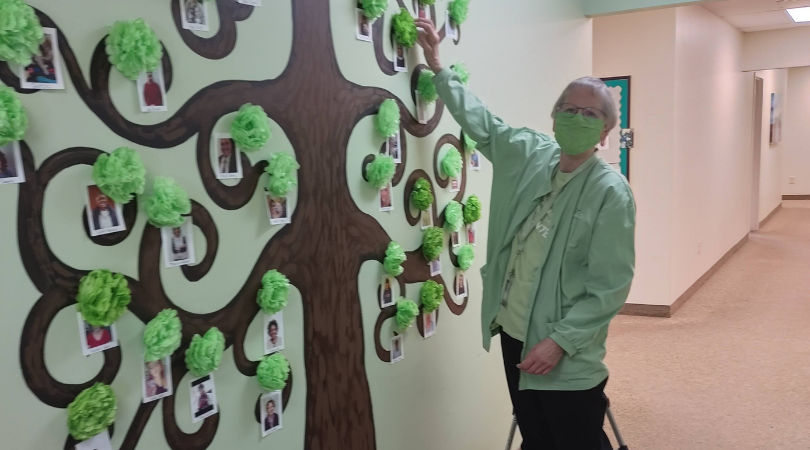 Branches of Wall Mural Tree Hold Photos of Volunteers
"I'm always advocating for volunteers," Cindy said.  "I wanted to do something special to show how proud we are of volunteers and what they contribute as important members of patients' care teams."
Cindy envisioned a tree with many branches. On the branches are placed photos of volunteers.  Robb beautifully brought Cindy's vision to life and the entire Crossroads Cleveland team has been uplifted by the mural.  The tree's branches are already full with photos of 65 volunteers.
That's why Cindy invited Robb back to paint another tree with branches for many more volunteers' photos.  According to Cindy, "there's plenty of wall space!"
To learn about more of the hospice team at Crossroads, give us a call at 1-888-564-3405.
If you found this information helpful, please share it with your network and community.
Copyright © 2021 Crossroads Hospice & Palliative Care. All rights reserved.