Wrapping Paper Brooch: Activities for Dementia Patients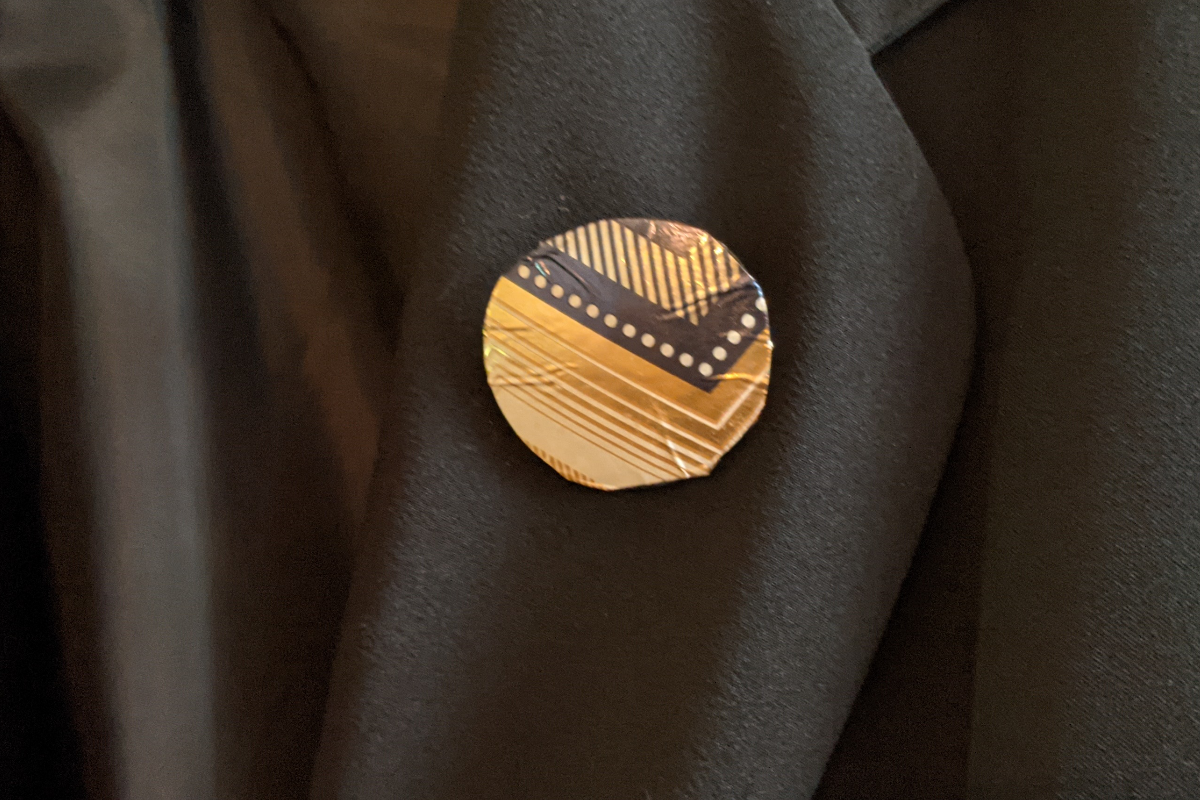 When caring for a loved one with Alzheimer's or other dementia, it is important to find ways to keep them engaged and involved in family life. One excellent way of connecting with someone with dementia is through simple crafts.
Activities for a loved one with dementia like the wrapping paper brooch below have a number of benefits.
First, it's a lovely way to spend some time together with a shared activity. You can chat, listen to music your loved one enjoys, and enjoy each other's company.
However, for the person with dementia, crafting has other benefits. When selecting a craft, look for ideas that incorporate different textures. This tactile stimulation can be very soothing for people with dementia and increases feelings of trust.
Crafts can also give people with dementia a sense of accomplishment. Even though the end result doesn't matter, it's still nice to make something with your hands.
The wrapping paper brooch below checks all of these boxes. It takes everyday items and turns them into a little piece of jewelry your loved one can wear or gift to a family member.
Wrapping Paper Brooch
What You'll Need: 
Lens from a pair of glasses
A small piece of wrapping paper
A small piece of felt
Safety scissors
Modge Podge
Foam Brush
A bar pin
School glue (optional)
 Steps:
Line up the wrapping paper with the lens and trim to fit.
Add a small bit of Modge Podge to the lens and spread it out with the foam brush.
Attach your wrapping paper to the lens.
Dot on additional Modge Podge and smooth the paper onto the lens with the brush.
Allow to dry.
On the reverse side of the lens, line up the felt and trim to fit.
Add Modge Podge to the lens and press the felt into place.
Trim any excess paper or felt.
Remove the adhesive from the back of the bar pin and attach the pin to the felt.
Note: If there is no self-adhesive or if the adhesive isn't strong enough, add some school glue to attach the pin to the felt.
Allow to dry then wear with pride.
 See more activities for dementia patients.
Caregiver Tips
If you don't already have a pair of scratched sunglasses or an old pair of readers around the house, you can pick up a pair at any dollar store.
Bar pins are available in the jewelry section of arts and craft stores.
While doing activities with a loved one with dementia, engage them in conversation. Play music they enjoy softly in the background to create a positive mood.
Even though your loved one may not remember names or things that happened in recent days, they may still remember their childhood. Ask about favorite colors or clothing they used to wear.
Activities for people with dementia have the best chance of success early in the day when your loved one is well rested. If they don't want to participate or get frustrated, don't force it. Try again another time.
Remember that the goal is to have an engaging activity with your loved one with dementia. Don't worry about the end result.
Crossroads Hospice & Palliative Care is open 24 hours a day, 7 days a week, 365 days a year to support patients with dementia and their families. Please call us at 1-888-564-3405 to learn more about how our unique care programs help provide a higher quality of life for dementia patients while helping caregivers avoid burnout.
If you found this information helpful, please share it with your network and community.
Copyright © 2021 Crossroads Hospice & Palliative Care. All rights reserved.