Volunteer Month: Highlighting 3 Hospice Volunteers in Cincinnati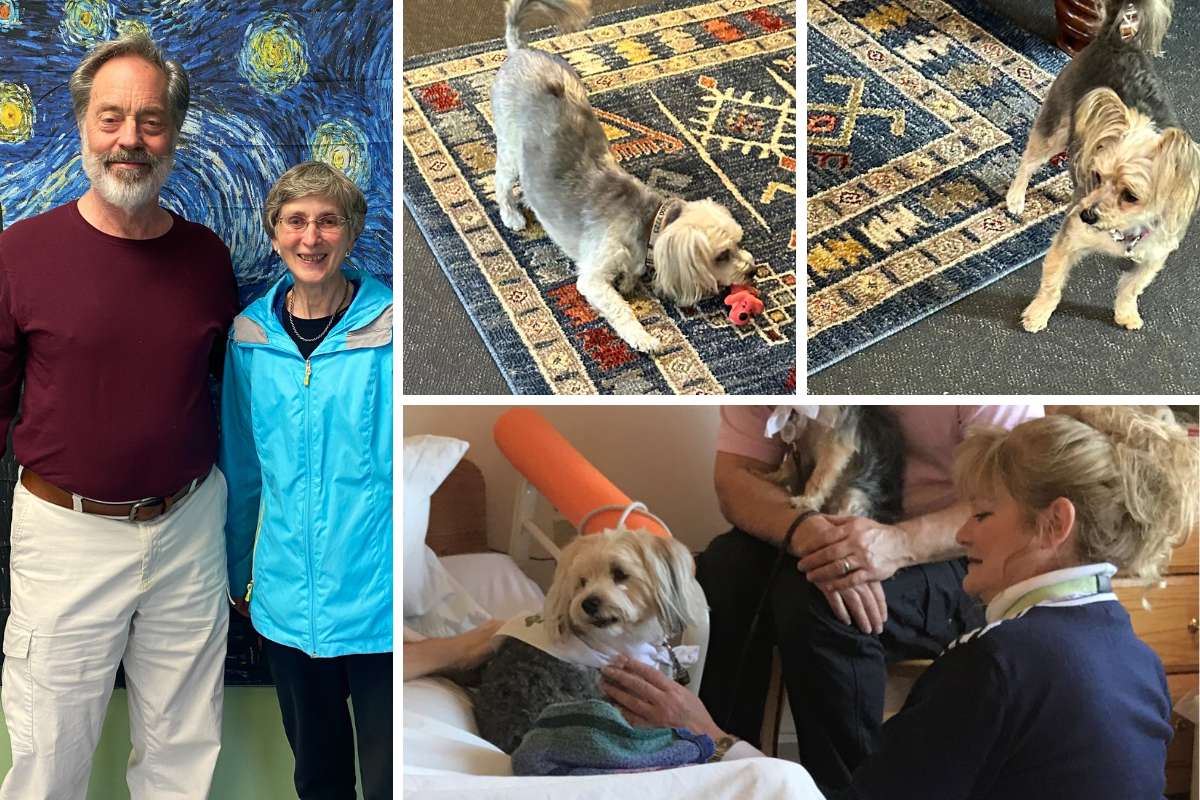 April is National Volunteer Month, and Crossroads is fortunate to have the best volunteers around. Here, we highlight three volunteers from the Cincinnati area and the crucial service they provide to patients and their families.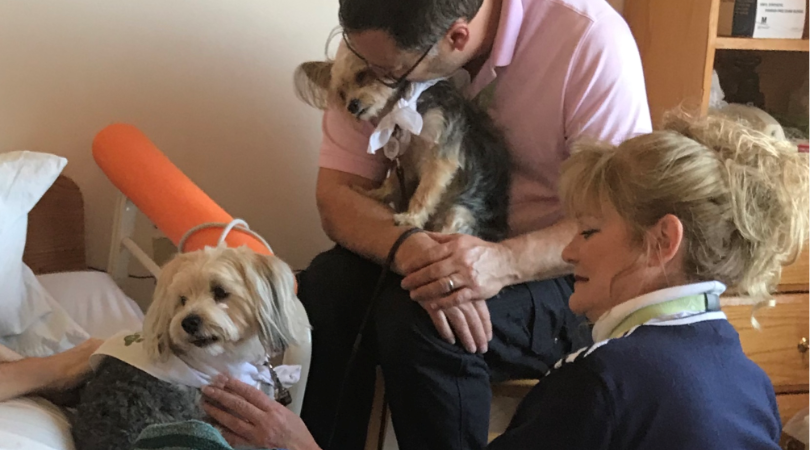 Karin Dyke and Canines Bella and Daisy Delight Hospice Patients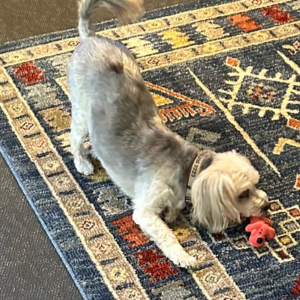 Karin Dyke is well known in Cincinnati nursing homes and hospitals – but not nearly as well-known as her therapy dogs, Bella and Daisy.
Since 2017, Karin has been visiting with hospice patients near her home in Liberty Township. But when she walks through the door, her two loveable mutts take center stage.
"I can't tell you how much patients react to having an animal in the nursing home. There are so many people that love animals and had to give up their pets to go in for treatment. Bella and Daisy get all the pets that they can handle, and the patients get all the love they can from them," said Karin. "They're such little divas, but bring so much joy."
Karin started her volunteer journey by doing some one-on-one work with patients and also paying visits to families who have lost loved ones. The retired college professor was first introduced to Crossroads when her mother-in-law became ill many years ago and opted for hospice care.
Miraculously, Dyke's mother-in-law graduated from hospice and went on to live until 2022, at which time she returned to Crossroads for end-of-life care. Crossroads also cared for her sister.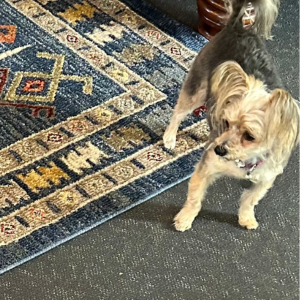 "It's therapeutic all the way around. Unlike what some people may think, working with these families isn't depressing. You get to know people as people. I can go in and chat, have fun with the dogs and just spend time with lovely people," said Karin. "Ultimately it is sad, but it is such a humbling privilege and experience to get to be with them. You fall in love with the people the more you get to know them."
Recently, Karin has been trained in visiting with patients that are actively dying. And she believes she's gotten as much as she's given.
"Primarily for me, it's been an education process. At first, I didn't know anything about being with a dying person, what to do, or how to interact – and I'll admit, it was scary," said Karin.
"But Crossroads normalized it for me. They made it okay that someone was dying, showed me how I could help them, and what to do to make their experience better. Spending time with a patient going through hospice, it really takes the fear out of the dying process," said Karin. "It's something that you can't replicate." 
"As humans, we are often so overwhelmed and fearful for the end to come, but it's wonderful when you see how much love and joy there still is for the patients and their families."
Theresa Rein Has a Specialty in Listening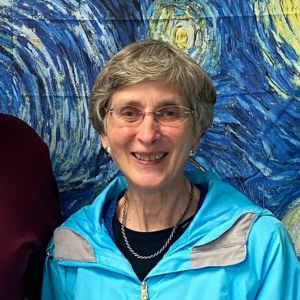 For 10 years, Theresa Rein has served as a hospice volunteer with Crossroads. She found out about the opportunity from a local nurse, just as Theresa was preparing to retire from teaching.
Rein visits patients for about a half hour once a week, and she enjoys hearing about their lives. She finds that many are eager to share stories – particularly those who suffer from dementia whose faces light up when they can still tell stories and reminisce.
"No matter what, getting to know different people is interesting. You have the opportunity to know them as people and, for me, it brings back a lot of memories for me of my own parents," said Theresa. "Everybody likes to tell their stories."
Rein wants volunteers interested in hospice care to know that hospice visits aren't scary or depressing. She approaches each patient the same way – as a person that she is fortunate to meet and get to know.
Theresa is with some patients a short time, and some a long time, but she finds conversation builds over time. And the conversation is mostly joyous.
"Not very often do we talk about death – we talk about life. As a volunteer, I get to know the patient and become a familiar face," said Theresa. "For the patient, a lot of their loved ones have usually passed, and they're just looking for a friend.
"So, what I would say to someone interested in hospice volunteering: Would you like to meet a new friend? If you're open to it, you'll make a friend that you'll have for a short time, or a long time, but one that you'll remember for a lifetime."
Terry Briggs Finds a Way to Connect and Build Relationships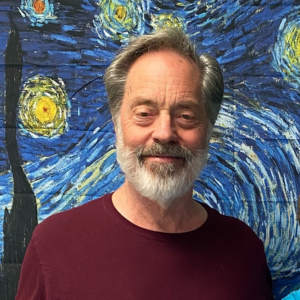 Terry Briggs, a retired chemical engineer, cared for his wife for eight years after a leukemia diagnosis. She ended her battle in hospice care and, following her death, Briggs moved from Colorado to Cincinnati. Five years after his wife died, the Quebec native wanted to find something to do to volunteer and help others.
Briggs found Crossroads from word of mouth and online research, and first started by visiting patients in outlying areas.
"Something that might sound obvious but many people don't realize is that people are lonely in areas where there is not much of a population," said Terry. "In their situation, they need a friendly face."
He now visits people everywhere in their homes and in institutions for Crossroads.  Although the program may sound daunting, he described what he does as "socializing."
"I just talk to people. I find a way to connect and build relationships. I personally get a lot out of it, and I like to think people appreciate the company," said Terry.
"Plus, I learned so much from my experience with my wife being in hospice, primarily that caregivers need a break. I always appreciated a break for some time alone to recharge, and I know how these families feel."
Now volunteering three to four times per week, Terry served the most volunteer hours over the last year, 726.
If you found this information helpful, please share it with your network and community.
Copyright © 2023 Crossroads Hospice. All rights reserved.