20 Years of Crossroads Hospice Employees Doing More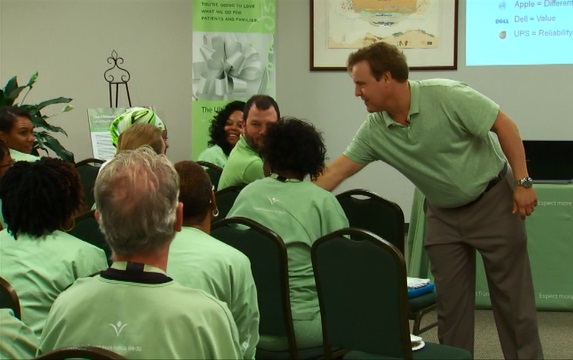 Earlier this month we celebrated Labor Day, when we recognize the contributions of workers to the strength, prosperity, and well-being of our communities. For 20 years, Crossroads Hospice employees have provided compassionate care to patients at end-of-life. Across Crossroad Hospice's footprint—in 11 regions and seven states—1,900 of our staff members cared for 11,996 patients and their families in 2014, providing 1,163,864 hours of care. Those are big numbers. But it comes down to one patient, and one Crossroads professional at a time.
Most people don't understand how those who work in hospice can do so. True, it does take a special person to join the ranks of hospice workers, but most of them will tell you that they wouldn't work anywhere else. More than 1.6 million Americans and their families receive hospice care each year, according to the National Hospice and Palliative Care Organization. That number has grown substantially during the past two decades.
What do hospice professionals do? Our nurses ensure patients are comfortable and pain free. Our aides provide hands-on, tender care to patients who are often very frail. Our social workers help families cope with caregiving. Our bereavement coordinators help families work through the inevitable grief that presents in so many different ways. Our volunteers help patients celebrate life through Gifts of a Day and to leave a legacy for their families by creating Life Journals. Our therapists help patients swallow safely, move to their best ability, and adjust to their changing physical conditions. Our chaplains support, and sometimes even kindle, patients' spiritual needs. And all of our staff members participate in Evenmore Care, lending their presence and support to families during the last hours of life.
When Crossroads Hospice was founded in 1995, one of our goals was to reshape the way people view hospice for their families. We are pleased that awareness of hospice has grown substantially. While Hospice exists to celebrate remaining life, myths do persist. However, journalists, legislators, and your neighbors are starting conversations about hospice. In January, Medicare will even support physicians explaining hospice to patients when they are faced with life-limiting illnesses.
For 20 years Crossroads Hospice staff members have given me inspiration for what one human being can do for another. Every time I see our team members—always wearing green—I am astounded by their enthusiasm and pride in work. Continually asking "what's next" and striving to reach their highest potential, they drive me to be a better person and to meet the challenge of doing and being more. I couldn't be more proud to stand with them all.
Perry Farmer, Founder and CEO
Crossroads Hospice