Silver Screen Death and Grief
Last month, a few of us gathered around here at Crossroads Hospice and discussed television. We didn't discuss our favorite episode of House Hunters; we discussed the all too real lessons about death and dying we've learned through television.
To complement that analysis, we sat down with film critic Gary Kramer (Indiewire, Philadelphia City Paper) and Crossroads Hospice Bereavement Coordinator Crystal Gorel to look at the silver screen. Kramer brings nearly 30 years and hundreds of thousands of hours of film analysis experience, while Gorel has helped countless people through the unpredictable grief that comes with the loss of a loved one.
So how has cinema shaped—and been shaped —by the way humans grieve and die?
"I always look at the silver screen as a mirror," says Kramer. "We are most attracted to it when it reflects parts of us we either adore or despise. The most successful cinema, even the most fantastic of fictitious, carries threads of reality. So death and grief are omnipresent in films and filmmaking,"he continues. "Death and loss have motivated filmmakers since the beginning."
"People need outlets for their emotions, and art—like movies—can always be a great outlet for expressing grief," adds Gorel.
Kramer and Gorel gave us their top picks for films that demonstrate grief—the good, the bad and the ugly— in as little as two hours. These movies, they argue, capture the complexity, the messiness and even the strange humor that can come with the loss of a loved one.
Up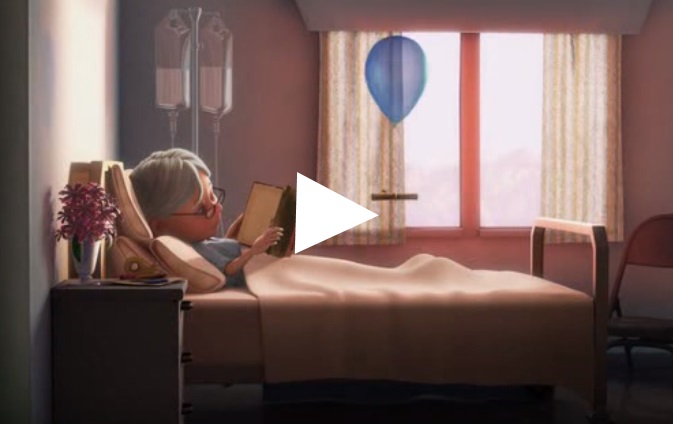 Pixar entered bittersweet territory in 2009's Up. The film tells the tale of an elderly widower, Carl, who sets out to fulfill his dream to see the wilds of the tropics and complete a promise made to his late wife, Ellie.
Equally inspiring tears and laughter, this animated marvel shows a remarkable bend toward the paradigms of grief: Carl and Ellie had a love so all-encompassing that Carl seems rudderless without her. In a now-legendary opening sequence, the film leaves audiences speechless in a montage that walks us through the entirety of Carl and Ellie's life together, from when they first meet as children and discover their shared passion for adventure, to Ellie's miscarriage and premature passing.
"If you look at Up, the first 10 minutes of film are great in showing Carl's life and how he moves on," says Kramer. "It sets up his journey and you understand why he is doing what he is doing; the entire film captures how Carl processes the loss of his wife."
"I think the grief in losing your wife or husband is incredibly tough and unique," Gorel says. The loss of a loved one, especially a spouse or partner, can seem like a life-ending obstacle for the surviving partner that is all too familiar to Crossroads caregivers.
The Seventh Seal
On the completely opposite side of the cinema spectrum is the 1957 Swedish film, written and directed by the legendary Ingmar Bergman. The title refers to a passage from theBook of Revelation: "And whenthe Lamb had opened theseventh seal, there was silence in heaven about the space of half an hour."
Here the motif of silence refers to the "silence of God"—the idea that death, grief and suffering are an absence of the Holy Spirit. The greatest metaphor for death itself arrives in the form of the film's iconic chess scene, in which lead character Antonius is met by Death upon returning to a land plagued with disease.
"The Seventh Seal is entirely a psychological look at death. Playing chess with death is really a metaphor for how you spend your time, how you process your emotion and how you grapple with reality," Kramer says.
What makes the chess game between Death and Antonius so sinister is that Antonius is often quite amused by it, treating his own mortality as a joke by trying to "delay" the game or tricking Death into a false move. Interestingly, the rules of the game very much reflect the foolishness and "false moves."
Beaches
In Beaches, Barbara Hershey grapples with a death sentence from cancer, anger over her impending deathand the idea that her best friend is going to raise her child.
"I think it is very cathartic. People experience tough situations; they get their tears out," Kramer says. "Film is a teaching tool. Films can make people feel things they haven't experienced. You might not be able to deal with your friend who is dying from cancer, but you can kind of accept it through Beaches' characters. "
But Gorel warns that we shouldn't assume we understand what it is like to lose a loved one just by watching it up on the big screen.
"It is all romanticized. It's not real life! Death in movies is much cleaner and prettier than it is in the real world," she says. "Sick in Hollywood is not representative of sick in hospice."
Brian's Song
Based on the real-life relationship between teammates Brian Piccolo and Gale Sayers, and the bond established when Piccolo discovers that he is dying, the movie won critical acclaim and ensured not a dry eye was left in the house.
"It made a lot of guys who don't cry, cry. Adult men were gushing buckets," says Kramer. "Men wouldn't go see movies like this. It moved the needle." Indeed, what could be more moving than two best friends—and professional football players—dealing with the impending death of a too-young athlete?
Laughter is the best medicine
Oddly enough, when we are suffering, we turn to comedic movies. Stories that make us laugh, rather than cry. The old adage that "Laughter is the best medicine" is often true for many people dealing with heavy hearts. Don't be afraid to find a funny flick or an uproarious rental in a time of tragedy. All emotions are understandable and expected during the grieving process, even humor.
"Sometimes we need movies that get us out of our lives and into something else. We need movies that are pure escapism," Gorel says. In fact, it's not just comedies that can help us escape; science fiction, fantasy and even silent films can help distract a person who is suffering from grief and give them a much-needed respite.
"Dealing with grief is necessary but also exhausting. Having a few moments of levity is important too," Gorel says. So movies can help you dive into your grief, whether by helping you cry or helping you laugh. But do they offer closure? Both of our experts agree that any of us who think Steel Magnolias or The Notebook will give us closure are wrong.
That's one of the deceptions about movies and death, isn't it? "In two hours, the characters have gone through the gauntlet and are now back to normal. Life isn't like that. Grief and death is much deeper," Gorel says. Despite how easy movies can make it look to cope with loss, you can never be fully prepared when the time comes. Because of that, Crossroads Hospice is always here to help patients, families, friends and healthcare professionals navigate the grief that comes with the difficulty of experiencing loss.